June 19, 2015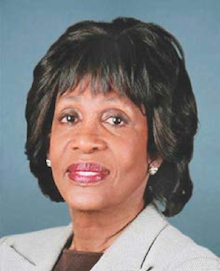 Rep. Maxine Waters (D-CA)
This article is Special to the NNPA from Our Weekly.
Rep. Maxine Waters (D-CA), ranking member of the Committee on Financial Services, is calling on the Department of Housing and Urban Development (HUD) to provide meaningful relief and increased transparency for seniors participating in its reverse mortgage program, known as the Home Equity Conversion Mortgage program (HECM).
Waters expressed concern that many senior citizens are facing foreclosure, or will face foreclosure due to deceptive lending practices and previous HUD protocol for the HECM program. Until recently, HUD used the age of the youngest borrower in order to calculate the size of the reverse mortgage payout. In many cases, doing so led to the removal of the younger spouse from the home's title in order to obtain a larger reverse mortgage payout. Many borrowers were outright deceived about the consequences of such a decision on their younger spouse. The result is that many non-borrowing spouses have been foreclosed upon soon after the death of their spouse.
In a letter sent to HUD Secretary Julian Castro this week, the top Democrat wrote "on behalf of thousands of senior citizens," who continue to face the prospect of foreclosure due to HUD's flawed administration of the HECM and fraudulent lending practices in the housing market. She requested that the department reevaluate their response to the issue and provide additional insight into the fiscal limitations of delivering real relief to vulnerable seniors.
Finally, Waters wrote, "I urge you to reconsider the limited scope of relief that HUD has offered thus far in response to the concerns raised by senior borrowers and advocates working on their behalf. While I understand the tension created by the need to balance the fiscal condition of the MMIF, and to protect borrowers who have been victimized by unfair lending tactics, I hope that HUD will do everything in its power to provide much needed relief to these senior citizens."
---
This article is Special to the NNPA from Our Weekly.
---