Urban League Young Professional's 1st annual Emerge Gala
by A. David Dahmer
(Photos by Hedi Rudd)
Diverse young professionals came together on March 29 for an evening of celebration at the Concourse Hotel as the Urban League of Greater Madison Young Professionals hosted its First Annual Emerge Gala.
"We were extremely pleased with the event. We had a sold-out audience and we actually had people who wanted to attend the event but we could not accommodate them," said Nia Trammell, president of the Urban League of Greater Madison Young Professionals. "It was a highly anticipated event and I think that people really enjoyed the spirit and the energy of the event.
"A lot of effort went into making sure we had a successful event and I have to thank my incredible support system that includes our planning committee and Ed Lee and Hedi Rudd from the Urban League. They all helped to make sure things ran smoothly."
The Gala raised funds to support the work of the YP Chapter as well as the League's youth education initiatives including the Scholars Academy, Schools of Hope Program, MLK Day of Service, and others. "I love that we are able to give back in a meaningful way to our community," Trammell said. "We raised over $21,000 with the Gala that will help all of these great programs at the Urban League. That is the most rewarding aspect."
The Madison chapter of Young Professionals was founded in 2011 to support the National Urban League and Greater Madison Urban League movement. Through volunteerism, philanthropy, and membership development, ULGMYP looks to engage young professionals in the Madison community who are self-driven, action-oriented leaders and professionals in the community.
Corinn Ploessl, marketing coordinator for Wegner CPAs, was honored with the Emerging Leader of the Year Award which was presented to a young professional who exemplifies the qualities and characteristics of an exceptional leader in the community. Althea René Miller, GED Instructor at Omega School, Inc. and Lauren Rock, 2-1-1 Volunteer Coordinator for the United Way of Dane County, were also nominated for that award. Both of those ladies received Trailblazer Awards, which are presented to young professionals who are growing and excelling in their respective fields and who have shown leadership within their company and industry. Other Trailblazer Award recipients were Tawsif Anam, Managed Care Policy Analyst for the Wisconsin Department of Health Services; Joe Maldonado, College Continuation Manager for the Boys & Girls Club of Dane County; and Alder Scott Resnick who represents the City of Madison Common Council's District 8.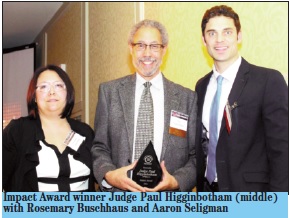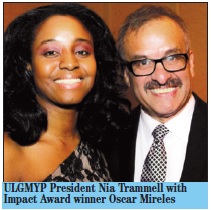 At the Gala, Impact Awards were presented to community leaders who have established a record of consistent outreach to young professionals in the Greater Madison area and who have invested time in the professional growth and development of young professionals. The recipients of the Impact Awards were Judge Paul Higginbotham of the Wisconsin Court of Appeals, District IV and Oscar Mireles, executive director of Omega School, Inc.
"Madison College received our Workplace Excellence Award," Trammell said. "That award evaluates the environment for young professionals and how satisfied they are working with the employer and the type of benefits that are offered."
Dr. Jack E. Daniels accepted that award on behalf of Madison College who was also honored for its record of commitment to the development of young professionals, adoption of work-life friendly policies, and recognition of generational differences that attract and retain young professionals.
ULGMYP also presented awards to its own members since they were ineligible for all of the other categories. The President's Award was presented to Langston Evans for his tireless work with Urban League of Greater Madison Young Professionals while Vanika Mock received the Spirit Award. Trammel received the Outstanding Leader of the Year Award which was presented to her by outgoing Urban League CEO Kaleem Caire.
"The First Annual Emerge Gala was an incredible feeling. It felt magical to have so many young professional groups involved in our event. It was a true collaboration this year," Trammell said. "I think that it's important for Madison to see that a diverse group of young professionals can work together and do something positive for the community."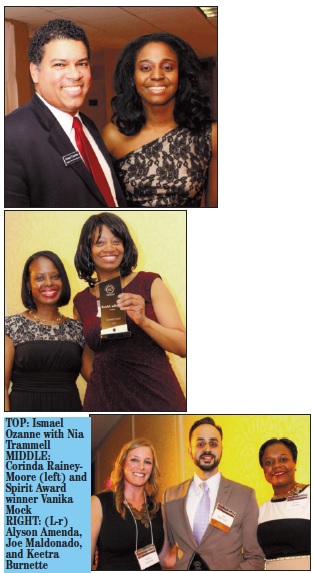 There's no time for a big break for the Urban League Young Professionals —they are keeping the momentum going.
"We'll rest for a week or two but then we'll be back working on our National Day of Service project — something that we are encouraged to do by the National Urban League Young Professionals," Trammell said.
Trammell is talking about "Beyond The Hoodie: The Emerging Young Leaders Youth Summit" that will be is hosted by Alpha Kappa Alpha Sorority, Incorporated-Kappa Psi Omega chapter, Omega Psi Phi Fraternity, Incorporated-Gamma Gamma Gamma chapter, and the Urban League of Greater Madison Young Professionals.
The purpose of "Beyond the Hoodie" is to cultivate the leadership skills of Madison area middle-schoolers through the provision of interactive, innovative, and informative workshops in the key areas of health and wellness, fiscal responsibility, and digital citizenship.
We're really excited about this Middle School Leadership Summit coming up," Trammell said. "We've developed some momentum and energy with the Emerge Gala and we want to keep it going. We are excited and energized. The exciting part is that people now understand what the Young Professionals group is all about and I think its generating more interest in terms of membership. The more people we have involved, the more impact we can have."