WASHINGTON (NNPA) —One year after the United States Supreme Court gutted a key section of the Voting Rights Act of 1965, "the right to vote for all is under grave threat," says Wade Henderson, president and CEO of The Leadership Conference on Civil and Human Rights, a coalition of nearly 200 civil and human rights organizations.
Last summer, in Shelby County v. Holder, the Supreme Court struck down section 4 of the VRA, a key provision of the law that defined which states and jurisdictions with histories of voter discrimination had to pre-clear any changes to voting rules with the Department of Justice or a federal court.
After the ruling, Republican lawmakers in Texas, North Carolina and other states rushed to pass restrictive voter ID laws that often block poor and Black voters from the ballot box. Attorney General Eric Holder, Department of Justice, and civil rights groups countered by filing lawsuits in a number of states across the country.
During a press conference highlighting the one-year anniversary of the Shelby County v. Holder case, Henderson said, "Voting is the language of American democracy: if you don't vote, you don't count."
Henderson added: "Discrimination at the ballot box is unfortunately still alive and well across America."
A study by the Leadership Conference on recent voting rights violations said, "Between 2000 and June 2013, there were 148 Section 5 objections or other Voting Rights Act violations recorded across 29 states. Texas had the most with 30."
The report also said that the abuses ranged "from an instance in Kilmi­chael, Mississippi, when the town cancelled a general election for the office of mayor and board of alderman after Blacks had come a majority of the registered voters, to the closure of polling places in heavily minority areas."
Because local elections operate outside of the national media spotlight, voting rights transgressions often receive little attention, until it's too late. Then voters and non-profit advocacy groups with limited resources are forced to file costly lawsuits and wait. Last summer's Supreme Court ruling that invalidated the preclearance coverage formula of the VRA made it more difficult for those groups to seek redress.
Testifying before the United States Senate Committee on the Judiciary on the one-year anniversary of the Shelby County v. Holder decision, Sherrilyn Ifill, president and director-counsel NAACP Legal Defense and Educational Fund, Inc. said that many discriminatory changes have been enacted, but have gone undetected or unchallenged.
"Some have said that other provisions of the Voting Rights Act are sufficient to deal with discrimination in voting. This is also not true. Litigation is costly, time-consuming, and can only address voting discrimination after it has gone into effect and after the democratic process has been besmirched with the taint of discrimination," said Ifill. "Moreover, even the assortment of civil rights law organizations that, like my own, are committed to representing voters in such cases, could not keep up with litigating the litany of changes that have been unleashed in just the first year after the Shelby County decision."
In January, a bipartisan group of Washington lawmakers accepted the Supreme Court's challenge to update the VRA, by introducing the Voting Rights Amendment Act of 2014.
While the proposed VRAA covers states with five violations in 15 years and jurisdictions that show continuous low minority turnout and enhances Department of Justice's power to monitor elections, it only requires Georgia, Louisiana, Texas and Mississippi to "pre-clear" changes to voting laws. Voters' rights advocates have said that North Carolina, South Carolina, Virginia and Florida should also be covered. The bill also goes soft on restrictive voter ID laws, installing a special rule that separates voter ID laws from other discriminatory practices.
Henderson said that it's time for Congress to pass modern, 21st century protections found in the VRAA to combat documented discrimination and protect the fundamental right to vote for all.
Congresswoman Marcia Fudge, chair of the Congressional Black Caucus, called on Rep. Bob Goodlatte (R-Va.), the chairman of the House Judiciary Committee to "do the right thing" and call for a vote on the Voting Rights Amendment Act.
Although the bill isn't perfect, most voters' rights advocates and civil rights groups agree that headed into the 2014 midterm elections, the VRAA is better than nothing.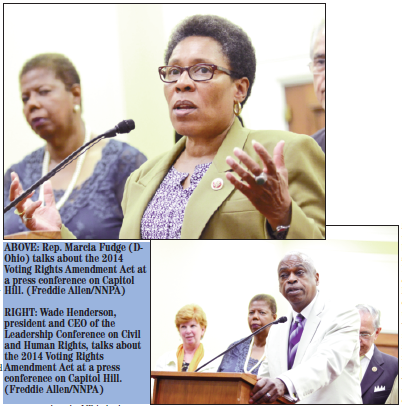 According to a report by the Brennan Center for Justice, "In 2013 and 2014, at least 10 of the 15 states that had been covered in whole or in part by Section 5 introduced new restrictive legislation that would make it harder for minority voters to cast a ballot. These have passed in two states: Virginia (stricter photo ID requirement and increased restrictions on third-party voter registration) and North Carolina," stated the report. " Further, seven other formerly covered states also passed restrictive legislation in 2011 and 2012, prior to the Shelby County decision."
Lorraine Miller, the interim president of the National Association for the Advancement of Colored People (NAACP), said that her group plans to engage members of Congress and call for House hearings on the VRAA, enlist registered voters to help first-time and elderly voters securing all required documents and identification necessary to vote, work with faith leaders to educate their congregations about voting, and deploy 2.5 million digital activists to support unfettered access to the polls.
"We must act with renewed urgency in advancing the VRAA through the congressional process," said Lorraine Miller, the interim president of the National Association for the Advancement of Colored People. "The looming risk of voter disenfranchisement threatens our democracy."
Miller added: "Failure to advance this legislation gives a free pass to voter discrimination."