March 27, 2015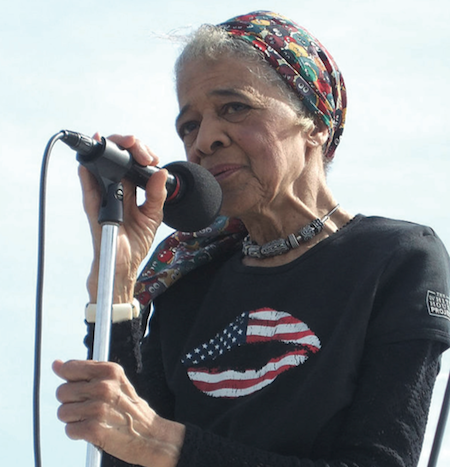 Vel Phillips
Airing for the first time last February, Director and Producer Robert Trondson's Wisconsin Public Television documentary "Vel Phillips: Dream Big Dreams" tells the incredible life story of one of the most iconic civil rights leaders in Wisconsin's history.
Velvalia "Vel" Phillips was born in Milwaukee, Wisconsin on February 18, 1924 to Russell and Thelma Rodgers. Raised in highly-segregated Milwaukee, she would go on to advocate for the rights of the underprivileged and win elections to political offices never before held by a woman or African-American.
Trondson said he was impressed by Phillips' vibrant, can-do mentality during a speech, which is why he pursued making a documentary on her. The most important point that he wanted to get across in the documentary was that Vel Phillips was a woman who said, "Why can't I? Why can't I do this? Why can't I go there?"
Trondson added that he hopes people watch the documentary, look at their own lives and question whether they can do better.
"I hope viewers come away with being in awe of her courage. All through her life, she took on the authorities, she took on the status quo, the haters and the ignorant man, and she had that life that maybe sometimes was scary, but she never stopped fighting," Trondson said.
After receiving an undergraduate degree from Howard University on a scholarship and a law degree from the University of Wisconsin-Madison, Phillips and her husband, Dale, moved back to Milwaukee where in 1956, an alderman position in Milwaukee's second district opened up. Phillips decided to run, having seen the impoverished, overcrowded city centers in which Milwaukee's African-American population lived. As both a minority and a woman, Phillips' first run for political office was not easy. Never-the-less, it paid off.
On April 3, 1956, Phillips was elected both the first female and first African-American alderman in Milwaukee's history, an accomplishment marking the beginnings of a career in civil rights activism. As alderman, Phillips fought for open housing ordinances, which made it illegal to prohibit African-Americans from buying homes in prosperous white neighborhoods. She stated that "winning isn't so important as doing the right thing."
In1978, Phillips became the first African-American and first female elected into a statewide executive office in Wisconsin, or anywhere in the United States, as Secretary of State of Wisconsin. Here she continued to work for civil rights and woman's equality.
Trondson said the biggest challenges of making the documentary were narrowing down Phillips' entire life into only one hour and interviewing her about the times when she stumbled into unethical behavior while working as Secretary of State, which he included in the documentary.
"It was hard to talk about those issues, but you know, she's only human," Trondson said. "You hear people say 'living legend' and she really is,"
Phillips' son, Michael Phillips, said his mother was devoted to advocating for all underprivileged groups, whether African-American or not.
"With her dying breath she will stand up for the rights of the underprivileged. That has been her life and that will be her life. It is the one guiding star for her," Michael said.
While Phillips faced many professional and personal challenges on the basis of her race and gender, one of her biggest obstacles was that of her oldest son's severe mental illness, schizophrenia.
"My mother was able to continue her struggle and maintain the art of her fight for civil rights despite the personal tragedy my brother's situation presented to the family," Michael said. "There came moments where she would have wanted to turn her focus to her family and to do for him what she felt she could do, but she was drawn off by the civil rights struggle that demanded her attention. It's a lesson of determination that I take with me."
Now 91-years-old, Phillips remains a prominent activist in the African-American community. Her foundation, the Vel Phillips Foundation, focuses on sending underprivileged African-American youth to college in hopes that one day these students will take up leadership roles in Southeastern Wisconsin and Milwaukee.
The film is particularly relevant today, as racial tensions continue to play a prominent role in our society. Michael said that despite all the success of the 1950s and 60s Civil Rights Movement, the country has suffered a relapse of racism and discrimination. He added that wealth gaps today are as high as those from the 1930s and divides in the Judicial and Legislative spheres persist.
"This isn't just history. This is as meaningful today and as prevalent today as it was back then," he said.
Trondson added that he hopes people watch the film and have meaningful conversations about what needs to change in today's world.
"Change can work backwards sometimes, so it is important to continue fighting for what is right," Trondson said.
You can watch Vel Phillips' documentary at
www.pbs.org
.