July 10, 2015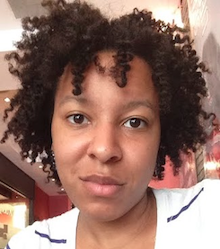 Amber Walker
"The subtext [of respectability politics] that exists is if this person had just been "good," "deserving" or "respectable," they would be worth our country's collective sympathy and support."
Tulsa. Montgomery. Selma. Charleston. These cities, seared in our country's collective consciousness, serve as bastions of America's seemingly never-ending struggle with race relations. The tragedies that these communities experienced caused our nation to pause, even if only for a moment, and evaluate just how shamefully tragic conditions are for people of color and have illuminated how much work we still have left to do, despite the incremental progress made since the formal end of slavery. How could we as a country continue to turn a blind eye to the debased and deliberate murders of children? Church-folks? Members of our community?
Sanford. Ferguson. Jacksonville. Madison. These cities, seared in our country's collective consciousness, give rise to another type of dialogue, one that we are not so comfortable with discussing. The tragedies that occurred in these communities seem to represent a parallel narrative, one that elicits a response of revolt, disgust, disappointment and anger for some; and righteous indignation, silence, and downright blame from others. There is a lot more finger pointing. More debate about who did what, when and why. More of a fight to either paint the villain or justify the victimhood of these children. Church-folks. Members of our community.
I am by no means attempting to diminish the loss of life that occurred in any of these situations – each and every one of these Black lives matter. It just gives me pause when the narratives surrounding the deaths of Black people in this country seem to center around a discussion of respectability politics: the idea that we have to somehow justify that our lives have value. Oftentimes, it seems like the victim is on trial more than the perpetrator, and their past is thrust to the forefront of the narrative as a means to diminish the gravity of the incident. The subtext that exists is if this person had just been "good," "deserving" or "respectable," they would be worth our country's collective sympathy and support.
The respectability politics narrative is not new. Abolitionist and Black feminist Sojourner Truth's contributions to the anti-slavery and women's suffrage movements were diminished by her contemporaries because she was not formally educated and, therefore, could not serve as a credible voice. She was seen as a source of entertainment and her standpoint was often silenced in favor of people like Frederick Douglass and Susan B. Anthony, who were seen as more credible icons because of their social class positions. Claudette Colvin was harassed and arrested for refusing to give up her seat on a Montgomery bus in early 1955, several months before Rosa Parks. Colvin believes her story was overlooked by civil-rights leaders at the time, who orchestrated Parks' narrative, because she was a teenager from a less-affluent family, whereas Parks was a middle-class Black woman who held a position as the secretary of the NAACP in Birmingham.
We shouldn't use respectability politics as a barometer for our sympathy or outrage. The life of a Trayvon Martin, a Mike Brown, a Jordan Davis, or a Tony Robinson is just as valuable as the life of the folks we lost that night in Greenwood, or the four little girls on 16th Street, or Jimmie Lee Jackson, or our brothers and sisters at Mother Emanuel. We should focus on the ties that bind us and these tragedies to our collective experience, instead of attempting to pick and chose who is worthy of our support and compassion.