July 31, 2015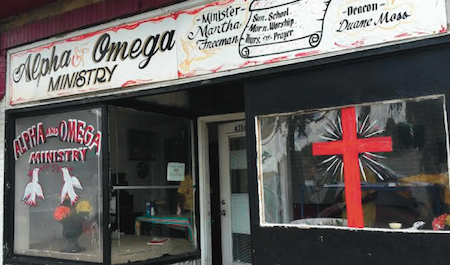 A view of Alpha and Omega Ministries, where the Safe Zone Initiative ambassadors often meet to discuss neighborhood issues. Photo by Maria Corpus
On an early Tuesday afternoon, the Garden Homes Park at N. 26 St. and W. Atkinson Ave. is lively with children sharing laughs at the playground, and local residents conversing at a picnic table.
The sounds and images of the park bring back memories for Antonio Williams, a long-time resident of the Garden Homes neighborhood.
"I remember when everybody knew everybody," Williams said. "At six-years-old, I used to come to this park all of the time, and my mom never had to worry about my safety, or whether I was coming home at the end of the night."
Among the trees that fill the park, there's one decorated with flowers, a white cross and two articles of clothing. Each garment has an image of 16-year-old Marvin Cottrell, Jr., a young boy who was shot and killed in 2013.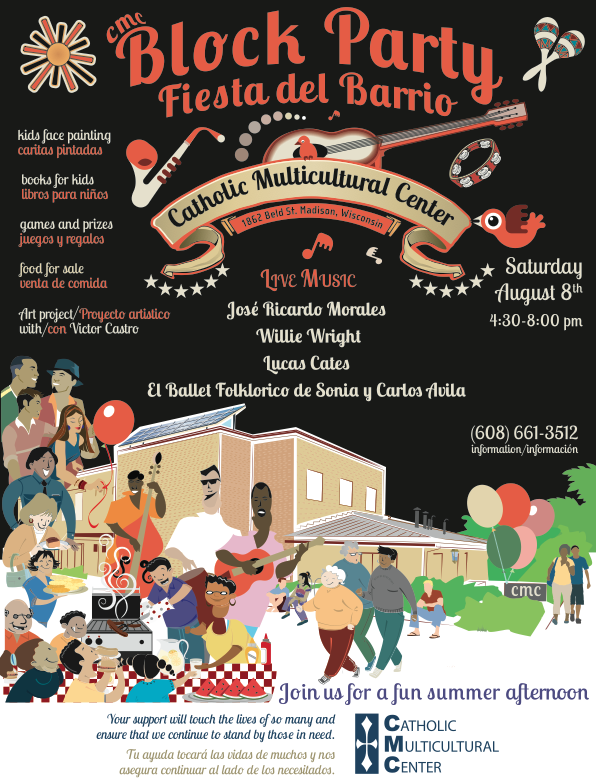 The tree serves as a small memorial, but also as a reminder of the type of violence that has hit Milwaukee neighborhoods like Garden Homes.
"Every neighborhood has its problems," said Williams. "For the most part … it's the people that are not from the neighborhood who come and cause ruckus because they don't have to deal with the consequences."
Working to combat and address the violence in Garden Homes is the Safe Zone Initiative. The initiative is a community effort co-founded by Shawn Moore and Khalil Coleman, and trains trusted community members as ambassadors who organize, de-escalate and prevent violence through conflict resolution.
"We're going to occupy this neighborhood, restore it and then return it to the community," said Moore.
Restoring Community, Hope
Since its start in spring 2015, the initiative has worked to establish trust and build a community by patrolling the Garden Homes area and speaking with residents.
Tuesdays through Saturdays from 1 p.m. to 9 p.m., the ambassadors wear their bright yellow shirts and go door-to-door to ask, "What's the need? What do you want to see happen in your neighborhood?"
Such questions have helped the Safe Zone Initiative build relationships among residents and create a safer environment.
"If I know my neighbor, and we have a relationship, my neighbor now becomes my burglar alarm," said Moore.
At the end of the shift, the ambassadors debrief and log the concerns neighbors expressed throughout the day. They then follow up with local officials about how to address concerns that require such officials' assistance.
As a community-based initiative, it does not seek out the assistance from police unless a situation calls for it. The Safe Zone ambassadors find it's important to establish trust with residents, rather than put people at risk by reaching out to police.
"It's about neighborhood improvement," said Co-founder Khalil Coleman. "It's about people that live in this neighborhood doing for self, helping self, helping each other, and bringing it back to village practice. It's not a matter of knocking the police and what they do."
No one has helped bring the community closer than Martha Freeman, 76, another long-time Garden Homes Resident who is known to many as "Mama Freeman."
"I don't care who's in what situation," Williams, who's also an ambassador of the Safe Zone Initiative, said. "If they see [Mama's] maroon truck pull up, everything stops."
On that particular Tuesday afternoon, Mama Freeman was driving around the park and giving donuts to local residents. Sometimes, she'll take young, troubled teens to her church, Alpha and Omega Ministries, to sit them down and try to get to the root of an issue or problems.
"It's something you can't really explain, there's not a dollar amount to it," Freeman said. "You just care. It means something."
"You want to help people, you hurt for them, [and] you almost feel what they feel."
Moving Forward, Despite the Odds
Although the Safe Zone Initiative has only been active for a few months, there is some uncertainty as to what will happen once the initiative loses funding in August.
According to Co-founder Shawn Moore, the initiative only secured $50,000 in funding. However, it needs $150,000 to $200,000 a year, in order to run a zone and employ a minimum of 12 people.
Moore said the initiative has already had to downsize their two five-hour shifts down to two four-hour shifts. It has also reduced staff, going from 12 to seven ambassadors.
The possibility of not earning more funding saddens Moore, as local residents have become used to the daily patrols.
"What [are they] going to do in August, when those guys in yellow shirts aren't coming along?" Moore said.
Regardless of funding, Moore says the team will do it's best to continue the Safe Zone Initiative.
"You're in a safe zone, but we want a safe community, we want a safe city," said Moore. "We're trying to set an example for the rest of the City."
The recent spike in violence hasn't deterred the Safe Zone Initiative either. Rather, it has validated the need for such programs, and has motivated leaders like Moore to continue to build a community and bring hope.
"It's about empowering people," Moore said. "One person can't do it, but when you get people that start moving in the same direction toward positive change … it's going to happen."
"My grandmama used to say, 'I'm slow, but I'm sure baby,' and I live by that. It may not happen today, but if we come together in Milwaukee, we can change what's going on."