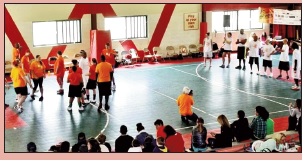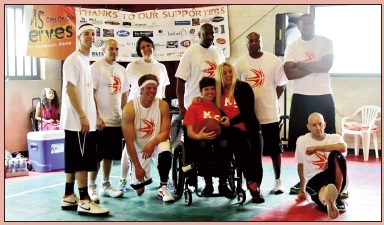 The 3rd annual MS Gets On My Nerves basketball fundraiser was held at Pooley's Restaurant on Madison's east side on May 3.
"We raised a little over $2,000 from the event," said Daze Entertainment Basketball Owner Troy Dean (pictured at right). "That will go to one of the multiple sclerosis chapters here in Wisconsin and will help out with a number of things. For people with multiple sclerosis, it will help out with mobility, it will help out with air conditioning in their houses. We were so happy to be able to do it."
Multiple sclerosis (MS), also known as disseminated sclerosis or encephalomyelitis disseminata, is an inflammatory disease in which the insulating covers of nerve cells in the brain and spinal cord are damaged. This damage disrupts the ability of parts of the nervous system to communicate, resulting in a wide range of signs and symptoms, including physical, mental, and sometimes psychiatric problems.
For years, Daze Entertainment Basketball crew (pictured below) has been entertaining and educating people of all ages over the world. Daze was created with three major goals in mind — entertainment, creativity, and positive community relationships.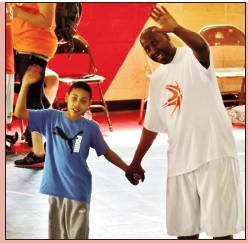 At the May 3 event, Daze Entertainment Basketball Crew beat a team of local celebrities that included Madison Rollin' Dolls roller derby players, Madison Mustang football players, local Hip-Hop artists, and community members.
"They had some good athletes on that team. It was a game," said Dean. "Most of the times when these celebrity games happen you have some people without athletic backgrounds playing, but these guys definitely did."
Kipp's Catering provided delicious food for the audience at this year's MS Gets On My Nerves.
"It's a great feeling to be able to help other people; especially in this situation where I have a couple of friends who do have MS," Dean said. "It's just a great feeling to help people out in general; but when it's your friends for 20-some odd years, it's an awesome feeling. I'm happy that the people came in to support it and that some of my teammates flew in from out of town to play on the team. The celebrities did a great job and we really appreciate Pooley's and all of the sponsors that made this possible."