February 20, 2015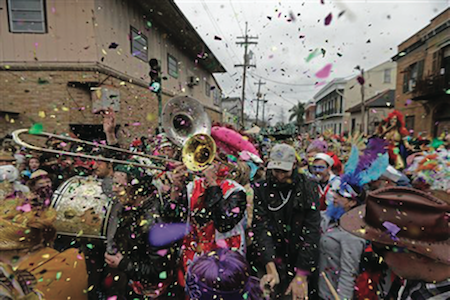 Revelers play brass band music as they begin the march of the Society of Saint Anne Mardi Gras parade, on Mardi Gras in New Orleans, Tuesday, Feb. 17, 2015. Revelers in glitzy costumes filled the streets of New Orleans for the annual fat Tuesday bash, opening a day of partying, parades and good-natured jostling for beads and trinkets tossed from passing floats. (AP Photo/Gerald Herbert)
NEW ORLEANS, LOUISIANA — Revelers in evening gowns and tuxedoes danced into the wee hours Tuesday at glitzy balls, kicking off the annual Mardi Gras bash that spills costumed merrymakers into the streets of New Orleans for partying, parades and trinkets tossed from floats.
CBS New Orleans affiliate WWL-TV says the city is set for the traditional fun.
Al Johnson, singer of the catchy Mardi Gras tune "Carnival Time," served as grand marshal of the Red Beans and Rice foot parade, a Monday prelude to the all-out revelry known as "Fat Tuesday." He also joined in eating spicy traditional fare of red beans and rice before attending the Orpheus Ball, one of several as the partying began in this Mississippi River port.
Johnson told The Associated Press his catchy song now synonymous with the annual Carnival seasons got its inspiration from the Lower 9th Ward, a New Orleans district devastated by Hurricane Katrina in 2005. "It all started down there," he said of the Louisiana neighborhood where levees broke and surging storm waters splintered wooden homes. But after Katrina, he said, "Life is going on."
Celebrities and celebrity watchers are also around at Mardi Gras and this year was no exception.
The cast of the CBS crime drama "NCIS: New Orleans" got to experience Mardi Gras firsthand as they rode in the Orpheus parade late Monday, tossing beads to revelers lining city streets before heading off to the ball. Their Mardi Gras episode airs Tuesday night at 8 p.m. CST.
Other celebrities joining in the Orpheus revelry were comedian Ron White and country music star Dierks Bentley.
Ordinary folks took to dressing up. Friends Alexandra Sergutin and Ashley Dornier of New Orleans said donning elegant gowns for the Carnival balls is one of their favorite Mardi Gras activities.
"It feels good to be a part of that tradition. It really does. It touches your heart," said Sergutin, draped in colorful beads. " … You're a part of something amazing and big."
Around daybreak Tuesday, retired clarinetist Peter Fountain was to help kick off the citywide party.
Now 84, Fountain no longer makes the walk of 10 miles or so of his Half-Fast Walking Club, which he helped found more than half a century ago. And the threat of overcast skies and high temperatures in the 50s on the cool side for south Louisiana winters wasn't expected to deter revelers coming out en masse and later thronging the French Quarter.
"At least it's not as cold as last year," meteorologist Phil Grigsby said. "Last year was cold and rainy. This year at least will be dry."
The 2014 Mardi Gras was the coldest ever in March, with a high of 42 degrees, said Robert Ricks, who prepared the National Weather Service's Mardi Gras history webpage.
Celebrations also were scheduled throughout south Louisiana and in coastal Mississippi and Alabama, sharing the traditions brought by French Catholic colonists in the 18th century. In Louisiana's swampy bayou parishes, costumed riders on horseback go from farm to farm, collecting ingredients for a huge community gumbo.
After Fountain's group early Tuesday, parade groups follow, including the "krewe of Rex, king of Carnival," who wears a golden crown and carries a golden scepter. That group features some of the season's most wildly fantastic floats. After Rex come two groups of "truck floats" by the hundreds flatbed trailers decorated by costumed riders whether families, clubs or other social groups.
The parades all wind down late Tuesday afternoon and outdoor celebrations cease at midnight, when the solemn Catholic season of Lent begins. New Orleans police ride horseback down the French Quarter's Bourbon Street to clear the last tipsy revelers at the end, signaling the party is over for another year.