April 24, 2015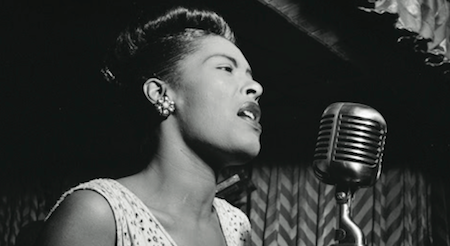 Billie Holiday
Born Eleanora Fagan in Philadelphia on April 17, 1915, Billie Holiday, affectionately known to many as "Lady Day," was undoubtedly one of the most highly-acclaimed female jazz vocalists of the Harlem Renaissance.
Throughout her lifetime, she was honored with induction to the Rock and Roll Hall of Fame, the Grammy Hall of Fame, and the Ertegun Jazz Hall of Fame and received numerous honors and awards for her music and performance. Last week marked her 100th birthday.
Released earlier this month, the new book Billie Holiday: The Musician and The Myth by John Szwed, seeks to capture the legacy of the woman behind such hits as "Strange Fruit" and "God Bless the Child," emphasizing and exploring her relationship to her music, her performance and career. It decidedly focuses less on the controversy surrounding her struggles with drug and alcohol addiction, which would eventually contribute to her death in 1959.
As a vocalist, Holiday was immensely talented, her voice an instrument through which listeners heard the experiences that she lived. University of Wisconsin-Madison Chair of the Department of Afro-American Studies Craig Werner described Holiday as a tremendous artist.
"As a vocalist, she is as good as it gets," he said. "Taking experience and making something of it. That's where the power of her music comes from."
In a time when Black creativities were often overlooked, she was frequently misrepresented by the media. Her own autobiography was written by a journalist and sensationalized to increase sales. Today, most of what Holiday is remembered for is her personal struggles rather than her musical legacy.
Werner sees the release of a book focusing primarily on Holiday's music as well as the increasingly important presence of such educational experiences as Madison's new Harlem Renaissance Museum as a great way for young people to connect and reconnect with these rich histories.
"To make them aware that the story is so much richer and so much more complex and that there is tradition there that is every bit as powerful as the tradition of Shakespeare or Dante or Mozart is very important," he said. "Just listen to her music and listen to it like it's brand new because it is. The things she's singing about are still with us."
As Holiday learned from her own musical predecessors, Aretha Franklin learned from Holiday, many of today's musicians, including Beyoncé and Mary J. Blige, learn from Franklin. Each new artist builds off of the musical style used by Holiday throughout her career to create their own works.
Today, this new book is will reframe Holiday's life and refocus her impact. It offers readers a glimpse into the persona of a musical icon whose legacy is often misrepresented as a collection of mythologies. The book hopes to recognize just how important she is as a Black artist and musician.
David Hart, co-founder of Madison's Harlem Renaissance Museum, said the broad impact the Harlem Renaissance had on the people who came out of it continue to be seen. "These events set the framework for what we do artistically today in terms of music, literature, dance and art."