April 24, 2015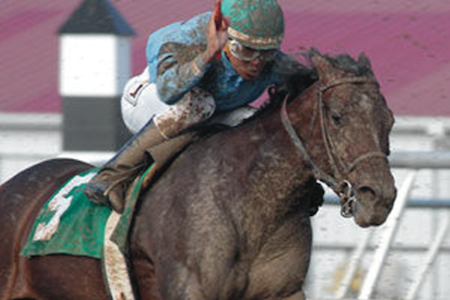 Victoria T. Davis is Special to the NNPA from The Indianapolis Recorder.
(NNPA) — During summers in Creston, S.C., Malcolm Franklin sharpened his jockey skills.
While most kids his age talked about becoming doctors, lawyers and astronauts, Malcolm Franklin already knew what he wanted to do with his life. Not only was the 11-year-old secure in his decision, he practiced his skills everyday on the racetrack.
Several years later, Franklin has fulfilled his dream. He's a successful horse jockey and the risky sport has taken him to New York, Florida and now Indiana.
"He will probably come racing in on two wheels," laughs Tammy Knox, race marketing manager at Indiana Grand Racing & Casino as she speaks to the barn gate operator.
A few moments later, Franklin swiftly rounded the corner of the barn in his black pickup truck. He quickly jumped out dressed in a black and white plaid shirt, jeans and a contagious grin. The 25-year-old had just left from competing in a race in Lexington, Ky.
An upcoming 120-day meet, beginning April 21, will mark Franklin's third season at Indiana Grand Racing & Casino in Shelbyville, Ind.
His Indiana journey began in 2013 when he rewrote the record books for his competition.
He earned 43 wins at the conclusion of the season, picked up his first leading rider title and declared himself a top contender for the 2014 crown. He also became the first jockey in Indiana Grand history to eclipse the $3 million mark in purse earnings in one season.
Franklin's road to success as a jockey began in childhood.
"My godmother used to keep me when I was younger and my godfather worked at the racetrack and farm," Franklin said. "She would take him lunch every day and I would ride along. I knew I wanted a job and I saw a few younger kids out there working."
After speaking with the racetrack's owner, Franklin got his first job at just 11 years old. He cleaned stalls and assisted with the horses' daily routine. He said, "the rest is history."
Franklin admits there are very few African-Americans in his chosen sport. When asked how racial differences has affected his career and competition, Franklin noted that horse racing began as an African-American sport, but whites and mostly Hispanics are dominating the racetrack these days.
"It's very few of us," he said. "But for the most part I don't look at it as a racial thing because I try to keep the same personality with everyone. I've had very few incidents where someone has said something racial, but I usually make them mad by killing them with kindness."
As advice for others wanting to pursue this sport, he admits there are a few things to consider such as lots of traveling.
"To do this you have to love horses. You can't say 'I'm just in it for the money.' You have to genuinely love horses. Every time I'm around a horse I try to communicate with them well and hope they can run good for me," he mentioned.
In 2005 Franklin rode in his first race at Colonial Downs in Virginia on a horse named Fred Bob. He recalls being extremely nervous.
"He was a horse that wasn't so good but he was just one to gain experience with. It was a night race and the last race of the day.
I was nervous and pacing back and forth. I got there about five hours before it was time to ride and I kept going to the bathroom," laughs Franklin.
He also remembers falling off a horse for the first time at age 11. He laughed, and said, "I was dead scared for about two weeks, but I kept getting back on." However, in October of 2013, he experienced one of the greatest risks a jockey could face — falling during a race.
"I was coming around the corner and about to whip the horse and next thing I know she was just going down. Everything happened so fast," he said. "I remember lying on the ground and rolling over. I moved my right leg but couldn't move my left and the first thing that came to my mind was 'oh, it's just bruised, I'll just have to soak it.'"
With adrenaline pumping, Franklin couldn't tell how bad his injury was. Once emergency personnel arrived, snatched off his boot and cut open his pants leg, the area around his knee began to swell immediately. The first question Franklin asked was, "can I ride tomorrow?"
He adds that he never second-guessed his recovery after the injury because he focused on a positive outcome.
"He really is a great kid," said Knox. "Last year we took five jockeys to visit the oncology floor at Riley Children's Hospital in Indianapolis and Malcolm was one of them."
Although more than 600 miles from his home state, Franklin remains in contact with those who have helped him along the way, especially his mother and uncle who he calls his "biggest supporters."
When his racing days are over, Franklin said he would like a career in construction or as a mechanic, interests he already pursues in his spare time. He also enjoys the outdoors, particularly fishing, and riding dirt bikes and four wheelers.
With Indiana Grand Racing & Casino's racing season beginning soon, Franklin said he's excited. "I feel very good about this season. Every day I go out and risk my life and hope I do a good job. I want not only to be successful, but to be safe," mentioned Franklin.
---
Victoria T. Davis is Special to the NNPA from The Indianapolis Recorder.
---