February 27, 2015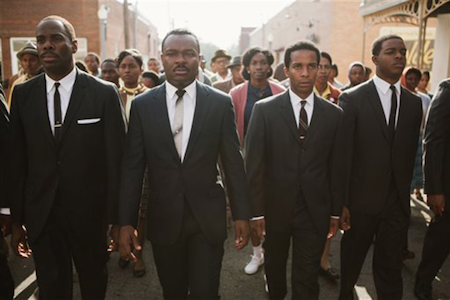 This photo released by Paramount Pictures shows a scene from the film, "Selma," from Paramount Pictures, Pathé, and Harpo Films. (AP Photo/Paramount Pictures, Atsushi Nishijima)
"The Oscars aren't designed for us."
In 2011, Idris Elba was a featured speaker at Rutgers University during a series of Black History month panels and the popular British actor spoke out in response to the lack of Black nominees for that year's Oscars. Elba's words ring even truer four years later after the Academy trotted out yet another lily-white list of actors and all male directors. It's a stark comparison to last year, when "12 Years A Slave" swept the Oscars.
For April Reign, a lawyer, blogger and social media professional, the utter lack of nominees of color spurred her to create the
#OscarsSoWhite
hashtag. "There were many performances both in front of and behind the camera by people from marginalized communities that I believe should have been recognized," Reign explains. The near shutout of "Selma" star David Oyelowo and director Ava DuVernay in the acting and directing categories was not surprising, but frustrating to Reign. "The point of the hashtag I created is not that the other nominees are not deserving. They all turned in excellent performances and that should be recognized. But Ava and David also should be recognized for their outstanding contributions, among others."
April Reign
Reign wasn't alone in her sentiment; when she tweeted #OscarsSoWhite it immediately went viral, with 95,000 tweets per hour. Mainstream outlets like The Huffington Post would soon bandwagon on the hot topic, and even late night host Jimmy Fallon tweeted: "This year's Oscar nominees are so white, they just became the frontrunner for the 2016 Republican nomination."
But for some, the lack of diversity in this year's Oscar nominations is no laughing matter. Eric Haywood, a writer for Fox 's hit TV series "Empire " believes taking a comedic approach to #OscarsSoWhite doesn't give those in the Hollywood industry any incentive to remedy their lack of diversity. "Neil Patrick Harris, who is hosting the Oscars, has already publicly made jokes about it, which tells me that the diversity issue in general is already been seen as a source of ironic humor instead of a serious issue."
While Academy president Cheryl Boone Isaacs (the first Black woman appointed to the post) has said in several interviews they are working to include more women and people of color as voting members, Robert Jones Jr., creator of the socio-political blog Son of Baldwin, remains skeptical. "Putting a Black woman in charge of an overwhelmingly White male institution and claiming that the bigotry problem has been solved is like changing the color of the curtains and claiming the house been remodeled."
Jones goes further, pointing out the reason the Academy is still grappling with diversity issues is because they haven't grasped the true definition of the word. "Diversity isn't about saying 'See? Here's this one representative from your group. This means that our institutionalized bigotry problem is solved!' Real diversity is ensuring that the wealthy white male cisgender non-disabled point of view isn't dominant and that other points of view are just as readily available, promoted, and accessible."
Indeed, of the eight films vying for the Best Picture Oscar, seven of them are centered on White male protagonists. While the "The Theory of Everything" does highlight Stephen Hawking's battle with Lou Gehrig's disease and "The Imitation Game" touches on Alan Turing's homosexuality, the Academy has overwhelmingly awarded the Oscars to White male-centric narratives in its 87-year history.
In addition to the lack of representation of Black artists, the absence of Latin actors is equally appalling. Film critic Monica Castillo has mixed feelings about this woeful under-representation. "I feel dispirited at the prospect of having only one or two nominees to cheer for, limited opportunities to hear a "gracias" in an acceptance speech and only a slightly better chance to hear the nominee's name mispronounced."
Castillo recalls watching the Oscars as a family tradition. "When Javier Bardem won for 'No Country For Old Men,' my mother teared-up when he thanked his mother in Spanish. In her years watching the ceremony, she had never seen that."
Castillo lists the lackluster stats for Latino wins at the Oscars. "Jose Ferrer holds the record as the only Latino actor to win Best Actor for his performance in the 1950's film "Cyrano de Bergerac." For Latina actresses, it's even worse — only three have been nominated in the Best Actress category (Fernanda Montenegro, Salma Hayek, Catalina Sandino Moreno) but none have won. Castillo is encouraged by the recognition of Latin filmmakers in the Oscars race with Alfonso Cuaron's Best Director win in 2014 for the space thriller "Gravity" and this year's hot ticket "Birdman" directed by Alexander Gonzalez Innaritu.
Women are also feeling the sting from the Academy's "boys club" mentality. Female-centric films are rarely recognized, as witnessed by the oversight of critically acclaimed films like "Belle" "The Babadook" and "Obvious Child" – all directed by women, all released last year.
Director Lexi Alexander, who wrote a scathing essay on the lack of opportunity for women directors, has no plans to watch the awards show and hopes others will join the viewing boycott inspired by the #OscarsSoWhite campaign. "When you're dealing with economics, everybody is afraid to be cut off from resources," said Alexander. "But if the eyeballs they are losing during the awards show concerns the brands and will eventually effect advertising income, watch how quickly Disney shareholders will tell the Academy to diversify"
As witnessed by the Black actors recruited to present at tonight's ceremony (Kerry Washington, Will Smith, Kevin Hart) ABC is attempting to keep its hold on Black viewers, but the damage has already been done. Jamie Broadnax who runs
BlackGirlNerds
already has her evening planned. "I'll be watching "The Walking Dead which to be honest, watching rotting corpses attack people in the zombie apocalypse is far more entertaining than the Oscars will ever be."
Reign will not be watching the Oscars either. Instead, she'll be hosting a live tweet with actress Aunjanue Ellis, star of the recently aired BET mini-series "Book of Negroes" and will also participate in a live tweet of the 1988 Eddie Murphy comedy "Coming To America" streaming on Netflix.
Reign encourages those participating in the viewing boycott to find other avenues of entertainment. "Watch movies that explore the richness of stories with people of color, whether it be Y Tu Mama Tambien, Harlem Nights or Crouching Tiger, Hidden Dragon. Ratings are important, and I hope that not just the Academy, but studio executives, notice that the movie going public, which becomes browner and more female each year, will not support the Oscars if our stories are not being told."