MADISON — A retirement party was held at the Monona Terrace Community and Convention Center May 1 for Wanda Fullmore, who has worked in City Hall for five different mayors —– Paul Soglin, Joe Sensenbrenner, Joel Skornicka, Sue Bauman, and Dave Cieslewicz. Since 1975, Fullmore was the first person you'd see or talk to if you contacted the mayor's office.
"She is the face and the voice of the city," Soglin said. "One of the brilliant things I've done in 20 years of public service was the hiring of Wanda Fullmore."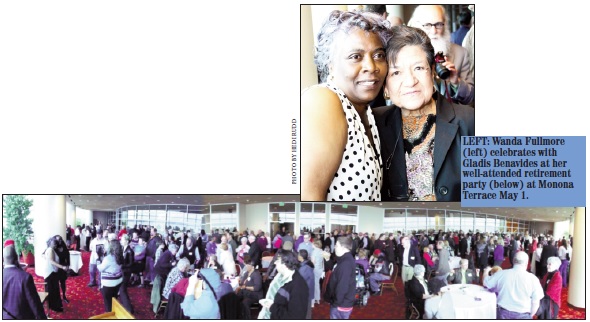 As an 18-year-old single mother barely out of high school in the mid-1970s, Fullmore was hired as a clerk-typist by Soglin in his first of three stints as mayor. With a mix of caring, humor and warmth — and a pinch of no-nonsense brash — she became the face of the office and one of Madison's most beloved figures.
Fullmore became a young mother just after she graduated from Madison Memorial in 1973 and eventually had two children, Tamara Doherty and Will Smith III. With her clerical skills, she was hired by the city as an hourly clerk-typist in the clerical pool, then as a permanent clerk-typist in the Personnel Department. Three months later, she was transferred to the mayor's office.
On May 1, the Monona Terrace was packed as many Madisonians took turns congratulating Fullmore on her long career.