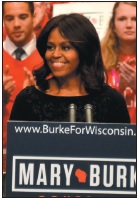 First Lady Michelle Obama rallies young voters in Madison
First Lady Michelle Obama fired up young voters for the race for Wisconsin governor at the Overture Center in downtown Madison Oct. 7 telling them that they can make a difference.
"I am thrilled to be back," Obama said. "I came back because I love our next governor of Wisconsin — Mary Burke. I love her because she's smart; she's a decent person, and it's hard to find decent people who are willing to do this. When we find them we have to support them. I love her because she's doing this for the right reasons and because she cares so deeply about the people of Wisconsin. She cares about this state."
For the second time in eight days, Obama campaigned for Democrat Mary Burke in hopes of making a difference in Burke's tight race against Republican Gov. Scott Walker. Congressman Mark Pocan and attorney general candidate Susan Happ also spoke to the estimated 1,250 people at the event.
Obama told the crowd that Burke reached the pinnacle of success as a top executive at Trek, a global company. "But she left that job to lead the board of directors of the Madison Boys & Girls Club because she wanted to help kids in this state," Obama said. "She became Secretary of Commerce because she wanted to fight for middle-class families and for small business. She started a program [AVID/TOPS] to help young people from underserved communities to go to college. So, we know where Mary's heart is."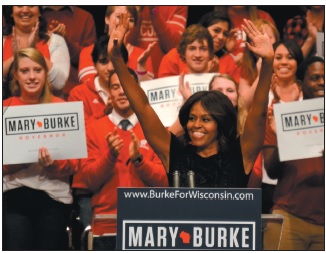 The First Lady said she returned to Wisconsin just eight days after another rally for Burke in Milwaukee because she wanted to tailor her message to young voters. "I'm sorry if you are getting sick of me, but I'm back," Obama laughed. "There's a reason why I came back … I wanted to talk more to the young people who are here. More than anyone else, this election is about you — your hopes, your dreams, and the world you want to pass on to your kids and your grandchildren. I know too many young people feel that elections just don't matter; they feel that politics don't really make a difference so they say, 'why bother to show up and vote?' If there is anyone here who feels this way, I ask you to consider the effects and all of the change we've seen this past 6 years under President Barack Obama."
Obama added that young people should vote for Burke because she will fight to make college more affordable, raise the minimum wage, ensure women receive equal pay to men, and to protect abortion rights. She told the older people that they need to be energized and inspired for the younger people.
"We need to pour everything we have into this election so that they can have the opportunity they need for the futures they deserve," Obama said. " We can do this. If women and minorities and young people show up, Mary wins … she wins. She wins if we're more organized, if we're more passionate — Mary wins."
Burke told the crowd that with their support she would be the next governor of the great state of Wisconsin. "Every day, I'm reminded of my deep Wisconsin roots and the values that I was brought up on — the values of hard work, of fairness, and of helping each other out." Burke said.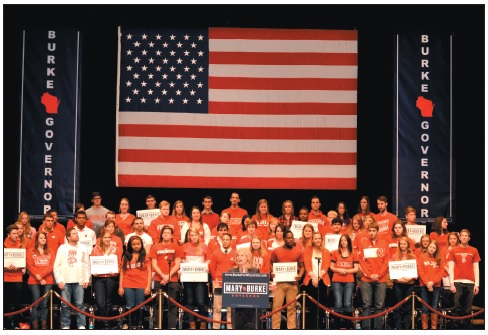 "My mom worked hard to put herself through college and she was the first in her family to do so. My dad started Trek Bicycles in a barn in Waterloo. He took an idea and he grew it into a great Wisconsin company."
Burke talked about Gov. Walker's broken promise on jobs. "He promised 250,000 jobs and we aren't even close," she said. "In fact, we're dead last in the Midwest in job growth. The governor's approach has been to put those at the top and special interests ahead of the interests of the people in Wisconsin. I'm a businessperson … I know that tax cuts to those at the top with special interests — they don't create jobs. Neither do cuts to education that our strangling our schools.
"It's making it harder for the middle class to grow," she adds. "We have tried Gov. Walker's way and it's not working. I'll actually invest in education and training, help small businesses grow, and raise the minimum wage. And reduce taxes for middle-class families … that's what improves people's lives and that is what is going to grow the Wisconsin economy. We know that Wisconsin has everything it takes to have a growing and thriving economy, but we need new leadership. We can do better. A lot better."
The latest Marquette University Law School poll shows Walker with a slim lead over Burke among likely voters.
"We know that this is going to be a tight race and every single vote is going to matter," Burke said. "Thank you for what you have done and thank you for what you are going to do in the next 28 days so that we can take Wisconsin in a new direction."