About 400 members of Delta Sigma Theta Sorority, Inc. converged on the Alliant Energy Center in Madison this past weekend as the Madison Alumnae Chapter of Delta Sigma Theta Sorority, Inc. hosted its Tri-State Cluster Meeting Nov. 8-9.
"The event went really well. We had 400 people there from three states," said Carola Gaines, president of Madison Alumnae Chapter. "We learned a lot, we networked, and we discussed better ways that we all could serve our communities."
Women attended the two-day event from the Tri-State area that includes Wisconsin, Illinois, and Minnesota, but Gaines said that there were also sorors there from Florida and Virginia.
Delta Sigma Theta Sorority, Inc. is a private, non-profit organization whose purpose is to provide assistance and support through established programs in local communities throughout the world. A sisterhood of more than 200,000 predominately Black college-educated women, the Sorority currently has over 900 chapters located in the United States, England, Japan (Tokyo and Okinawa), Germany, the Virgin Islands, Bermuda, the Bahamas and the Republic of Korea.
The major programs of the sorority are based upon the organization's Five Point Programmatic Thrust that include economic development; educational development; international awareness and involvement; physical and mental health; and political awareness and involvement.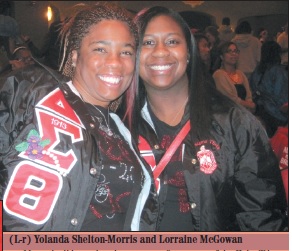 "The Meet and Greet that we hosted on Friday evening was especially fun where we got to talk with old friends and where we also raised money for diabetes prevention and awareness," Gaines said.
On Saturday, the Deltas gathered for various workshops on imporant Delta community topics.
Coming off a dynamic Delta Centennial Convention in Washington, D.C. this past July, sorority members were eager to get back together to take part in enriching informational sessions related to the internal development and business management of the organization.
"It was an amazing weekend for sisterhood," Gaines said. "All of the ladies came together under the commonality of serving our community. It's amazing what we can do when we all come together. This was a chance for us to take care of the business of Deltas. It was a fantastic chance to attend workshops, network, make connections, and talk about our public service projects."
Not only did members have the opportunity to fellowship with one another, but the Tri-State Cluster Meeting was a chance for the ladies to rededicate themselves to the organization and reinvigorate their commitments to the ideals that originally attracted them to the sorority.
"We had such a great national convention this summer, so another great event like this just keeps that momentum going," Gaines says. "We are already gearing up for [next June's] Delta Sigma Theta Sorority, Inc.'s 46th Midwest Regional Conference in Louisville, Kentucky. But the Madison chapter of the Deltas really showed out this weekend. It felt felt like a regional conference."
Supporters of the Delta Tri-State Cluster included American Family Dream Bank, Wisconsin Well Women Program, Carbone Cancer Center, Unity Health, GHC, Target, Wisconsin Alzheimer's Disease and Research Center, Costo, HyVee, and Walgreens.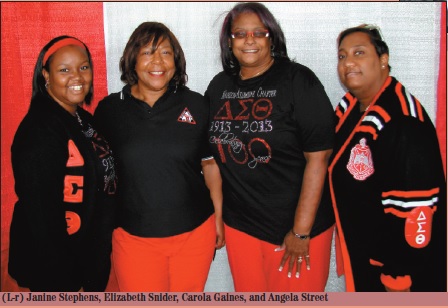 "We just want to continue to keep taking care of the business of Delta and keep working at those issues of our five-point programmatic thrust of things that we can do in our community," Gaines said.
The Madison Alumnae Chapter was chartered in 1977 and since then has been devoted to public service and developing and implementing programs that transform lives and impact the community.