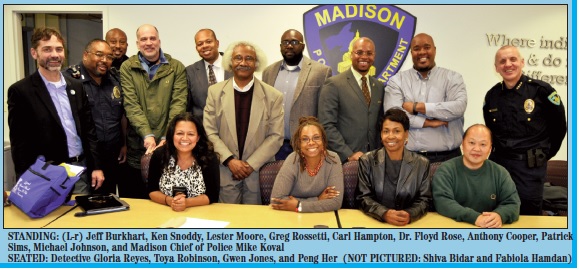 On Thursday, Oct. 30, Madison Police Chief Mike Koval and the MPD's Diversity and Inclusion Committee members hosted community leaders in order to start an ongoing dialogue to help keep the MPD apprised of trending issues, create an environment for frank discussions, probe areas where systems improvements can be made, and to discover future points of collaboration.
The meeting was held in the Community Meeting Room of the Central District Police Station and was a great an opportunity to bring community leaders together for ongoing, direct communication about issues facing the growing Madison community and finding solutions to safety problems affecting our neighborhoods. Also, it was an opportunity to inform the community of departmental programs and to enlist community help on outreach efforts.
The group is planning to meet in the future to keep the momentum going.