ARTFUL WOMEN OF COLOR MULTICULTURAL ARTS AND CRAFTS EXHIBIT
by Anita J. Martin
How do our cultural traditions influence our art? On March 29, folks got the chance to learn from 15 local artists at the Artful Women of Color Multicultural Arts and Crafts Exhibit. The third annual arts and crafts conference took place at Madison College's Truax Campus.
The Wisconsin Women of Color Network (WWOCN) hosted the event, which featured networking, artists' commentaries, door prizes, and music. Items for sale included books, ceramics, clothing, homemade soaps, jewelry, paintings, quilts, scented sprays, and wall hangings.
Following welcome and introductions by Janet Saiz and Agnes G. Cammer, Althea Rene' Miller, one of the featured artists, addressed those in attendance. Miller said she identifies as a queer Black woman, not as an African American, a spoken-word artist, "someone who dabbles in Black art. " She said she does not adhere to a traditional-type style of art, preferring instead to do her own thing: Her work (paintings) reflects the people she identifies with, in particular, with "Los Angeles, the protest culture."
Janet (Jan) Saiz, who is a member of the Ponca Tribe of Nebraska, shared how American Indian people reflect their culture through different forms of art. Though not an artist herself, she said she surrounds herself with artists. Saiz encourages people to go the various exhibits and outings in Madison to learn about each other's cultures —"and art is the greatest way to do that."
Often Native artists from Wisconsin as well as Illinois and other surrounding states display their work together, Saiz said. As a result, there could be beadwork, work on canvas, etc. from as many as 500 tribes, so the artwork may be similar but not identical. Artwork from American Indians often includes silver and turquoise from the Southwest states, she pointed out.
Skins of animals such as buffalo and deer have served as their canvasses. "Art has been a way of keeping track of our history throughout the years," explained Saiz, current president of WWOCN.
She invites folks to attend the Pow-Wow which takes place at Madison College (Truax) April 26, which features dance, the native regale of the dancers, drums and other artwork, and Indian tacos.
Artist Mari Yamashita de Moya, who displayed paintings and quilts at the exhibit, talked about her heritage, how her dad was a Japanese-American that was interned and her mother, a blond and blue-eyed individual. Before settling in Wisconsin, de Moya moved around quite a bit, which, she says, has shaped her feeling of community.
In the past, she has concentrated on Asian motif in her work, but this past year, since she retired, she said she has been using paints and colored pencils and having fun exploring what might be referred to as a fusion-type style.
"It's been a really productive year," de Moya said.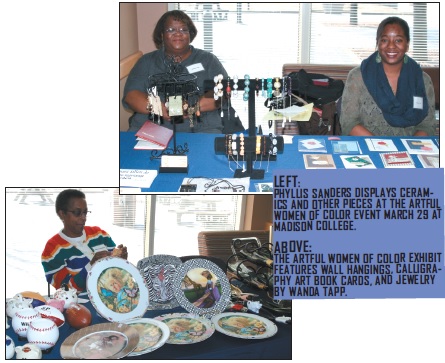 Araceli Esparza, whose focus in the past has been poetry, recalled the Women of Color spring conference a few years ago at Madison College. Since that time, she has been obtaining a master's degree in fine arts and has also been working on writing children's books. These days she also blogs. Esparza reported that on May 11 she will be taking part in a poetry event with author Fabu at the Barrymore Theatre titled "Listen to your Mother."
Esparza referred to the cultures that are specific to Wisconsin and through writing our stories, we can better understand one another.
Milele Chikasa Anana, who served as luncheon speaker, stressed that community is really about "taking the talents that you have and doing something with them, because there is a creative space for everyone in the universe."
Addressing the largely female audience, she said, "We are the keepers of the cultures…we are the ones that pass it down…"
By and large, Milele attests, "it is us women that make up the infrastructure (of the two most important institutions in society, schools and churches), who pass on the culture, who pass on the traditions…" According to Milele, art inspires us, enlivens us, empowers us, and "makes us know that our calling is a great thing."
Save-the-date: Leadership Skills Development Conference June 7, 10 a.m.-3 p.m. at Madison College-South Campus/Villager Mall. Visit www.womenofcolornetwork-wisc.org for more details.