EMPLOYMENT
---

CURRENTLY ACCEPTING APPLICATIONS FOR…….
NEW POSITIONS:
2015 Summer School Teacher
MMSD Building Services Summer Help
Full Service School Planner – LTE Position
Steamfitter
Carpenter – 2nd Shift
Benefits Technician – Senior
Senior Secretary – Curriculum & Instruction
Middle School Principal
Bilingual Resource Specialist – Mandinka
AVID Middle & High School Tutors & Lead Tutors
Special Need For:
Substitute Special Education Assistants
Bilingual Special Education Assistants
Bilingual Permit Substitute Teachers
Substitute Teachers
NOW AVAILABLE:
2015/16 Teacher Pools – all certification areas
TO VIEW ALL OPEN POSITIONS
& TO APPLY ONLINE:
An Equal Opportunity Employer
EMPLOYMENT
---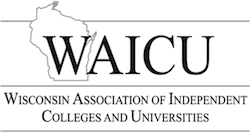 COMMUNICATIONS & MARKETING
WAICU is the official association of Wisconsin's 24 non-profit private, or independent, colleges and universities and their nearly 60,000 students. This "hands on" professional position will be responsible for all publications (paper and digital), news releases, media relations, and development of marketing strategies—including social media and web content. Experience in one or more of these areas and a minimum of a baccalaureate degree are required. Familiarity with higher education is a plus. Title and compensation are dependent on qualifications. For a position description and application instructions, email hr@waicu.org and specify the position.
To ensure consideration for this position, application materials should be received no later than 8:00 a.m. June 8, 2015.
No calls or drop-ins, please. WAICU is an equal opportunity employer.
EMPLOYMENT
---

WISCONSIN NUTRITION EDUCATION PROGRAM (WNEP)
COUNTY COORDINATOR (100%)
Family Living Programs enhance the quality of family and community decisions that affect the family and to increase the abilities of families to adapt to and effect change. Provide leadership for the Nutrition Education Program, collaborate with local agencies to ensure the delivery of nutrition education to low-income residents (especially people who are eligible to receive food stamps or FoodShare), staff training and supervision, and managing the program budget.
We are recruiting for two positions in the following counties:
• Columbia and Dodge
• Grant County
For details on how to apply visit:
Application deadline: June 16th, 2015
We are an AA/EEO employer
REQUEST FOR PROPOSALS
---
ATTENTION:
MBE / DVB Subcontractors & Suppliers
Kraemer Brothers is requesting proposals on the following project:
State Archive Preservation Facility
Madison, Wisconsin
Bids due to Kraemer Brothers June 3, 2015 by 12:00 Noon
If you are interested in quoting this work and need any assistance please contact our office
Kraemer Brothers
925 Park Avenue
P.O. Box 219
Plain, WI 53577
Phone: 608-546-2411
Fax: 608-546-2509
"An Equal Opportunity Employer"

EMPLOYMENT
---
Part-Time Installation Merchandisers needed to install and merchandise Hallmark products at stores in and around Madison. To apply, please visit:
http://hallmark.candidatecare.com
EOE Women/Minorities/Disabled/Veterans