Black Women's Wellness Day
Building a new legacy of wellness
(Part 1 of 2)
For the third year in a row in Madison, the Black Women's Wellness Day offered a wealth of information as well as inspiration to those that attended. This year, the event was sold out with 400 folks in attendance at the Alliant Energy Center Sept. 20.
Sponsor's for this year's daylong conference included Public Health Madison-Dane County and the Dane County Office of Equal Opportunity.
The event provided the opportunity to visit more than 50 exhibits and talk with vendors, as well as to get your blood pressure checked and take part in a screening for diabetes.
"Our ultimate cause is to write a new legacy and doing it by choosing life," said Lisa Peyton-Caire, chair of the event and founder of the Foundation for Black Women's Wellness.
The day started with "Living Well at Every Age: A Special Session for Senior Women" which focused on aging gracefully, "aging healthy, wealthy, and wise." Speakers included Dorothy Farrar Edwards and PhD, Debbie Jones, M.D.
The first presenter, Dr. Edwards, is a professor at UW-Madison and a trained psychologist. She enrolled in a doctorate program in aging and development in 1972, and through the St. Louis Area Agency on Aging, began working with black elders on the North side of the city.
The black women she worked with through the long-term research project were very patient with her, she said, as she was a "mouthy, important know-it-all 22-year-old" at the time. "They stuck with me," Edwards said.
When looking to unravel the secret to aging well, she said, it's important to recognize that aging one day, it happens over time. Years of choices and habits impact the aging process.
Edwards posed the following question to those at the workshop, "What does aging gracefully mean to you?" The responses included "looking good and feeling good," "accepting aging," and "maintaining a positive and optimistic attitude."
She pointed out that the opposite of aging is essentially not aging at all (death while young), which virtually no one wants. Edwards shared this quote from Eleanor Roosevelt, "Beautiful young people are accidents of nature, but beautiful old people are works of art."
Edwards referred to the fact that not getting enough physical activity is detrimental to well-being in myriad ways: "Just sitting is bad for your health, your head, and in some cases, your relationships…Regard movement as an opportunity, not an inconvenience….If we can embed everyday activity into what we're doing, we're more likely to do it and we're more likely to sustain it. "
On choosing healthy foods…
She shared advice from Michael Pollin, a well-known writer on nutrition and healthy eating. "Eat food, not too much, mostly plants. Don't eat anything your great grandmother wouldn't recognize as food. Don't eat anything with more than five ingredients, or ingredients (listed on the label) that you can't pronounce. Don't eat anything that won't eventually rot. Don't buy food (for everyday consumption) where you buy your gasoline."
Edwards indicated that the last recommendation is good advice for people that don't live in food desserts. For those with no regular grocery store within a reasonable, accessible distance, she said, it could be necessary to buy food at the gas station or the pharmacy-type store just down the street.
Edwards said that as a community, from a policy perspective, she would like to see as a goal, that no one has to (by necessity) buy food where they by gas."
She pointed out that changes in hearing and vision also affect your ability to think and memory. "If you notice changes in memory or thinking, talk to your doctor," she implored.
She also addressed the importance of getting enough restful sleep on a regular basis. "I think when I went through menopause, my ability to sleep well went out the window," she stated.
Edwards stressed how paramount it is to maintain social connections, adding that "if you can't travel to see your friends, learn how to Skype."
Besides knowing your numbers (pulse rate, blood pressure, blood sugar, cholesterol level), she said it's critical to get an annual flu shot. "Only 55% of people over the age of 65 in the State of Wisconsin get their flu shot," she lamented.
The Blue Zone Way
Dr. Jones encouraged the folks in attendance to get into the zone—the blue zone, that is. She cited research by Dr. Dan Buettner, author of The Blue Zone, a person that over the many years he worked for National Geographic, noticed groups of people living over 100 years that were doing quite well. Intrigued, he took out his blue pen and circled these areas on the map—Sicily in Italy, Okinawa in Japan, and Loma Linda, California, the Seventh Day Adventist community.
In her presentation, Dr. Jones discussed "things that these people have in common that maybe you can adopt to live and age gracefully." For the Loma Linda group, she said, garden was huge in their culture, and it kept them busy as well as active. Planting a garden provides low intensity full range of motion, provides fresh vegetables, and helps relieve stress. Plus, there's the added benefit of social connection if folks work in the garden together.
One of the lessons gleaned from Dr. Buettner's work is how paramount it is to watch how many calories you regularly consume. "It's easy to do something called 'serve and store.' You put up (the extra food) before sitting down to eat.," Jones explained, imploring people to put extra portions in airtight containers and put in the refrigerator right away, so it's basically, out of sight, out of mind.
She indicated that a choice she herself makes for better health is to add carrots, sweet peas, and broccoli to her macaroni and cheese.
Then there's the concept of making snacking a hassle, by putting the snacks (like candy, cookies, and chips) on the top shelf, "where you have to wake the grandkids up to get them."
Jones recommends weighing yourself daily as a minder to focus on health. "Weighing yourself daily is sobering," she stated, and seeing a higher number one day can help motivate you to get back on track with food choices.
Studies show that people that take their time eating are more likely to achieve and maintain a healthy weight. Jones stressed that multi-tasking when it comes to eating is not a good thing, which is a habit she sometimes struggles with as well.
Experts emphasize having a seat while eating to help reduce the rate of consumption as well as help with relaxation and digestion. "And I don't think they mean sitting in a car, either," she stated, referring to drive-through fast food.
Where's the beef?
Jones talked about the need to eat meat only once a day as opposed to three meats a day, which is currently the case for many people. "I remember a time when meat was a special occasion because we couldn't afford meat," she remarked. "We need to go back to where meat's less a part of the meal" (to help increase life expectancy).
One of the lessons in Buettner's book is taking time to see the big picture. This includes creating a personal statement, finding a partner or friend that can help you realize your purpose, and learning something new, such as a new language or playing a musical instrument.
"Volunteering keeps you young," she declared. "You (elders) are the keeper of our history and we are eager to know what you know. I want to implore you to consider volunteering your time," particularly with kids in their younger years. Jones believes it's vital to start when people are young, "telling them where we come from, our history" and also, sharing wisdom.
According to Jones, folks will find their "back won't hurt as much, those knees won't ach as much" when they're volunteering and helping someone else.
In terms of taking time to relieve stress, she elucidated, reducing noise in your environment is part of this.
Jones encouraged women to create moments of closeness, through weekly dinners with grandparents, along with a family shrine by taking photos and making a collage. "Take those pictures out of the (photo) album and put them on the wall," she implored.
Steer clear of potatoes
She also advised folks to hang out with people who are going places, doing things, staying active: "If your friends are active, you'll be active. If your friends are couch potatoes, look out!"
During the question and answer period, one person said that she shies away from research involving medication because she already takes medication for a health condition. "What is your take on that?" she inquired.
Dr. Edwards pointed out that there are probably 100 studies involving older women in the community right now. Part of volunteering for studies is going through a screening, she explained. Edwards said that she decided after checking out a study involving Vitamin D not to take part in it, because the dosage of Vitamin D the participants would be taking was less than the amount she currently takes, and she was not willing to go to a lower dosage given her health history.
"We have a desperate, desperate need for women of color to participate in studies, especially African American women," attested Dr. Jones, adding that it's now known that the treatment of heart failure and asthma are quite different in the African American community. "There are many, many studies that you don't have to take any medication at all," she stressed, asking women to check them out and enroll if possible.
Edwards pointed out the fact that kidney disease and certain kinds of lupus as well as some forms of arthritis are much more prevalent in black women than other folks. "It's a partnership," she said in talking about volunteering for a study and the researchers conducting the study. "You have every right to expect very high standards of privacy"—but they can't get a clear picture of life-changing diseases without people signing up to take part.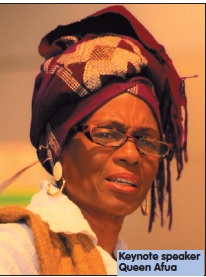 Watch for highlights from keynote speaker and internationally renowned author Queen Afua next week.