May 8, 2015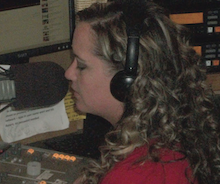 "There's a lot of youth that need to realize this isn't a joke — incarceration is your life," said Barber.
For Rebecca Barber — better known as BossLady — rap music not only entertains but it also educates. And it can even save lives. Barber is the host of The Universal Soul Explosion, a radio show every Saturday night from midnight to 3 a.m. on 89.9 WORT FM. In addition to spinning rap by local artists, Barber offers prison inmates the chance to send in letters or call and give shout-outs to friends and family members over the airwaves.
"We have a voice here that we can be using for the greater good," said Barber. "We can save youth from getting stuck in the system. If they hear these inmates, what they're going through, they can know what they're up against."
Wisconsin currently has the highest African-American male incarceration rate in the country, many of whom are locked up for nonviolent crimes. This is why Barber believes it's so important to use art and music as an educational tool. She primarily plays rap that has a deeper message and a lesson embedded in the lyrics, she said.
The music on WORT reaches many cities in Wisconsin documented with higher arrest rates. This gives local artists a chance to use their craft to accomplish something positive, said Barber. "It doesn't have to be a conscious message that says what to do, but it can have a story that shows the struggles that a real person went through," she explained. "It can help influence other's decision making."
In between songs, Barber lets the inmates' shout-outs serve as an educational resource for youth and because the content is uncensored, the emotions revealed are raw and real.
Sometimes the inmates will have a specific message for a friend or family member, but other times they just want to share their story or recite a few rap verses of their own.
Many callers mention that their incarceration resulted from careless or naive actions taken as youth and a lack of positive role models growing up, explained Barber. This is a problem that she aims to amend.
"There's a lot of youth that need to realize this isn't a joke — incarceration is your life," she said. "It's hard for me to swallow the actual stories of people who were tried at age 16 or 17 as adults and their lives are gone because they didn't realize the ramifications of their mistakes."
Barber has been working with WORT since 2011 and began hosting The Universal Soul Explosion in 2013. Over that time, she has heard many touching moments of inmates and their family members expressing love for one another.
The Universal Soul Explosion is a designated place where inmates can receive encouragement and share their experience. It's also a place where friends and family members can feel connected to their loved ones behind bars. "It's a whole forgotten community — Beyond Bars: Rap Show Connects Those Incarcerated to the Community a lot of people don't realize how hard everything is for people on the outside too," said Barber. "This benefits everyone — the inmates, their loved ones and the community." Connecting families to their locked up loved ones is a bigger deal than most can imagine, said Karen Reece, president of the Urban Community Arts Network, which promotes the local Hip-Hop scene.
"Many individuals behind those walls have limited communication with friends and family as well as broken bridges. Hearing people on the outside give them a shout out on the radio is a reminder that people still care," said Reece. "Being able to write in to the radio with feedback, requests and shout outs of their own can help these men and women feel a small connection with the outside world." Barber said she would like to see The Universal Soul Explosion expand to radio stations across the country. One of her long-term goals is to see shows like hers gain a nationwide audience.
In addition, her goal is to see Madison's local Hip-Hop scene evolve. Over the past few years, the Hip-Hop culture has greatly diminished in the Madison area, causing people to have negative opinions of the rap, she said. Barber emphasizes that it is important to recognize the positive attributes of this music and culture.
"Madison Hip-Hop was robust a few years ago, but now there's no place for artists to go," she said. "I think Madison is very blind to the fact that Hip-Hop has a lot of positive messages, but a lot of it gets shut down before any of it can be displayed. We need to realize that it's not the music, it's the message."
Barber has put together two mixtapes of inmate shout-outs that are available on AudioMac. com. The third mixtape will be available next month.
She hopes her mixtapes will continue to come out every six months.
It is impossible to host The Universal Soul Explosion and forget about the voices of the incarcerated, explained Barber.
"You can't listen to these stories and not try to pay something forward," she said. "To see what others deal with, to see how some people feel so alone, yet to know there's a lot of people writing the same letter — the feeling of connecting people is unexplainable."