July 17, 2015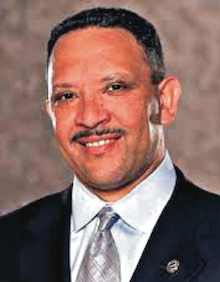 Marc H. Morial, NNPA Columnist
"You must register. You must vote. You must learn, so your choice advances your interest and the interest of our beloved Nation. Your future, and your children's future, depend upon it, and I don't believe that you are going to let them down." – President Lyndon B. Johnson on the Signing of the Voting Rights Act, August 1965
For four days beginning in July, political, business, and community leaders will convene in Fort Lauderdale, Fla. for the 2015 National Urban League Conference. Conference attendees should expect to engage in thought-provoking discussions with leaders and experts in a variety of areas, including economics, entertainment, civil rights and politics.
This year, following a long-standing tradition of major-party presidential candidates addressing the conference, the National Urban League counts several 2016 presidential hopefuls – Republicans and Democrats alike – as invited guests. The candidates, including former Secretary of State Hillary Clinton, former Florida Gov. Jeb Bush, former Maryland Gov. Martin O'Malley and retired neurosurgeon Dr. Ben Carson, will share their respective vision and strategies to save our cities.
The candidates' plenary session, "Save Our Cities: Education, Jobs + Justice," falls under the umbrella of the National Urban League's "Save Our Cities" campaign, an unprecedented mobilization to influence public policy through grassroots political action.
As we know far too well, our country faces tremendous challenges. Rather than recite our problems, rather than fall into the trap of recycling failed solutions for today's and tomorrow's challenges, we will reunite in Florida to deliberate on solutions and fresh ideas to the economic and social troubles plaguing our cities. These are discussions that are too important to take place in silos. The solutions to our challenges are stronger with buy-in, engagement and resources from all concerned stakeholders. So, it is vital that those contending for the highest office in the land be a part of that conversation.
The ravages of inequality on American families, particularly among those in African-American and Latino communities, continues to rip our nation apart. We must question and listen to any candidate's proposals to reverse this ever-widening trend of inequality.
An educated citizenry is best prepared to choose the candidate who will advance his or her interests, and ultimately, the interests of a stronger, healthier and more inclusive nation. During his remarks on the signing of the Voting Rights Act of 1965, President Lyndon Johnson said, "The vote is the most powerful instrument ever devised by man for breaking down injustice and destroying the terrible walls which imprison men because they are different from other men." The stakes are too high for us, and for future generations, not to have these discussions together.
In this year's analysis of the "State of Black America," the National Urban League found that while strides have been made in Black and Brown communities, tremendous gaps continue to leave us with a crisis in education, jobs and justice. In the case of justice, a series of horrific acts – from the deaths of Black men and women at the hands of police, to the racially motivated murder of nine people in a South Carolina church, to the legislative efforts in some states to rob Americans of their constitutional right to vote –cries out for serious and immediate reform.
While our economy is improving after the recession, the bounce back has not been as evident in many Black and Brown communities. For too many Americans, the recession is alive and well. As Congress continues to debate reauthorization of the Elementary and Secondary Education Act, we, along with a diverse coalition of policy-makers, families and community activists, are fighting to ensure that any new legislation adopted protects civil rights and promotes equity, equality and accountability in education.
These conversations are indispensable in this moment in which we as a nation find ourselves of perhaps the greatest social and economic upheaval in a generation. Choose to be a part of our discussion and conversation, or choose to get involved in the discussions and conversations that are happening, or will happen in your communities – every voice and vote matters.
---
Marc H. Morial, former mayor of New Orleans, is president and CEO of the National Urban League.
---