May 1, 2015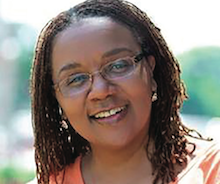 Alma Gill, NNPA Columnist
Dear Alma,
A colleague has invited me to her bridal shower, but so far I've received no invitation to the wedding. I've known for about six months that the wedding would be out of state at a resort. Her family has groused about it being so far away. I doubt a wedding invite is forthcoming. She is not a young street urchin. She's a seasoned professional. She is aware of social etiquette. Am I really supposed to hop to a bridal shower with gift without an invite to the main event?
~Uninvited
Dear Uninvited,
Oh, my sweetness, did you say "street urchin?" LMBO, I am on the floor! I must admit, my brain is split down the middle on this one. On one side, it sounds like you're offended and if we were following the dictates of social etiquette, yes, you would be right. If you receive an invitation to the bridal shower, you should also receive an invitation to the wedding. Then again, there are always exceptions, like if the person is a colleague and you never spend time together outside of work.
Most times the employees agree to throw a shower or take up a collection for a gift. Now the other side of my brain is thinking, especially in this economy, that you should be glad your colleague didn't invite you to her destination wedding. Along with her gift, you'd be forking up airfare, hotel charges, plus related expenses – for someone who isn't your sister, best friend, college roommate or first cousin. I'd suggest you go to the shower, yes, with an affordable gift in hand and have a great time. Anybody who uses "street urchin" in a sentence is clearly, long overdue for a vacation.
~Alma
---
Alma Gill's newsroom experience spans more than 25 years, including various roles at USA Today, Newsday and the Washington Post. Email questions to: alwaysaskalma@gmail.com. Follow her on Facebook at "Ask Alma" and Twitter @almaaskalma.
---