Interview with Goodwill President and CEO Barbara Leslie
Vital community resource keeps growing
by A. David Dahmer
Goodwill is much more than a store you visit to find some cool clothes or an old 8-track that you can't find anywhere else. When you support Goodwill Industries of South Central Wisconsin, you support its mission of building better communities by providing opportunities for people with disabilities or other challenges and you help make the dream of self-sufficiency possible for hundreds of individuals with disabilities.
"We want more and more people to know about all of the great things that goes on at Goodwill — that's been a challenge for us," says Barbara Leslie, president and CEO Goodwill Industries of South Central Wisconsin in an interview with The Madison Times at the Goodwill Headquarters on Madison's east side. "People identify us with the stores and the donation centers, but they don't know anything about our programming. But we need to let people know."
Did you know that Goodwill has employment-related services that include a career center, supported employment, work experience, and co-employment? They have housing services that include group homes and apartments. They have community assistance for individuals including education and training programs.
Goodwill Industries of South Central Wisconsin is part of Goodwill Industries International, a network of 166 community-based agencies in the United States and Canada with 14 affiliates in 13 other countries. Goodwill agencies are innovative and sustainable social enterprises that provide job training programs, employment placement services, and other community-based programs. While every organization serves people with disabilities and other challenges, each Goodwill identifies and responds to the needs of its local community
Leslie has been with Goodwill for 43 years. It was her very first job straight out of college. "My goal was to work with juvenile delinquent females. I was recruited for an interview and they needed somebody to set up a business training program for people come out of Mendota Hospital," Leslie remembers. "It just seemed like a great challenge. It was something I didn't really plan on doing. And they offered me $2.75 an hour! I needed a job. I didn't think I'd be here long and I told them that. At that time, we had 8 employees working here and we were a small division of Milwaukee Goodwill."
Goodwill Industries of South Central Wisconsin opened in Madison in 1961. First located in the basement of an old grocery store, the Madison division separated from the Milwaukee Goodwill and incorporated as Goodwill Industries of Madison, Inc. in January of 1971. Nine years later, that name was changed to Goodwill Industries of South Central Wisconsin, Inc. to more accurately reflect our growing reach.
From those small beginnings with just 8 employees, Goodwill Industries of South Central Wisconsin now today has an operating budget of around $15 million and have 378 people on their payroll. Last year, they served 1,600 people and they operate out of 23 different locations.
Leslie's prediction that she would soon leave her first $2.75-an-hour job would not come true as she would soon fall in love with the people that she served. "That became my inspiration and all those people that I worked with became my good friends," she remembers. "There was no way I was going to leave."
Through the years, Goodwill Industries of South Central Wisconsin's mission is to build better communities by providing opportunities for people with disabilities or other challenges has been unwavering. They do that in a variety of ways. (See sidebar at lower left.)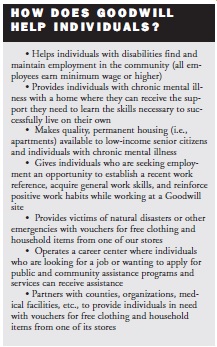 "We could not provide the services that we provide were it not for the revenue we generate from our retail string," Leslie says. "If we didn't have that revenue, our services would be severely cut. They are very intertwined; more and moreso as the years go by."
For the first half of her life at Goodwill in what Leslie calls "the old days," about 75-80 percent of Goodwill's revenue came from government dollars. "When I became president, I made a commitment that we cannot be reliant on government dollars and so I'm happy to say today about 75-80 percent of our revenue comes from retail which gives us the opportunity to make decisions about our own destiny. And that's what I like."
The turning point for Goodwill came in 1988, when the CEO at the time informed Leslie that Goodwill was going bankrupt. "That was the most devastating time in my history at Goodwill," Leslie remembers. "I was shocked and devastated by the whole thing and I said I would do anything I could to help. They were thinking about re-merging back with Milwaukee Goodwill."
That's when Leslie got involved with the retail side of the business. She went out and found the Nakoma Plaza store on Madison's west side and she determined that it could be a unique donation center. "I negotiated that contract and opened up that store," Leslie remembers. "That store received a national award because it was so unique and because it was so successful. Other Goodwill's started to follow that pattern. That was really a turning point for us."
On the heels of that, she opened a store in Sun Prairie. "Because of Nakoma and Sun Prairie, we started to get grounded again financially," Leslie says. "We stopped some of our programs that weren't profitable and we focused more and more on retail. We've opened and closed many stores since. Today we have eight stores — soon to be nine with the one in Sun Prairie. And if you count our E-Commerce, that would make it 10. We also have an online bookstore, so that would make it 11."
Goodwill's online auction site, shopgoodwillmadison.com, is filled with hundreds of locally donated items — art, collectibles, clothing, jewelry, books, music, toys, home décor, and more. Shoppers can select from nearly 11,000 items donated from other parts of the country. Also, shoppers can support the Goodwill mission by making their book, video, and music purchases through its online bookstore.

If you are old enough, you may remember that Goodwill used to have blue donations boxes all around the city for people to leave stuff in. "Removing those boxes were also part of the change in 1988. That was another step that I took," Leslie says. "Back then, we would have mountains of bags and boxes of donations — up to the ceiling. You had to climb the mountain to get the bags. We had nothing on wheels. We were so not efficient."
Leslie decided that Goodwill needed people to bring their donations to them so they could personally thank them for their donation and so the people could see that they would handle their donations with care. "Versus just dumping it into a box in the community where they would find rain and puppies and spiders," Leslie says. "I felt strongly that the donor would go along with bringing stuff to us … and they did. It worked."
There's a business side and a social-service side to what Goodwill does. Since the Nakoma branch opening, Leslie has stayed focused on the core business of Goodwill — retail — that helps them do all of the social service initiatives that they do. "I remind people that the only reason we are in the retail business is because of our mission," she says. "We wouldn't need that retail if we didn't have the mission. That's what drives us every day."
Leslie gives credit to the many dedicated and wonderful people working for her at Goodwill Industries. "I have a great senior team that I work with. Half of them have been with Goodwill for 30 years or longer with me. We grew up together here," Leslie says. "The other half are newer staff that I have added. We have a nice balance here. We have a lot of people who have worked here at Goodwill for more than 20 years. We are a family."
What is her favorite part of being involved with Goodwill?
"Everything. Obviously, I get very attached to the people I work with every day and the participants I see, the business partners, and the board members," she says. "I am a people person, but I love the challenge of the business and finding creative ways to sustain what we're doing and to look to the future at where we need to go and how we can continue to grow what we're doing."
It's clear at this point that Goodwill has become a vital part of the Madison community as they help to foster dignity, empowerment, and self-sufficiency.
"A lot of people rely on us so we always have a strategic plan in place for the future," Leslie says. "Right now, we're beginning the discussion for our next 3-year plan. I know that we will continue to grow our retail business and we're working on the store that will open in October [in Sun Prairie] plus two more that will open in the future that we are discussing.
"Mission-wise, I think we're looking for opportunities to diversify. We want to continue to do what we're doing because we are really good at what we are doing but also to embrace new opportunities," she adds. "We will be greatly challenged in terms of donations — there's a lot going on out there in the big world that I'm aware of that will challenge us. Donations drive the business.
"But we feel like we've been pretty successful and in a lot of aspects we want to keep doing what we've been doing," Leslie continues. "Nothing stays the same and I do know that. So we want to make sure that we continue to be innovative as we look towards the future."
Donate to Goodwill! Generally, Goodwill accepts clothing, footwear, household and office furniture, books (including textbooks), housewares, and household linens. They also accept working and nonworking computer equipment and motor vehicles. For more information, visit www.goodwillscwi.org