Civil rights pioneer Vel Phillips recounts life experiences
by A. David Dahmer

Wisconsin civil rights pioneer Vel Phillips was honored with the Distinguished Alumni Award from the Wisconsin Alumni Association at a daylong seminar focusing on civil rights, "A Nation Still Under Construction: Observing the 50th Anniversary of the Civil Rights Act," held at Union South on March 26.
UW Chancellor Rebecca Blank said that she was delighted to be at the event. "This conference is all about the history, the present, and the future of civil rights," Blank said. "The past is a wonderful teacher and it reminds us that every success we celebrate depends on the tireless, passionate, and courageous work of those who came before us. Leaders like the honorable Vel Phillips I am very honored to have here today and honored that she is an alum of the University of Wisconsin-Madison. I am reminded of the hard work that she and so many others pursued to provide real access for everyone. We honor her passionate commitment and the changes that she brought about by her own unwavering work by making our unwavering commitment here at the University of Wisconsin at Madison as we attempt to created a community that welcomes and includes everyone."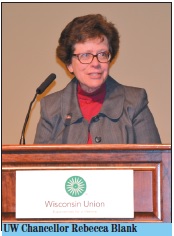 History and Afro-American Studies professor Brenda Gayle Plummer spoke about the continuing legacy of the Civil Rights Act of 1964 and said it was important for the many young people in the room to know about the struggle for civil rights. "Whether you are African American, Native American, Latino, or Asian American … this is about you," she said.
"We are now at a historic crossroads where the goals for which our champions fought are under attack," Plummer added. "We see our state legislators composing laws that restrict the right to vote — a right for which many gave their lives. We see efforts to curtail workers' rights. We see attempts to dismantle the hard-won institutions that were borne out of the struggles of the late 20th century. Under these circumstances, it is vital to recoup and revive the history of our resistance to injustice so that we can use it for ourselves. Part of that history, of course, is the story of the Civil Rights Act of 1964."
Wisconsin Alumni Association(WAA) President and CEO Paula Bonner said that this is the 77th year that the WAA has presented the Distinguished Alumni Award.
"I can't think of a greater match between the conference, the setting, and the recipient of this year's award," she said. "As many of you know, Vel Phillips is a trailblazer in every way. Vel Phillips has fought tirelessly for more than 50 years to promote civil rights in her native city of Milwaukee."
In 1956, Phillips became the first woman elected to Milwaukee's Common Council. In 1962, she introduced the city's first fair-housing ordinance, which was passed in 1968.
"When I decided to run for the City Council, I had no idea it [would be] one of the hardest things I've endured," Phillips told the crowd. "To say to an alderman 'Good morning' and not have them say it back to you … it was hard."
In the 1970s, Phillips became the first woman judge in Milwaukee County and the first African-American to service in the state's judiciary. When she was elected as Wisconsin's Secretary of State in 1978, she became the first woman and first African-American elected to a statewide constitutional office.

Phillips told the crowd stories of he experiences with Martin Luther King and Thurgood Marshall and her correspondences with John F. Kennedy, Lyndon Johnson and Jimmy Carter.
Phillips said that when she attended UW's law school, 12 other women were enrolled. "And now we see that there are as many women as there are men at the law school," she said with pride.
Phillips also expressed pride in the progress schools have made in increasing enrollment of women and in womens' advancement in general. She and her husband, Dale, were the first husband-wife team admitted to the federal bar in Milwaukee. She remembered meeting people back in the day with her husband at a social event and they asked her husband if she was his secretary. "And I replied, 'How do you know that he's not my secretary," she said to the delight of the crowd.
Phillips remembered meeting Senator John F Kennedy on a campaign stop and telling him that she couldn't support him because there were four or five things that she disagreed with on his stances.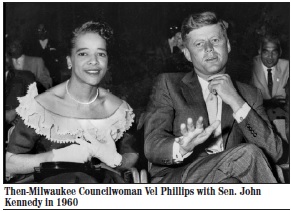 When President Carter visited Milwaukee, Phillips said she was asked to introduce him because she was the highest-ranking Democrat in the executive branch as Secretary of State. To her surprise, she said, even members of her own political party became her opposition.
"My own Democrats were calling the White House saying, 'Why is Vel Phillips introducing the president? She's not important. We've got a lot more important people than her,' and that was very disgracing," Phillips said. "And then they told me that when I introduce the president, I could only say nine words — 'Ladies and gentlemen, the president of the United States.'