March 27, 2015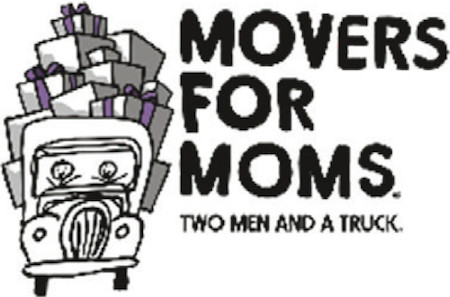 Items to benefit clients of YWCA in Madison and Rock County
As families across the nation anticipate Mother's Day this May with brunches and flowers, many women in the US will be spending the day in homeless shelters, many as a result of domestic abuse.
To make life in shelter just a little gentler for these moms in need, TWO MEN AND A TRUCK® is again hosting its annual Movers for Moms® donation drive – now in its eighth year – beginning March 31 and running through Mother's Day. Donations will be collected at banks, daycares, and other businesses, and delivered to YMCA Madison and YWCA Rock County. Full wish lists from YWCA Madison and YWCA of Rock County may be found on the TWO MEN AND A TRUCK® website.
TWO MEN AND A TRUCK® franchises across the country will all take part in the campaign partly because so many women struggle with domestic violence. According to information from The National Domestic Abuse Hotline, one in four women will experience domestic violence during her lifetime. The National Alliance to End Homelessness reports that domestic violence is the immediate cause of homelessness for many women, and 92 percent of homeless women had experienced severe physical or sexual assault at some point in their lives.
TWO MEN AND A TRUCK® has a long history of giving back to the community. Ever since our founder Mary Ellen Sheets donated her entire first year of profits to charity, giving back has been part of our core values.
"There are so many social service agencies in our communities that work tirelessly to help make Wisconsin such a fantastic place to live," says Tim Lightner, owner of the TWO MEN AND A TRUCK® franchise in Madison. "We are proud to support groups like the YWCA in their efforts." The Madison franchise also supports nonprofits by offering discounts, donating hundreds of hours of moving services to charity groups like Second Harvest and Junior League each year, and leading drives like this one.
TWO MEN AND A TRUCK® is the largest franchised moving company both in the United States and internationally. The company operates 260 locations and 1,600 trucks. TWO MEN AND A TRUCK® has performed more than five million moves since its inception in 1985. Each location is independently owned and operated. The Madison, Wis., location was started in 1993 and since then has given back nearly $1 million in donations and services to charitable organizations in the community. Contact the Madison, Wis., TWO MEN AND A TRUCK® at (608) 278-0800, info0029@twomen.com, or visit twomenandatruckmadisonwi.com.