Students learn about policing at Career Exploration Program
by A. David Dahmer
The Madison Police Department hosted about 25 local sophomore students as part of the Boys & Girls Club AVID/TOPS Career Exploration Program July 23 at the MPD Training Center on Madison's east side.
A diverse group of officers of various ranks and assignments with many different areas of expertise made up the panel that shared their own experiences with the MPD and answered the young people's questions. The ultimate goal of the program was to expose college-bound students to careers in law enforcement.
"This is where we do our training facility. This is where our Academy does its training every year and we also do on-going training for not only the City of Madison Police Department, but also other outside organizations" said Madison Police Detective Gloria Reyes as she welcomed the students. "It's a really nice facility and you guys will have an opportunity to tour it later."
The TOPS Program of the Boys & Girls Club of Dane County exposes college-bound students in Madison to a wide range of career options. Students participating in the TOPS Career Exploration program are members of AVID/TOPS, a college and career readiness initiative implemented by a partnership between the Madison Metropolitan School District (AVID) and the Boys & Girls Club of Dane County (TOPS).
Reyes introduced Madison Police Chief Mike Koval who gave a review on what type of people they are looking for to become Madison Police Department police officers.
"The future of Madison is attending Madison Metropolitan School District today. The fact that you are in a program like this means that you have been selected. It means that you get it in a sense that you want a career beyond high school; you want something that's fulfilling and an opportunity to give something back to the community," he said. "You want to commit yourself to explore the possibilities in which policing is one of those options."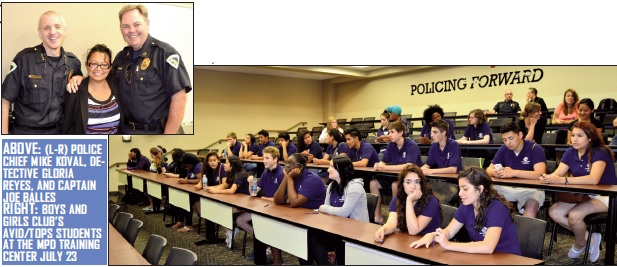 The mission of AVID/TOPS is to narrow the racial and socioeconomic achievement gap and prepare students for success in college and beyond. One element of this preparatory approach is the TOPS Career Exploration program in which students are exposed to a wide range of career options requiring post-secondary degrees. Students not only spend time learning about each career option but also see first-hand where individuals in these careers work and get a glimpse into a day in the life of that career field.
Koval told the AVID/TOPS students that at some point in time if they were interested in becoming police officers that they would have to do a physical agility test that included running, push-ups, and sit-ups. "Start now and commit to health and wellness today," Koval said. "A lot of these professions are going to expect that you have that balance of mind and body to be at your best."
Policing is a team sport and everybody has a role to play, Koval continued. He told the youngsters to keep an eye on the people that they hang out with because what they do will reflect back on them.
"Your reputation is important. What reputation do you carry at school on the field, on the court, at church, at your job, in your neighborhood? Everybody will be asked about that. Is this a good person?
A fair person? Do they treat others like they would want to be treated?" Koval asked.
Koval said that the MPD is looking for people who are loyal and looking for people who are honest. "We are also looking for diversity with all different kinds of academic experiences and life experiences," he said. "You don't have to be a conformist."