Strollin' Schenk's Corners Jazz crawl looks to highlight local talent
by A. David Dahmer
As it continues to focus on building a more vibrant and sustainable jazz scene in the greater Madison community, the Greater Madison Jazz Consortium will kick off its new Strollin' series of neighborhood-based mini-fests in the Schenk's Corners commercial district this Friday, May 23.
"Jazz crawls" are something that happen in big cities on a fairly regular basis but something new for a smaller town like Madison.
"It hasn't happened here as far as I can remember during my 45 years in Madison, so we are definitely excited about it," says Howard Landsman, chairman of the Greater Madison Jazz Consortium, in an interview with The Madison Times in his home on Madison's near east side. "This is the first one of what the Jazz Consortium is expecting to be a series. Our producer, Nick Moran, is already talking about other sections of town to hold this in. We're hoping to have one in July, one in August, and one in September — all in different areas."
Moran is a well-known jazz bassist and a member of El Clan Destino and other Latin jazz bands who also works part-time for the Greater Madison Jazz Consortium (GMJC), a new partnership of local nonprofit jazz presenting organizations, educational institutions and programs, and supportive media. Mason and Rob Lundberg have been developing the Stroll idea of celebrating outstanding local jazz musicians for a while. "Nick has been the community organizer for the jazz community and the musicians," Landsman says. "This idea grew out of three town hall meetings that Nick convened at the Cardinal [Bar] this past winter. Out of that larger group — what we call our musicians advisory team — there were a 'top-6' list of ideas that we wanted to move forward [on] and this idea of a jazz crawl was the number-one idea."
"Strollin' Schenk's Corners" will feature nine hours of live music (5 p.m. until bar time) by a stylistically diverse array of 10 groups at five contiguous venues at the intersection of Atwood Avenue and Winnebago Street. People will be able to stroll from venue to venue without paying a cover charge and hear as few or as many performances as they like. And, addressing a major sore point in our local musician community, all the performers will be paid a fair fee for their efforts. All of the action will take place in the Atwood/Winnebago area including establishments like Chocolaterian, Monona State Bank Outdoor Stage, Thorps Salon, One Barrel Brewing Company, and Alchemy Bar (See sidebar at right).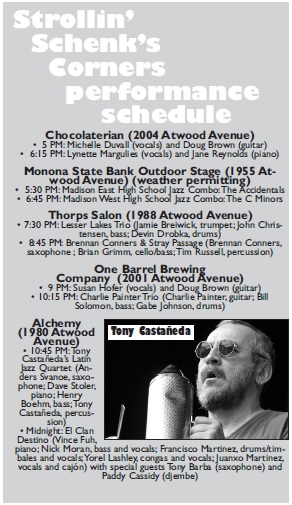 "We're hoping to also engage audiences that may not be jazz fans to begin with," Landsman says. "The other thing we want to do is to provide good-paying work opportunities for our local musicians. With those goals in mind, we want to develop a model that we can take to other neighborhoods and be able to sustain it over time."
The GMJC is putting up about half of the money for the musicians for "Strollin' Schenk's Corners" so that the musicians will get a decent nights pay — something that musicians in Madison often struggle with. The venues are also putting up money and Monona State Bank also has a sponsorship.
"Hopefully, when we come around next year to the neighborhoods we will have demonstrated that this is something that is very good for the neighborhood businesses and the Consortium can gradually cut back our financial responsibility but still have created new performance opportunities and new audiences to get to know the music. And there's no better way to do that than to hear it live."
The staggered performance schedule enables attendees to stroll from venue to venue and catch a variety of performances while patronizing many of the local small businesses who'll be hosting the music. The Atwood/Winnebago area is home to a lot of younger people and Landsman is hoping to see them come out and enjoy the free jazz.
"I think there are little signs that young people are getting more into jazz ," says Landsman, who admits it has its largest following among older white men like himself. "How do you cultivate the next generation of people who appreciate the art form? If it's presented properly and particularly [and] if we can incorporate the language and the sound of Hip-Hop and the artistry of Hip-Hop into it, there will be a pathway into the music for younger audience."
Overall, Landsman believes that jazz is having a revival.
"From a 45-year prospective on it we've had some ups and downs," Landsman says, making a sine wave with his arm. "But it seems like we're coming back these last few years. There has been more activity and more excitement around jazz and jazz musicians lately. We're getting back in gear, finding the resources needed to book high-quality talent and bring them to Madison. I think there is a can-do spirit and people are trying to seize the moment. There are some opportunities that didn't exist a year or two ago. There are more resources available and more interest on the part of the performing-arts leadership in town to try and help lift up the jazz scene again."
The Greater Madison Jazz Consortium will take the model of the innovative "Strollin' Schenk's Corners" and keep building on. "Unless this is a crashing failure," Landsman laughs. "But even if it is, we're still determined to keep it going on to different parts of town. We're planning on doing something on Monroe St. We'd like to do something on [South] Park Street even though it's not necessarily a strolling part of town."
As the former South Madison Community Development Corporation CEO for five years, Landsman has a long history of doing things in south Madison.
"We'd love to do something in South Madison at some point, too," he says. "It feels like things are on the upswing there and we'd like to be part of it with our jazz thing."