January 16, 2015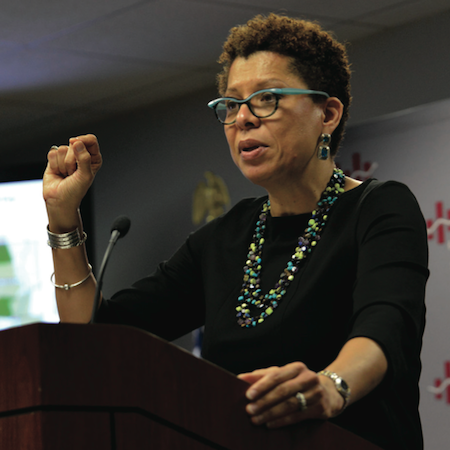 Sheryll Cashin, a professor of law at Georgetown University in Washington D.C. advocates for "place-based" affirmative action policies in education. (Freddie Allen/NNPA)
WASHINGTON, D.C. (NNPA) — In the wake of unrelenting law suits seeking to abolish affirmative action coupled with nearly half of all universities dropping consideration of race as a factor in college admissions, it is time to shift gears and devise a less objectionable race-neutral approach that will diversify higher education, says a noted Black law professor. During a recent discussion on affirmative action at the Economic Policy Institute in Washington, D.C. Sheryll Cashin, a professor of law at Georgetown University and author of Place, Not Race: A New Vision of Opportunity in America, said that as long as race-conscious affirmative action remains a factor in college admission, there will always be White students challenging affirmative action. Cashin, who clerked for U.S. Supreme Court Justice Thurgood Marshall, said "that law or politics will render race-based affirmative action extinct" and argued that it makes "sense to get started on race-neutral reforms that have the potential to create diversity and more social cohesion."
She said that the percentage of four-year colleges that consider racial, ethnic or gender status in admissions has fallen from about 60 percent to 35 percent.
Others, however, do not favor a switch to de-emphasizing race and point to race-neutral affirmative programs in Texas and California that have not achieved the same results as previous race-conscious approaches. Even Texas' 10 Percent Plan that guarantees the top 10 percent of each high school graduating class in Texas will be accepted at the University of Texas, the flagship campus, was challenged by a White applicant who had been rejected. Backed by the Edward Blum's Project for Fair Representation, a nonprofit group that wants to ban race-, gender- and ethnic-conscious affirmative action, Abigail Fisher a White woman, alleged that the University of Texas at Austin refused to accept her, because she was White, while Black and Latino students that she outperformed were admitted Admission officials look at factors in addition to grade to determine the composition of an incoming class, not just grades.
In its "Brief of Opposition," the university said: "The undisputed evidence demonstrated that Fisher would not have been offered fall admission in 2008 even if she had scored a perfect '6' on her PAI – the portion of the admissions process where race is considered as 'a factor of a factor of a factor.'"
Investigating Fisher's claims, Pro Publica reported that 42 White students with less impressive grades than Fisher got in compared to just five Black and Latino students with similar academic achievement. Meanwhile, almost 170 Black and Latino students with the same or better grades as Fisher were also turned away.
In the 2012 term, the Supreme Court punted in Fisher v. University of Texas, sending the case back to the lower court for reconsideration. Justice Anthony Kennedy, writing for the 7-1 majority, said: "… Strict scrutiny imposes on the university the ultimate burden of demonstrating before turning to racial classifications, that available, workable race-neutral alternatives do not suffice."
In other words, the university had the burden of showing that show that gender- ethnicity- and race-conscious affirmative action admission policies are the only way to effectively achieve diversity on campus.
After the case was remanded, U.S. Court of Appeals for the 5th Circuit again ruled in favor of the University of Texas.
In 2003, the Supreme Court issued a pair of rulings involving University of Michigan that many thought had settled the issue.
By a vote of 6-3, the justices outlawed an undergraduate admissions process that, among other things, automatically awarded 20 points to people of color. But on a 5-4, the Supreme Court ruled that race could still be a factor in admissions as long as it is not given too much weight.
However, led by anti-affirmative action foe Ward Connerly, in 2006, Michigan voters banned the use of race in public education and employment, a state constitutional amendment that was later upheld by the Supreme Court. In the May/June 2014 issue of the Poverty and Race Research Action Council (PRRAC) journal, Cashin, who is also a PRRAC board member, wrote that "place rather than race in diversity programming will better approximate the structural disadvantages many children of color actually endure, while enhancing the possibility that we might one day move past the racial resentment affirmative action engenders."
Cashin said that when college graduates sequester themselves it can lead to a phenomenon known as "opportunity hoarding," when a well-resourced, educated ingroup sanctions practices that exclude outgroups.
"And the exclusion does not have to be intentional," said Cashin.
Cashin said that place, or where you live, locks in advantages and disadvantages that are reinforced over time. "What has happened increasingly is the affluent and the highly educated are separated from everyone else and that often determines who has access to high quality elementary and secondary education," said Cashin.
"And when you have geographic concentration of highly educated affluent people in direct horizontal competition with people from lower-income impoverished settings for finite public resources you get savage inequality in the allocation of public resources," said Cashin. "College-bound students from middle- and low-income environments, particularly African Americans students, disproportionately attend segregated schools and they have to be superhuman to overcome the structural disadvantages of place."
---
Freddie Allen is the Washington Correspondent for the National Newspaper Publishers Association (NNPA). A graduate of Howard University, Allen was a staff writer, photo editor and general manager of the District Chronicles. He also served as editor-in-chief of Ledge, a magazine devoted to healthy lifestyles and HIV/AIDS awareness among young people of color.
---