2014 UW-Madison University-Community Partnerships Awards Celebration
Robert Pierce wins Billups Award
by A. David Dahmer
The 2014 UW–Madison University-Community Partnership Awards were held at the Olin House June 3. Everett Mitchell, community relations director at the University of Wisconsin-Madison, served as the emcee.
"On behalf of the university and our team at University Relations we want to welcome you to the 2014 Community Partnership Awards. This awards program is always special because it was started by LaMarr Billups and it was an effort to recognize the tremendous and wonderful partnerships that exists between the university and our community members," Mitchell said. "Without community members, the university almost does not exist. You are the reason why we are able to do the research. You are able to help us deepen our roots within this community."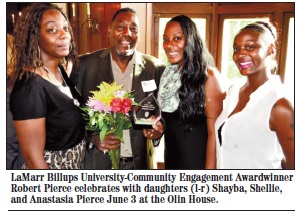 This year, Mitchell said, was unique because they are not only focusing on community partnerships in Madison, but throughout all of the state. He introduced UW-Madison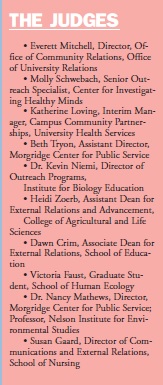 Chancellor Rebecca Blank as "someone who has championed the Wisconsin Idea and has made a priority not only the fiscal responsibility of the university, but also the relationships with our community partners both locally and throughout the nation."
Blank thanked the judges who she said put a lot of time and energy into picking the eight winners. "There were a lot of nominations so you who are here today should be very honored because you are the best of the best," Blank said.
"As most of you know, there has been a long commitment at UW to reaching outside our campus boundaries. More than 100 years ago, my predecessors named this 'The Wisconsin Idea,'" she added. "The idea that the university has a responsibility to the community and to the state that surrounds it. The Wisconsin Idea is about developing new medical devices, bringing new art performances to rural Wisconsin communities, or helping the agriculture industry grow better crops. It's about sharing knowledge in ways that produce better lives. But sharing can only happen when we have strong and collaborative relationships with individuals and organizations out there in the community."
Blank said that the common thread of the winners in the events are the long-term potential of all of the projects. "These initiatives are changing lives right now, but none of them are flash-in-the-pan-type programs that do their thing and then leave the community," she said. "These are programs that integrate into the community they serve. These programs are designed to operate in the long term and they have staying power which makes them all the more valuable to the communities that they serve."
Those that were honored with 2014 Community-University Partnership Awards on June 3 included:
• COMETS (Creating Opportunities in Math, Engineering, Technology and Science), Institute for Biology Education
• Dane County African American Prostate Cancer Initiative, Cancer Health Disparities Initiative in the School of Medicine and Public Health
• Family Voices Community-University Partnership, Community-University Exchange, School of Human Ecology, and Slow Food UW
• The Immigrant Justice Clinic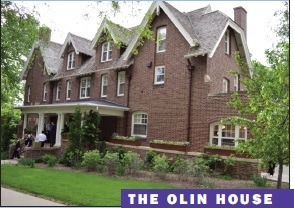 • Growing Farm to School, College of Agriculture and Life Sciences, Departments of Nutritional Sciences and Landscape Architecture, and the School of Medicine and Public Health
• Menominee Journey to Wellness, Collaborative Center for Health Equity in the School of Medicine and Public Health
• The South Madison Project, School of Human Ecology and the Department of Urban and Regional Planning
• Water Stewardship with the Bad River Ojibwe, Department of Life Sciences Communication and the Nelson Institute
The highlight of the night was Robert Pierce winning the LaMarr Billups University-Community Engagement Award which recognizes outstanding contributions to campus community partnership initiatives. Billups served as a special assistant to two UW–Madison chancellors and was director of community relations from 1996 to 2007. Billups was known as a skilled ambassador between the university and city, and was deeply committed to key civic institutions and social causes.
Pierce has dedicated his life to bringing safe, affordable, and healthy foods to south Madison and in doing so he has been a key contributor to multiple UW-Madison partnerships in South Madison.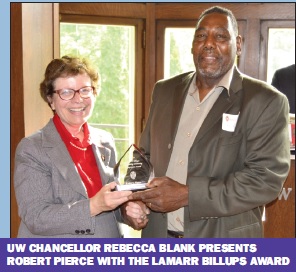 "He's a south Madison African-American urban farmer who is a valued community partner of the University Wisconsin-Madison for more than 15 years," Mitchell said. "His multiple roles have led us to create various forms of partnerships. Most prominently, he is a market manager for the South Madison Farmers' Market and a director for Growing Power Madison. Among his most recent collaborative works with the UW are an ongoing partnership with the Nelson Institute for back-to-back capstone courses in fall of 2013 and spring of 2014; three interdisciplinary studies courses on expanding Growing Power programs in Madison in spring of 2013, fall of 2013, and spring of 2014; a monthly community dinner with the UW Odyssey Project and Slow Food UW recently launched in February 2014."
Pierce thanked his wife and daughters and Margaret Nellis, manager of Academic Partnerships, UHS and Faculty Associate, Interdisciplinary Studies, School of Human Ecology (SOHE).