March 20, 2015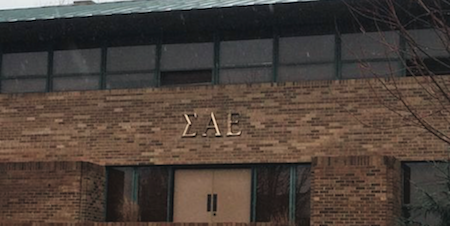 The Sigma Alpha Epsilon fraternity is seen at the University of Oklahoma in Norman, Oklahoma, in this March 9, 2015 (File photo by Reuters)
(REUTERS) — Cases of racism, hazing, nude photos and vandalism rocked U.S. college fraternities this week, with one of the country's biggest groups pledging on Wednesday to root out discrimination and four colleges shuttering other frats over bad behavior.
The 160-year-old Sigma Alpha Epsilon fraternity – with 15,000 student members – said it would try to wipe out racism and beef up its small minority membership through diversity training and swift punishment of inappropriate behavior.
At a news conference in Chicago, SAE Executive Director Blaine Ayers said he was disgusted and embarrassed by a 10-second video showing members using a racial epithet and chanting in unison a vow never to admit blacks to the fraternity, whose motto is "The True Gentleman."
The SAE chapter at the University of Oklahoma was shut down after the video was revealed this month and the fraternity says it will punish members over the incident. Critics question whether SAE – whose houses and chapters have been linked to at least six deaths from excessive drinking or hazing violence in the past eight years – can police itself after the video reignited perennial questions about fraternity misconduct.
"That is like the fox watching the chicken coop and in this circumstance, the fox doesn't even know how to hunt," said Douglas Fierberg, an attorney who specializes in cases of hazing, the humiliation and abuse of potential new members.
Good moral character
Millions of U.S. college students belong to fraternities and sororities, often seen as conduits to good careers through large alumni networks. The groups uniformly pledge to build good moral character.
However, frats are also known for wild parties, drinking and drugs, and most colleges have prohibited hazing after deaths linked to extreme drinking and other tests.
Sexual assault and rape complaints have also led to the suspensions and restrictions of frats at a number of universities.
This week the dark side of frats – known as the Greek system – was again on display with four universities suspending or terminating chapters over hazing and vandalism.
On Wednesday the University of Wisconsin-Madison terminated a Chi Phi chapter over hazing that included food deprivation, stints of hooded isolation and other acts that resulted in one student suffering a concussion; as well as excessive drinking.
Also on Wednesday the University of Houston suspended the Sigma Chi fraternity and five of its members over a hazing incident and asked police and prosecutors to look into possible criminal charges.
The Sigma Alpha Mu fraternity shut down its University of Michigan chapter on Wednesday after local leaders and members refused to reveal who broke windows, ceiling tiles and furniture, causing an estimated $100,000 in damage at a ski resort hotel in January.
A day earlier, Penn State University suspended Kappa Delta Rho for one year for posting inappropriate photographs on a private Facebook page, including sleeping or passed-out nude women.