March 27, 2015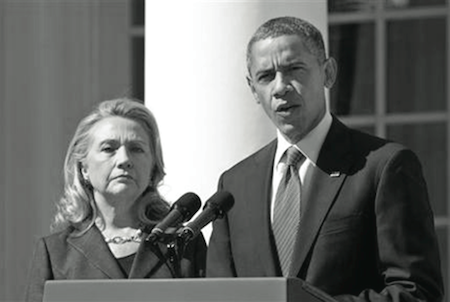 (AP Photo/Manuel Balce Ceneta)
"Candidates that get all tangled up trying align with or separate from their party or their president have a very poor track record of success."
WASHINGTON, D.C. (ASSOCIATED PRESS) — Rather than keeping him at arm's length, Hillary Rodham Clinton is embracing President Barack Obama – sometimes even literally.
Clinton had been expected to look for some ways to separate herself from the president to avoid the impression that having her in the White House would amount to a third Obama term. But as she prepares for another presidential campaign, Clinton has aligned herself with Obama far more often than not.
On Monday, a few hours after meeting Obama at the White House, Clinton tweeted a list of accomplishments of the president's health care law on its fifth anniversary. "Repeal those things? Embrace them!" she declared, posting an old photo of herself extending her arms to hug Obama at the White House.
The tactics carry risk with an electorate that often seeks change after one party runs the White House for eight years. Republicans are already warning voters that Clinton would merely cement Obama's most unpopular policies and continue in his vein.
"She will have to break with Obama significantly and substantively if she wants to win," said Phil Musser, a former executive director of the Republican Governors Association. "Obama is no Reagan, and America is ready for the end of his presidency, not the extension of it."
Clinton, who is expected to announce her campaign in April, hasn't presented an overarching message of where she would take the country. For now, she's talking about finding consensus and building on "what has worked in the past."
She has also begun taking on the Republican-led Congress – recently blasting the House GOP budget plan on Twitter, the letter written by Senate Republicans that was seen as interference in Iran nuclear talks and delays in the confirmation Loretta Lynch as attorney general.
Aligning herself with Obama may pose fewer risks than once thought. While his approval rating is still under 50 percent, it has stabilized following a noticeable dip last year. Obama could help Clinton connect with the diverse coalition of voters who powered him to two victories. And perhaps more important, the economy is steadily improving, with job creation up and unemployment down to 5.5 percent.
Dan Pfeiffer, a longtime Obama adviser who recently left the White House, said that while he expects Clinton to break with the president when she actually disagrees with him, it would be unwise to create differences where none truly exists.
"Manufacturing agreement or disagreement to score some political points would be a mistake," Pfeiffer said. "Candidates that get all tangled up trying align with or separate from their party or their president have a very poor track record of success."
While Clinton has been avoiding substantive policy splits with the president, she's suggesting her presidency would mark a change in style. While Obama has long been criticized for his lack of outreach to Congress, Clinton has emphasized the importance of having strong ties across the aisle, saying, "I don't think there's any substitute to building relationships."
Hillary and Bill Clinton know firsthand what it's like to be in the White House when an ally is running for the Oval Office.
In 2000, Vice President Al Gore distanced himself from Bill Clinton's impeachment battles and some of his centrist policies, framing the contest against Republican George W. Bush as "the people versus the powerful." Bill Clinton said in his autobiography that the message mobilized conservative interest groups against Gore.
"The problem with the slogan was that it didn't give Al the full benefit of our record of economic and social progress or put into sharp relief Bush's explicit commitment to undo that progress,"… – Bill Clinton
The populist approach, he argued, "sounded to some swing voters that Al, too, might change the economic direction of the country."
One of Hillary Clinton's most public breaks with Obama came last summer when she took a veiled shot at his "Don't Do Stupid Stuff" foreign policy doctrine. In an interview with The Atlantic magazine, she said, "Great nations need organizing principles, and `don't do stupid stuff' is not an organizing principle."
Clinton scrambled to walk back the jab, calling up her old boss to try to smooth things over. Obama and Clinton met in person a few days later and "hugged it out," aides said.
Still, foreign policy matters could be an area of divergence, reflecting Clinton's position as one of the more hawkish members of his first-term national security team. But there have been few public signs of that in recent months.
Clinton has avoided commenting on U.S.-Israeli relations in recent weeks, which have been strained by Prime Minister Benjamin Netanyahu's opposition to Palestinian statehood and his late campaign warning that Arab voters were heading to the polls "in droves," comments he has since backtracked.
Clinton also has largely backed Obama's decision to take military action against the Islamic State group in Iraq and Syria. She's supported his nuclear negotiations with Iran and joined him in sharply criticizing Republican senators who wrote to Tehran's leadership warning that Congress could disrupt a deal.
It's unclear whether Clinton will ultimately back a nuclear deal if the U.S. and its negotiating partners achieve one. But she was involved in the administration's early efforts to start secret talks with the Iranians, dispatching her policy adviser, Jake Sullivan, to lead them.
"It's by no means a referendum completely on the current president," Democratic strategist Mike Feldman said of the 2016 campaign. "It will be a choice, and President Obama won't be one of the choices."