February 13, 2015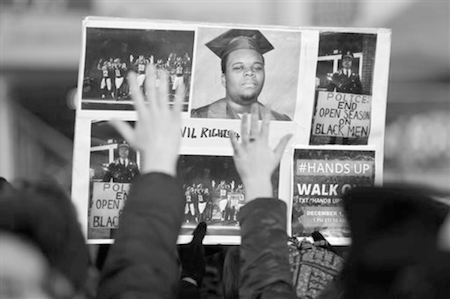 People participate in a protest in response to the grand jury's decision in the Eric Garner case in Times Square in New York, Wednesday, Dec. 3, 2014. The grand jury cleared the
white New York City police officer Wednesday in the video
taped chokehold death of Garner, an unarmed black man, who had been stopped on suspicion of selling loose, untaxed cigarettes, a lawyer for the victim's family said. (AP Photo/ Seth Wenig)
WASHINGTON, D.C. (NNPA) — Blacks and Latinos are incarcerated at disproportionately higher rates in part because police target them for minor crimes, according a report titled, "Black Lives Matter: Eliminating Racial Inequity in the Criminal Justice System" by the Sentencing Project, a national, nonprofit group that advocates for criminal justice issues.
Researchers said disparities are punitive and can turn deadly over minor violations.
For example, Eric Garner, 43, was stopped and accused of selling untaxed cigarettes, a misdemeanor, before Officer Daniel Pantaleo choked him to death on a sidewalk of a Staten Island neighborhood. Officer Darren Wilson stopped 19-year-old Ferguson resident Michael Brown for jaywalking, before a disputed confrontation led to Wilson fatally shooting Brown.
Targeting low-level lawbreakers epitomizes "broken windows" policies popularized during William Bratton's first tenure as commissioner of the New York Police Department under then-Mayor Rudy Giuliani. Mayor Bill de Blasio reappointed Bratton to that position and he remains "committed to this style of order-maintenance policing," even though only spurious correlations to its efficacy in crime prevention remain.
The report said that "flawed research" plagued an early study cited by proponents of the "broken windows" policies.
"More recent studies have found that high misdemeanor arrest volume, high summons volume, and other factors, have had only a modest association or no association at all with the city's violent crime drop," stated the report. "'Stop and frisk' activity has also been shown to have no impact on precincts' robbery and burglary rates."
Racial disparities exist at every step in the criminal justice system, the report noted. That helps explain why Blacks and Latinos account for about 30 percent of the United States population, but 56 percent of the incarcerated population.
In Ferguson, police stopped White drivers for moving violations 68 percent of the time, and the majority of Black drivers were stopped for license or equipment problems, the report said. Once they were stopped, Black drivers were searched at almost twice the rate as White drivers (12 percent vs. 7 percent), but White drivers were more likely to have contraband than Blacks (34 percent vs. 22 percent).
"Yet blacks were twice as likely as whites to be arrested during a traffic stop (10 percent versus 5 percent)," the report continued, partly because, "black drivers were more likely to have arrest warrants compared to their white counterparts. Black drivers were more likely to have these warrants in part because of unpaid fines related to their disproportionate exposure to traffic enforcement."
Nationally, Blacks and Hispanics are three times as likely to be searched by police during traffic stops.
"Blacks were twice as likely as whites to be arrested during a traffic stop," state the report. "These patterns hold even though police officers generally have a lower 'contraband hit rate' when they search Black versus White drivers."
"Almost 1 in 3 people arrested for drug law violations is black, although drug use rates do not differ by race and ethnicity. An ACLU report found that blacks were 3.7 times more likely to be arrested for marijuana possession than whites in 2010," stated the report. "This disparity expands at later stages of the criminal justice system so that 57% of people in state prisons for drug offenses are people of color, even though whites comprise over two-thirds of drug users, and are likely a similar proportion of sellers."
The report continued: "Once arrested, people of color are also likely to be charged more harshly than whites; once charged, they are more likely to be convicted; and once convicted, they are more likely to face stiff sentences – all after accounting for relevant legal differences such as crime severity and criminal history."
According to the report, these trends are driven by race-neutral laws that still have a significant have racial impact, criminal justice professionals influenced by racial bias, an underfunded criminal justice system, and policies that impose strict "collateral consequences" that make it harder for ex-offenders to return their home after prison.
If current incarceration trends hold, one in three Black teenage boys can anticipate going to prison in his lifetime, compared to one in 17 White boys. One in 18 Black women face the prospects of incarceration, compared to 1 in 111 White women.
"Federal prosecutors, for example, are twice as likely to charge African Americans with offenses that carry mandatory minimum sentences than otherwise-similar Whites," the report said. "State prosecutors are also more likely to charge Black rather than similar White defendants under habitual offender laws."
The report said that defense attorneys might show signs of racial bias in how they prioritize their caseloads, and all-White juries spend less time deliberating in cases than racially diverse ones. All-White juries are also more likely to seek the death penalty in capital trials.
"Because the criminal justice system is an institution that primarily reacts to – rather than prevents – crime, it is ill-equipped to address many of the underlying causes of crime," stated the report. "But mass incarceration's hold on vast public resources and the obstacles erected for people with criminal records further erode the economic and social buffers that prevent crime."
The report recommended addressing the source of racial bias in the criminal justice system, revising draconian drug laws through reforms like the Fair Sentencing Act, establishing alternatives to incarceration for low-income youth, and redirecting public spending to crime prevention and drug treatment.
"The Fair Sentencing Act (FSA) of 2010 reduced from 100:1 to 18:1 the weight disparity in the amount of powder cocaine versus crack cocaine that triggers federal mandatory minimum sentences," stated the report. "California recently eliminated the crack-cocaine sentencing disparity for certain offenses, and Missouri reduced its disparity. Thirteen states still impose different sentences for crack and cocaine offenses."
More than 90 percent of ex-offenders complete their sentences and return to their communities, where they are often shut out of jobs and those with felony drug convictions are blocked from receiving federal aid like food stamps and publicly subsidized housing, the report said.
During a recent appearance on C-SPAN's "Washington Journal," Marc Mauer, the executive director for The Sentencing Project, said that there are hundreds of laws on the books in every state that restrict the ability of people coming out of prison to make ends meet once they return home.
Mauer added that the Equal Employment Opportunities Commission issued guidance to employers asking them to take a more nuanced approach to hiring.
"If we want people to succeed, we have to reconsider how we approach all these issues and not just say, 'one size fits all. You have a conviction, that is it for you,'" said Mauer. "That doesn't get us very far."
---
Freddie Allen is the Washington Correspondent for the National Newspaper Publishers Association (NNPA). A graduate of Howard University, Allen was a staff writer, photo editor and general manager of the District Chronicles. He also served as editor-in-chief of Ledge, a magazine devoted to healthy lifestyles and HIV/AIDS awareness among young people of color.
---