May 22, 2015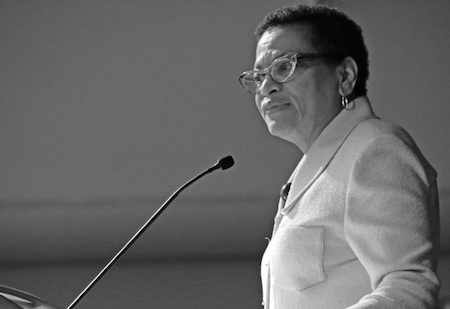 Dr. Julianne Malveaux addresses summit attendees. Photo by Hedi Rudd
The Madison Region's Economic and Diversity Summit at the Monona Terrace last week was an outstanding success.
In continuing partnership, the Urban League of Greater Madison (ULGM) and Madison Region Economic Partnership (MadREP) designed the event to bring together diverse voices from the public and private sectors to focus on economic, workforce and community development.
These two organizations built upon last year's summit by pursuing many initiatives, most notably the region's first Workplace Diversity & Inclusion Survey. This assessment and other initiatives pursued by the partnership are a testament to what the annual summit strives for: the intentional development of a diverse workforce with the Madison region becoming an economic model of inclusion.
Before an audience of about 450 attendees, the event was co-hosted by Paul Jadin, MadREP President, and Dr. Ruben Anthony, President and CEO of ULGM. Featured speakers included Dr. Julianne Malveaux, president emeritus of Bennett College for Women, Chris Brassell, national director in the PricewaterhouseCoopers' Office of Diversity and Steve Pemberton, divisional vice president and chief diversity officer for Walgreen's.
Dr. Malveaux is an economist with degrees from Boston University and MIT and is an author and a regular contributor to The Madison Times as columnist for the National Newspaper Publishers Association (NNPA).
Dr. Malveaux gave her take on how diversity in the workplace has been generally viewed in recent years and how the MadREP assessment reflects the need to change attitudes about diversity.
"Although the words diversity and inclusion are used very frequently, they're like throwaway words everybody dives to," she said. "But guess what? We've just come out of a great recession and during a recession, diversity takes a backseat. Somehow diversity goals leave us. And that's wrong."
"That's what the diversity issue is about. It's about effort," she continued. "When you talk about economic development, a lot of folks think of putting money in a business or a region to let it grow. [But] I want you to think about how you can have economic development and justice. It means that rewards are being more evenly distributed than they have been."
"When people tell me they have diversity fatigue, I tell them they have reality fatigue," she concluded. "Because diversity is here, whether you like it or not."