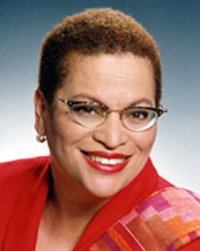 Above: Dr. Julianne Malveaux
The most common model of college attendance is that a young person who graduates from high school and heads directly to college, perhaps taking a year off in between to work, take a "13th class. While many students start off right after high school, some of them have breaks in their higher education, dropping out to save money to continue, or to deal with family matters.
The most common model is not the only model, however. Mature adults who did not attend or finish college through the most common model are referred to as "returning students" or "nontraditional students." Some get their degrees through online programs. A few colleges (Bay Path College in Massachusetts, is one example) have developed Saturday programs where women can earn a four-year degree by attending college only on Saturdays.
Concerned by high unemployment rates and eager to enhance their employability, many mature college students turn to for-profit colleges (sometimes called "career colleges") for their education. Some of these students, barraged by television ads, are convinced that for-profit colleges, where they can attend during the evening or online, allow them the flexibility they need to manage work, family and education. And since federal funds, such as Pell grants and subsidized loans, are available to take care of costs, some students who attend for-profit colleges are pressured to take out these loans. If they drop out, they are still required to repay their loans, just as they would have to in any other college.
But all colleges are not created equal. About once a week, I get a call from a mature student whose time at a career college was unrewarding. One woman failed a math test but could not get feedback from her instructor on what she did wrong. Appeals to others in the chain of command went unanswered.
In another case, a young woman desperately needed counseling. She ended up getting it from a community organization, not from her career college. To cite just a few cases to make a point is casual empiricism, but my direct knowledge of some students' plight raises a few questions for me.
Many students get training, but not jobs. Many are saddled with loans they cannot ever afford to repay; and the costs of attending career colleges are high. The Department of Education estimates that it costs four times as much to attend a career college as to attend a community college.
Why are costs so high when services are so limited?
Partly because many career colleges are publicly traded and the pressure is on for them to make a profit to provide dividends for their shareholders. Another reason is that salaries for leaders are extremely high. At ITT Technical Institute, CEO Kevin Monday earned $8.76 million in 2012. DeVry University President Daniel Hamburger earned $6.4 million in 2012.
The Apollo Group, which includes the University of Phoenix, paid Gregory Cappelli $4.54 million in 2013, and the Chairman Emeritus received nearly $7 million each year in 2012 and 2013. In contrast only four presidents at public universities earned more than a million dollars. Harvard's president earns about $900,000, but some of her benefits boost her salary to about 1.2 million.
These so-called career colleges are actually profit centers. The disproportionate enrollment of Black and brown students means that folks who are already poor and underpaid are creating profits for these publicly traded companies and their overpaid leaders. At ITT Technical Institute, the overwhelming majority of students (92 percent) were self-identified members of a racial and ethnic group. Nearly four in five took out a Pell grant. At DeVry about 45 percent were minority students. Meanwhile, students who enroll in these colleges and do not graduate (the majority) have nothing to show for their education but more debt.
That's why the Department of Education is limiting the amount of federal loans that students can take out, pegging loan amounts to ability to pay, based on students' current salaries and income. "Attendance at career colleges should be a gateway to the middle class," said Education Secretary Arne Duncan. Too often mobility is downward, not upward, when large student loans go unpaid. The new regulations are imperfect, but a step in the right direction. They might be more efficient, but the for-profit colleges have lobbied hard, and gone to court, to prevent cautionary regulations.
Students of color who consider these colleges need to make sure they know what they are getting. Otherwise, they are up for a big surprise when student loans bills come due. For-profit colleges are exactly that, for profit. Students are not necessarily being educated, instead being treated as a profit center.
---
Julianne Malveaux is an author and economist based in Washington, D.C.