The most diverse zip code in the state now has its own multicultural funeral home.
Bryan Foster, president and CEO of Foster Funeral & Cremation Service, is set to realize his lifelong dream as he prepares to open up his own funeral home later this month on Madison's south side.
"We have been working hard to get it all together," Foster says in an interview with The Madison Times in the former Spherion Employment Agency building on Luann Lane just off the Beltline and Fish Hatchery Rd. "It's amazing the progress that we've made here and I'm confident we will be set to go at the end of the month."
John Brigham and Dale Judd are the current owners of the building that is in the process of being remodeled. "I intend on purchasing this property outright within the next year or two," Foster says. "As big a project as this is, this is actually a smaller-scale project than other places that we looked at. We looked at a property in Middleton and in Madison that would have taken several months.
"The first thing that drew my attention to this location is that it was the south side of Madison and it would be the first mortuary on the south side — there are no others," Foster adds. "We will be the first diverse funeral home in the state."
Foster Funeral & Cremation Service will serve the diverse population of south-central Wisconsin, Foster says, and will provide affordable options for its funeral services. They will have a Hmong Coordinator and a Latino Coordinator on their staff and a website that will translate to various languages.
"I can't say that I'm multicultural unless my staff is multicultural — I'm just a funeral home serving a multicultural population. But in order to have that as my philosophy, I have to be willing to employ those people so they can train us to be a truly multicultural funeral home. And multicultural is nothing but the true America."
Becoming a funeral director has been a life-long dream for Foster.
"I wanted to be in funeral services back in junior high. I was known as "The Undertaker" back in high school," Foster remembers, smiling. "I would get dressed up really nice and go to the mortuary after high school at East St. Louis High. I used to embalm deceased grasshoppers with Elmer's Glue and I used to make a little casket and I would use tissue paper as the flowers. I would do mock funeral services as a kid. My father looked at me and said, 'Oh, my God. You are not going to be a mortician.' .
"It was always intriguing for me," he adds. "I used to be at every funeral service at my church that I could. I would see the offices of funeral home staff and I said to myself, 'Man, these guys look so dignified!' I just kept becoming more and more interested."
Foster holds a master's of science in human service specializing in health care administration, a bachelor's degree in criminal justice, a bachelor's degree in general education and associate of arts degree in education from Columbia College. He also has an associate of science in funeral service from American Academy McAllister Institute of Funeral Service. He worked at Cress Funeral Homes for awhile before the idea came to him to open his own funeral home. "It was a big decision. It's been a two-year process to get this all together. There are so many things you have to go through to do this," Foster says. "But it's a calling that you can't run from. It's a ministry, as well, that you are called to. I've been using this slogan: God does not always call those who are qualified; but he qualifies those who he calls."
Funeral directors touch almost everyone's life at one point or another. Families need compassionate counseling and practical advice during the time of grief. In the aftermath of a loss, memories of the service can provide comfort to survivors at that time and during the years to come. Foster says that he will rely on his social skills and leadership skills that he has acquired though military and schooling, and the several funeral homes he has worked for over the last 25 years.
Foster Funeral & Cremation Service will have more than 20 different packages to offer its guests — all of them at very affordable prices. Packages will cover various things like the basic professional services of the funeral director and staff, removal and transfer to funeral home, embalming, dressing, cosmetology and casketing, hair care, visitation, funeral service, funeral coach, limousine service, register book, and more.
Among the many packages that he will offer will be various special packages for military veterans. "I'm a 20-year honored vet … I got to take care of my guys!" Foster says.
Foster's 20 years of patriotic service included two combat tours including Desert Shield/Desert Storm, Saudia Arabia and Kuwait and Operation Joint Endeavor in Bosnia. Sergeant First Class Foster's military awards and decorations are too numerous to list.
"Through every stage of the military, I worked at funeral homes," he says. "The passion never left me. At home in St. Louis, my cousin used to have a funeral home across town and I worked there, too."
While Foster's passion for the funeral services are quite obvious, you also need to have good business savvy to be successful in this business. Foster feels like he is covered in that area, too.
"You always have to have good mentors …. For me, the [Madison] Black Chamber of Commerce has been a big help as well as Bishop Eugene Johnson. [Madison Times Publisher] Ray Allen has been a spearhead for us, as well. He has helped me quite a bit… great mentor as far as business ownership," Foster says. "The people at Gunderson Funeral Home and Northwest Funeral Home out of Milwaukee have helped in advising. Plus, my cousin has two funeral homes in Indianapolis. I also learned quite a bit about business in the Army.
"These two years that I've been waiting [to open Foster Funeral & Cremation Service] has really shown me how to run a business," he continues. "That delay gave me a chance to go through everything that I needed to go through … so the next time I'm ready to open a funeral home I will already have the checklist and the structure and the organizational planning."
Foster's next vision is to provide funeral services in Beloit and in northern Illinois, as well. "The vision is greater than Madison; Madison will be the hub," Foster says. "This is home for me now. I'm not going anywhere now. But we eventually want our slogan of 'Excellence in service made affordable' to spread throughout southern Wisconsin and northern Illinois."
For right now, it's all about getting the word out. "I have 30-day, 45-day, and 60-day marketing plans and a long-term marketing plan," Foster says. "I'm in the process now of getting letters out to a variety of community leaders and organizations wanting to sit down with them to explain our vision of a true multicultural funeral home and how we can better serve the community. We plan on using the home-grown, grassroots newspaper for our obituaries to show that we are your community funeral home."
As the opening date gets closer and closer, the first African American funeral director in Dane County's history is starting to get really excited. So is the community.
"It's funny because the community is even more enthusiastic than I am. Everywhere I go people are talking to me about it," Foster says. "I actually talked to a man who sat out in the parking lot and looked up at my sign and said, 'Thank you, Jesus. It's about time!' When he said that to me, it showed me the value that this community funeral home will have to the multicultural population here in Madison."
Foster's military leadership taught him to place the needs of others before his own, and he says that it will be a privilege to take care of families when he is called upon.
"If we can't bring our A game, we will not bring a B game," Foster says. "We have to listen to the community and provide their needs and wants. I want everybody to have a folder with my personal cell phone and my personal information just in case that if they feel something isn't quite right…. we will make it right.
"My goal is to ultimately serve families and to serve the community," he adds. "My ultimate goal is the have this [funeral home] model travel throughout the state of Wisconsin and northern Illinois without losing our personal touch. Because the personal touch is what is so important."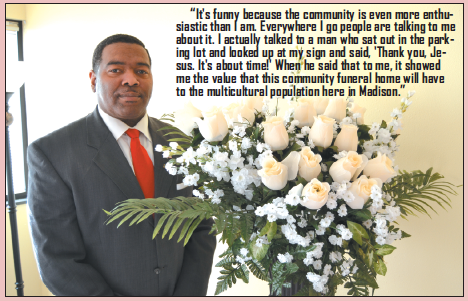 For more information about Foster Funeral & Cremation Service, e-mail bfoster@fosterfuneralhomes.com