Allied Boys & Girls Club Tech Lab Ribbon Cutting Ceremony
Meicher CPAs give technological boost to BGCDC kids
Boys & Girls Club of Dane County (BGCDC) Allied Family Center hosted a Ribbon Cutting Ceremony Sept. 11 to celebrate the renovation and remodeling of their technology lab which was made possible because of an in-kind gift from Meicher CPAs, LLP of Middleton.
"We're excited to have you all out here today to celebrate the opening of our brand-new tech library," said Karen Gallagher, director of development for the Boys & Girls Club of Dane County. "We continue to grow and we are continuing to do great things for the young people in our community and it's a pleasure that we have this moment to celebrate and acknowledge Meicher and Associates for their generosity and what they do for our children.
Meicher CPAs donated more than $50,000 worth of equipment for a renovation that will give the Boys and Girls Club Allied site technology lab a much-needed upgrade with new computers, workstations, printers, enhanced software capabilities, and new programming potential.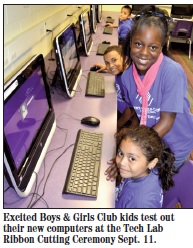 Meicher CPAs works with businesses and individuals desiring the least possible tax coupled with an understanding of personal wealth accumulation. Established in 1981, Meicher CPAs now serves more than 3,400 clients and offers a full range of tax and accounting services having extensive experience in a variety of areas
Shawn Pfaff, mayor of Fitchburg, said it's always an honor to be at the Boys and Girls Club to see these kids as they transition back to school. "Fitchburg is a growing community. We have more than 25,000 people and over 30 percent of us are African American or Hispanic," Pfaff said. "We are the modern Dane County.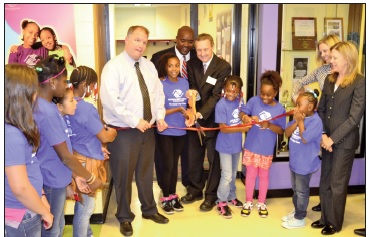 "In order for us to do well, we need people like you to do well," Pfaff added as he addressed the Boys and Girls Club children at the event.
"You — in this room — will control your own future. We're going to invest in you and make sure you have safe streets and safe neighborhoods. What happens in this room will determine how great our neighborhoods are going to be 15 or 20 years from now."
Boys and Girls Club CEO and President Michael Johnson said that they've been wanting to renovate the computer lab at Allied for a few years. "At the end of the day it's all about these babies that are sitting right over here," Johnson said, pointing to the BGCDC kids. "Yesterday, you probably saw a report that was released that talked about how African American and Latino kids don't do well in our state. I believe that if we invest in our kids and show them that our community loves them and if we give them support that they need, that our kids can achieve and do well.
"And we are doing it," he added. "If you look at our AVID/TOPS kids, they are graduating from high school and going to college. If you look at the babies that are here with us today, we don't want them to come to the Boys and Girls Club and shoot pool and play basketball, we want them to do well in school and that's why we provide tutorial support. They need the right technology here to support them. To Meicher and Associates, I just want to say, 'Thank you. Thank you. Thank you.'"
Gordy Meicher, managing partner for Meicher CPAs, LLP, told the crowd that he speaks all over the country at many different venues and is never nervous, but he was nervous today. "This Club means a lot to me and it means a lot to the kids to achieve greatness. That's why we're doing this," Meicher said. "Now you have the technology that no other child in Dane County has better than you. No one can say that their computer is better than yours. So take this information and use it and believe in yourself. There's nothing you can't do. You are all made for success … and there's nobody in this world that can stop you."