Chapter of the Links Incorporated hosted a program on health disparities at the Urban League of Greater Madison on April 12.
The program titled "End Health Disparities Now" was designed to educate the community about differences in the health of
African Americans. The goal of the program was to bring together various members of the community to educate and increase knowledge
about disparities in the health of the African American community.
Introduction and opening marks were made by Angela Russell, health equity coordinator for Public Health Madison and Dane
County (PHMDC). Dr. Debbie Jones spoke on "Health Care Disparity: What Is It and How Does It Impact Our Community?" William Greer, president and CEO of Journey Mental Health Center Inc., spoke about "Mental Health Disparities," Eve Vivian, associate professor in the division of Pharmacy Practice at the UW School of Pharmacy, spoke about "Diabetes Disparities," and Charlestine Daniel, diversity coordinator at the Alzheimer's and Dementia Alliance of Wisconsin, spoke on "Alzheimer's Disparities." The Wisconsin Alzheimer's
Disease Research Center provided financial support for the program. The Links, Incorporated established the Health and Human
Services facet in response to the chronic health disparities that persist in the community and result in the decreased life expectancy of
African Americans.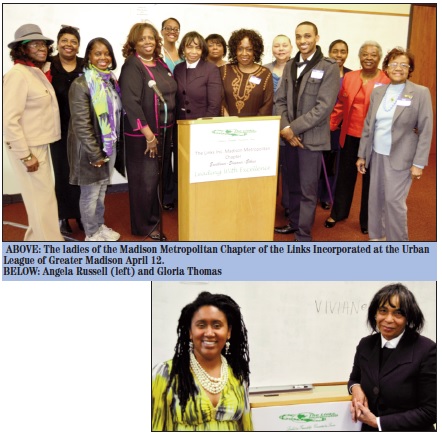 The mission of the Health and Human Services facet is to promote and facilitate programs that support the maintenance of good
health and the elimination of chronic health disparities in communities of color through education, health advocacy, and optimal
utilization of health resources. Mary Muse, director of nursing at the Wisconsin Department of Corrections, spoke on the topic of
"Lifting Community Voices: Generating Advocacy, Policy, and Enhanced Care Delivery for Populations Living With Sickle Cell Disease"
before Gloria Thomas gave closing remarks.
The Madison chapter of The Links, Inc. is a predominantly African-American women's service group. The group has 276 chapters
in 41 states as well as the District of Columbia and the Bahamas.