La Movida celebrates 12 years:
Vital Latino community resource still growing
"We're the 411 for the Latino community in Dane County and surrounding areas," says Luis Montoto, the program manager of La Movida 1480 AM radio and the publisher of the Voz Latina newspaper. "You've heard the saying, 'With great power comes great responsibility.' We do have great power here because we have a 5,000-watt stick that gives us great power. But we have a responsibility and for the past 12 years we've had that responsibility to provide the Latino population information and news. Information and news can power a community.
"It's a win-win situation. If we inform our community, we empower our community and an empowered, stable, fortified community is an empowered, stable, and fortified radio station," he adds.
La Movida 1480 AM, a 24/7 Spanish-language radio station, has been a vital resource for the local Latino community.
"It's been amazing how we've been exposed to so many great people and we've gotten to know so many clients and organizations in the Madison community," says Lupita Montoto, who is also co-founder of La Movida Radio and Voz Latina Spanish newspaper. " It's wonderful to be able to interview important leaders in the community. It's a privilege to have all of these connections with people in the community."
La Movida's goals are to not only entertain, but to be involved. Their staff has worked with dozens of important local organizations including Centro Hispano, Centro Guadalupe, United Way, AIDS Network, Latino Chamber of Commerce, Latino Health Council, Madison College, and UW-Madison.
Originally starting out on weekends about 15 years ago. On Oct. 14, La Movida will be celebrating 12 years that they have been on the air 24/7 when they first formed a partnership with Mid-West Family Broadcasting whose radio empire includes Magic 98 and Q106, among others.
The Madison Times sat down with the famous Latino husband and wife team at La Movida headquarters on Madison's west side. They still laugh when they think of those early days.
"It's different. I guess technology makes things a little bit easier than 15 years ago when we started on weekends and had to carry a lot of CD cases and had to print a lot of things out," Lupita Montoto says.
"There were no I-Phones, there were no I- Pads," adds Luis Montoto. "Back then I had a Nokia for my cellphone — no text messages … nothing."
Luis Montoto says that La Movida has learned to interact with social media more over the years.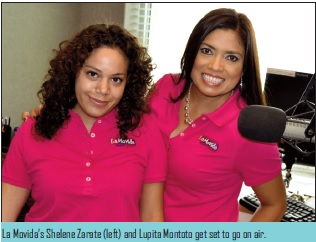 "When we started 24/7 12 years ago it was just the frequency … the station. We didn't even promote a website. It was the radio station and the logo and that was about it. Streaming was a fantasy. It was something that we thought we would never do," he says. "Now, aside from just streaming, we have the website, we have an app for your smartphone. We have to realize that social media is a big component nowadays and it's part of what we do at the radio station now.
We've got to be on Facebook; we've got to be on Twitter."
Lupita Montoto says that she cried the day that they launched the La Movida website. "For me, it was amazing. That means that my family back in Mexico could listen to me," she says. "They knew that I was on the air and that I talked on the microphone, but they haven't had a chance to listen to me. The day we launched our web site and we could stream, I called my mom and said,
"Mommy, I'm on the air now. You can listen to me right now!'"
La Movida is more than a radio station now — it's a network. Last year, they expanded into northern Illinois with their WNTA – La Movida 1330AM station in Rockford. They are working on starting up radio stations in other surrounding states, too. And a TV station is something they've always wanted to do.
"We're ramping up the TV station now, too. Lately, Lupita and I have decided to push it," Luis Montoto says. "Our new members at La Movida have TV experience and they are willing to participate in that. We're dealing with a couple of Wisconsin organizations who are helping us and advising us for the whole process."
The television station would start like the radio station — kinda small — but would hopefully blossom like the radio station once did. "TV is not the same and as easy as radio," Lupita Montoto says. "It takes more time to produce the stories. But we're working very hard on this project and will hopefully be launching at the beginning of next year."
La Movida recently had a couple of employee team member changes with Ricardo Serrano and Shelene Zarate joining the team. They are helping the Montotos plan their fourth annual Celebrate Hispanic Heritage Month Luncheon that will be held Tuesday, Oct. 14 at the Fitchburg Community Center.
In observance of National Hispanic Heritage Month and in remembrance of the important contributions that of Latinos, WLMV-La Movida 1480AM, Mid-West Family Broadcasting, and the Latino Chamber of Commerce in proud association with Centro Hispano of Dane County, will once again host this festive affair.
"This will be the fourth year that we are hosting it and it is a very fun event," Lupita Montoto says. "For the second year, we're going to do it at the Fitchburg Community Center. It's a chance to honor some very deserving people. It's so hard to decide who to honor because there are so many deserving people in the community."
Awards for the luncheon will include:
• Community Institution of the Year: Madison Gas and Electric, Annette Miller, Gerardo Paz, Mario García Sierra and Mayra Medrano.
• Community Leader of the Year: Julia Arata Frata, President of the Latino Chamber of Commerce
• Making a Difference Award: Romilia E. Schlueter, Quality Improvement Specialist of Supporting Families Together Association
• Hispanic Achievement of the Year: Officer Marisol López, Police Officer of Sun Prairie Police Department
• Hispanic Entrepreneurs of the Year: Juan Pérez, Owner of La Rosita Latina grocery store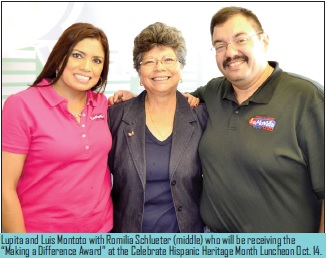 With great power comes great responsibility and as La Movida has become such an important part of the Latino community, the Montotos are increasingly asked to opine on Latino issues. Recently, Luis Montoto had a meeting with Sen. Ron Johnson in Milwaukee to talk about the kids that were being sent to Wisconsin from the border.
"I told them that as father and as a community member that we need to protect these kids and I was amazed at how politics had even gotten involved in this," Luis Montoto remembers. "It's easy for me and there's one solution. It's the same opportunity that so many others of a different culture and language who have come to this country. For me, let's make them Americans.
"That wasn't taken well by his crew," he adds, with a laugh. "But Ron Johnson came around the table to me afterwards and told me that 'We need more people like you.'"
As they are asked to weigh in on more and more Latino topics politically, including immigration, the Montotos have found that they can't help but to have become a little more political themselves. "But what we need in this country are leaders … we don't need more politicians," Luis Montoto insists. "We need our politicians to be leaders to do the right thing for the betterment of its citizens. It's in our best interest to have immigration reform. But nothing ever happens because there is political interest and there is money involved.
"We stress the power of the vote on the station all of the time," he adds. "It's something that is very important to us and should be important to everybody everywhere — especially Latinos."
The Montotos arrived in Madison 15 years ago with nothing and have been able to build up a media empire. They insist that others can do it, too.
"With the stories and interviews we share on La Movida, we want to motivate our listeners so they can know that they can be successful in this community and that they can obtain their goals," says Lupita Montoto.
"One of my joys is talking to successful people. Sometimes when people get successful, they get in this bubble and you can kind of forget about where you came from," Luis Montoto adds. "Sometimes, it's good to help people remember where they came from. To look back. To ask them questions about their childhood and help them put their feet back on the ground. Sometimes it happens; and sometimes it doesn't. I think that's where my job comes in. I want the public to be able to identify with that successful person and to be inspired by them."
In the future, La Movida, Madison's first and only full-time Spanish radio station, wants to continue to grow.
"We want to keep growing and have more affiliates. We want to keep our great relationship going with the community," Lupita Montoto says. "I don't ever want to lose touch with audience out there. We will always be there for the community when they need us. We're working hard and growing our network."
"The only way that this can be successful is if we are involved in our community," Luis Montoto adds. "If we're not involved with our community, the chances of being successful are very slim."
La Movida will host Celebrate Hispanic Heritage Month Luncheon Tuesday, Oct. 14, 11:30 a.m.-1 p.m. at the Fitchburg Community Center, 5510 Lacy Rd.