June 19, 2015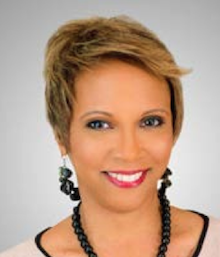 Sophia A. Nelson
WASHINGTON, D.C. (NNPA) – It was a typical Friday night when journalist, author, and political analyst, Sophia A. Nelson did what she typically does: She posted a photo on her Twitter account. It wasn't a typical photo and it did not draw a typical response.
Nelson posted a satirical photo of three injured soldiers saying, "PLEASE EXCUSE US. WE ARE ON OUR WAY TO THANK BRUCE JENNER FOR BEING SO COURAGEOUS."
A devout Christian, Nelson called Bruce Jenner's transition a woman now known as Caitlyn Jenner as "detestable," "distasteful," and "confused," and proposed that Jenner's Olympic medals be revoked because "Caitlyn Jenner did not earn them."
And in case anyone missed the point, Nelson wrote, "Bottom line: Caitlyn Jenner is a man biologically and based on her DNA. No surgery can change that. Calling a man a woman is an insult."
With that, Nelson became an active target of insults.
Among the Tweeted comments: "You are absolute garbage" and "You're disgusting, please drown." One person called her a "c—t" in a Tweet that has since been deleted.
Hundreds of responses poured in over the next several days, some in support, but many sharply critical.
"The anger! When did everybody get so angry? That's what shocked me so much," she said. "I would ask my fellow Americans in the LGBT community – if you want people to respectfully engage with you and treat you the same, then you have to be willing to extend that to others who don't think the way you do. We've got to get to a place where we can be civil in our discourse."
Civil discourse around LGBT issues is Rev. Cedric Harmon's work. An ordained pastor, Harmon is co-director of Many Voices, a Washington, D.C.-based organization that helps create LGBT-safe, inclusive conversations within Black churches and communities.
"I think that some of the negative backlash comes from the very sincere hurt and harm visited on trans folks every day," he explained. "On the other hand, the transgender experience is just now getting a full public hearing. So people are coming at this with a whole lot of questions."
Kylar W. Broadus, lawyer, educator, activist, and director of the Transgender Civil Rights Project of the National LGBTQ Task Force, the nation's oldest LGBTQ advocacy group, also has trying to mend fences between the straight and LGBTQ community.
"Words are very harmful, particularly when you're dealing with marginalized communities. Trans communities are hugely impacted by violence, particularly trans communities of color," he says. "So if we allow people to say what they want, those words roll into bigger hate. And if we don't dispel the notion immediately, it ramps up."
The National Coalition of Anti-Violence Programs finds that trans women of color accounted for 72 percent of all LGBTQ people murdered in 2013. At the start of 2015, a Black trans woman was murdered every week for six consecutive weeks. The National Center for Transgender Equality finds that almost half of all Black trans women have been incarcerated at some point, and several groups report that the rate of suicide/suicidal thoughts and attempts among transgender people is around 40 percent.
Ronald Moore serves as president and co-founder of the LGBT Faith Leaders of African Descent, said. "You can have different opinions, that's just the reality. When you start to act on those feelings or say things that impact other people, that's when it becomes problematic."
The political conversation around LGBTQ issues has advanced dramatically over the past three decades. One by one, states have been grappling with same-sex marriage. A Supreme Court decision on the matter is imminent.
Nelson recalled, "Back in 2012 when I was covering the White House…the president switched his position. It caused an uproar in a lot of communities, the Black community, the faith community. Like a lot of people of faith, [I said] don't believe that marriage between two men or marriage between two women is Biblical and allowable under God's law."
Professor Michael Eric Dyson referred to Nelson and others as "sexual rednecks." Later, MSNBC hosted a televised debate between the two, during which Dyson apologized. But some people on social media weren't so amicable.
Nelson said she has received written threats, even her home. Nelson, who also holds a law degree, has always felt that LGBT Americans should enjoy a range of civil and human rights, from living and worshipping in peace to adopting children.
"If I were on the Supreme Court I would vote for same sex marriage even though I don't agree with it, because under the law…I believe the Supreme Court has no other outcome," she said, adding that an exception should be made for clergy who do not wish to officiate same-sex marriages, and that the law should define marriage as just two adults.
Rev. Harmon said in the case of transgender people, strangers will even cross the line of what is socially acceptable with questions and comments about genitals.
"The burden of having to check every one of those very normal activities is a huge burden every day," he said. "That's not a fair or comfortable way of living."
According to the Pew Research Center, 51 percent of Americans support gay marriage and 42 percent oppose. Also, 72 percent of Americans feel it will be "inevitably" legalized, up from 59 percent in 2004. For the first time, a majority of Americans (63 percent) believe LGBT people should be accepted by society and that people cannot change their orientation (60 percent).
Still, 53 percent of Americans either do not believe or are unsure about whether gender and sexuality are set before birth. And among the 13 percent of Americans who don't know any LGBT people, 58 percent oppose same-sex marriage.
"This gay, lesbian, transgender community has power that I've never seen before. And they have the power to shut down anything with threats of, 'If you speak out, we will curse you, we'll attack you, we'll label you.' I've had a couple corporate engagements canceled…because I don't agree with same-sex marriage," Nelson stated.
"I'm old enough to remember when Bruce Jenner was on my Wheaties box and I admired him. For me to not be able to voice my opinion that a man, who has a penis still, can now call himself a woman and I have a problem with that, and I have to get called vile names – it's like come on. I didn't say anything that wasn't factually accurate."
---
Jazelle Hunt is a Washington correspondent for the National Newspaper Publishers Association News Service.
---