January 9, 2015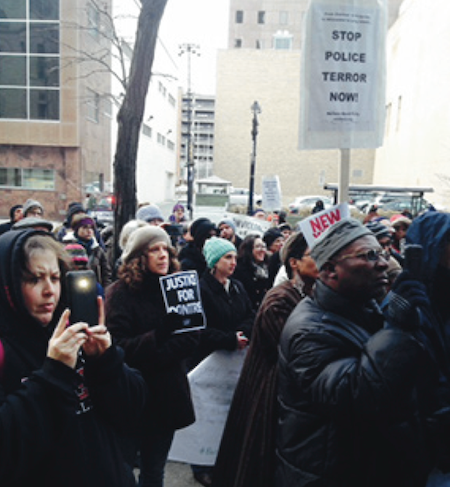 Hundreds of Milwaukee area residents and protesters gathered on a cold, wintry, Friday afternoon in downtown Milwaukee to rally in support of a fight for justice lead by the family of Dontre Hamilton, and to hear inspiring words from the family and civil rights leader, Reverend Jesse Jackson.
"We are the leaders of the new civil rights movement," said Nate Hamilton, brother of Dontre Hamilton, on the steps of the federal courthouse. "We are the future, we are the beginning. We will continue to fight; we will continue to stand up. We will continue to live our lives, living next door to our neighbors, supporting one another, loving one another, creating a new society of change. Our marches are far from over, our protests are far from over."
Nate then introduced Jesse Jackson to a thunderous response from the energized crowd.
"If you assumed the worst scenario, that he was challenged, the police, if you're trying to deter him from being challenged, you shoot him once, maybe twice. To shoot someone 14 times is immoral. It's illegal and mentally sick. We all deserve better," Jackson said in response to the Dontre Hamilton shooting. "Dontre is not about Black and white. It's about wrong and right. It's time to stop the killing."
Jackson and Hamilton family are calling for a federal investigation to launch a review in the Hamilton case and the practices and patterns within the Milwaukee Police Department (MPD).
Hamilton, 31, was a mentally ill Black man who was fatally shot 14 times by white former police officer Christopher Manney on April 30, at Red Arrow Park in downtown Milwaukee.
On Dec. 22, Milwaukee District Attorney John Chisholm made a decision that Manney's use of force was justified and was not charged.
Along with the rally and march to Red Arrow Park, Reverend Jackson spent the day doing an interview at local radio station, WNOV-AM, meeting with Mayor Tom Barrett and U.S. Attorney James Santelle, speaking at Holy Temple First Born Missionary Baptist Church, 4960 N. 18th St., and later that evening meeting with the Hamilton Family.
Jackson highlighted racial gaps in housing, education and poverty. He mentioned a recent statistic that says Milwaukee is number one in residential segregation among the largest 102 U.S. cities. Amid those cities, Milwaukee has the widest gap in test scores among black and white students, and the black poverty rate in Milwaukee is the second highest in the nation.
"When I left WNOV radio station I drove past 2,500 vacant lots and abandoned houses," Jackson said. "We need to reinvest where we live, rebuild where we live. There could be construction jobs, painting jobs and architectural jobs to put people to work."
"The one thing worse than oppression is to adjust to it," said Jackson.
"Don't let these forces break your spirit," Jackson said.
"We fall down sometimes but we get back up again. We march for jobs, we'll march for education and healthcare."
Reverend Jackson has a legacy of involvement in civil rights and a history of marching with Father James Groppi in Milwaukee. Groppi was an Italian American Catholic priest who, in the 1960's, fought for civil rights for African Americans in Milwaukee.
"I came to Milwaukee for more than ballgames and beer," Jackson joked.
Jackson may be best known for working closely and marching with Dr. Martin Luther King Jr. for voting rights for African Americans in the south during the 1960's.
"Dr. King would be so proud of you today," Jackson told the crowd. "Here you stand in the cold, multi-racial and multicultural, we stand for peace… justice transcends race."