Inspirational, fun poetry party held at Central Library
It was a sunny September day, as close to two dozen folks gathered together for a poetry party at the Madison Central Library.
Fabu Carter and Gary Glazner led the event, which was designed for people living with memory loss, their caregivers, and the general public.
The gathering gave an opportunity to read classic, well-loved poems and poems written by those living with dementia. One of the highlights of the event, which the Alzheimer's and Dementia Alliance of Wisconsin sponsored, was the creation of an original poem by the poets and the audience.
Fabu Carter, who has served as Madison's poet laureate, leads once-monthly poetry groups at four local centers — Avalon, Romnes, Burr Oaks, and Karmenta. She begins the groups by reading some poetry, and established poets as well as new poets oftentimes subsequently share their poetry. Each time they meet, they compose a poem together, she explained, after which she types it up and distributes a copy of the poem to everyone next time they're together.
"Even today, we'll compose a poem together," said Fabu. "We have a wonderful array of poets."
Fabu (Carter) talked about The Alzheimer's Poetry Project, which New York poet Glazner founded about 10 years ago: "It's amazing because it's all over the world."
The project has been going in Madison for three years now, and the culmination of their efforts is the once yearly poetry party. "I'm excited we're doing this in Madison," she said. "I really love our elders, and I gave great respect for them and their words."
Eight individuals shared poetry at the Sept. 19 event, in order of appearance: Elliott Thomas Smith, Quincy Outerbridge, John Beeman, Verlene Gee Fleming, Pastor Joey Suarez, Jolieth McIntosh, Sariah Daine, and Joe Rheal.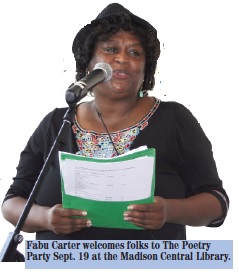 Poetry cheers…
Glazner got the group going by teaching a couple of poetry cheers, after hearing what he called "the golf clap" ("very proper, lovely.") From there came the "just scored a touchdown cheer," followed by a poetry cheer that ends with a symbolic removal of the beret hat like in a coffeehouse reading where bongo music and wine set the stage.
Next, he led the audience in a lively call and response performance, reciting lines of the classic Sonnet 18 by William Shakespeare and having the group join together in echoing the words.
Glazner zeroed in on the line, "Summer's lease has all too short a date," pointing out that fall is coming with winter not long behind.
"What does summer mean to you"? he asked the individuals from a variety of backgrounds seated in the room. Their responses included, 'full bloom;' 'this year we didn't really have a summer;' 'new birth,' and 'activities, festivals, the farmers' market.'
After reciting the sonnet which one person in the group described as feeling 'fantabulous,' Glazner led the group in a light-hearted icebreaker called 'Pass the smile.' "It's a simple thing," he explained. "One person passes the smile to another person."
This activity indeed did spur on lots of smiles from other folks in the room along with volumes of laughter.
In welcoming Fabu to the stage, Glazner attested, "She has worked really creatively and diligently throughout the year." He emphasized that the event is "a celebration of her as well as a culmination of the (poetry) work" the group did together during the course of the past year.
Fabu started off by sharing a poem "by a dear poet from Romnes that's no longer with us… Ms. Judith" which was titled, "Contentment." The poem talked about being a red geranium, choosing to bloom, and ended with the words, "'I am patient and hearty and forgiving if neglected.' "
Poets share their creativity
Elliott Thomas Smith told the group that he thinks his mother, Ms. Judith, missed her calling and should've been an actress with all of her talent. She loved the arts with all her heart, he said, and often went to poetry readings. "She even loved Rap poetry. I was just amazed that she liked that type of things, but she did," he said. Smith shared a poem, "Love and the world of Alzheimer's" which he dedicated to his mom, along with a piece called, "Kindness."
Quincy Outerbridge, who originally is from the island of Bermuda, recited a poem from his childhood, "Out of the Night" which discusses being "beyond this place of wrath and tears" and being the master of one's fate and the captain of one's soul.
Fabu stated that not only is that a wonderful poem, but it was great how he recited it.
When it was Verlene Fleming's turn, she held up a copy of the book she wrote, and read a poem she had penned about her mother and how she had treated her mom. The passionate, compassionate piece moved many in the room to tears, myself included.
Pastor Joey Suarez read two poems he had written in Spanish, with a care assistant translating the lines as he went along. They centered on the gift that each day presents, how it's an opportunity to "live, work, and be creative," imploring readers and listeners not to let the day end without a big smile.
Jolieth McIntosh, who is from Jamaica, shared a piece she had written about the last visit with her father before he died. Her second poem focused on the older lady in the mirror, realizing it was her own image she was seeing, and wondering, " 'When in the world did I get so old?' "
Sariah Daine, who is a sculptor as well as a word artist, shared two short poems, one in which she asks folks to share their stories of their lives with her, "' the bitter with the sweet.'' In her second poem, "I miss you," she refers to missing the you that has a clue when a friend calls and asks if we're still on for tomorrow. She also conveys that she is lonesome for her own self, 'the one I used to be.'
Joe Rheal read from a booklet of his poetry, "Rheal Poetry: Round One/Inspiration by Inspiration…to my final destination." He shared his first attempt at writing poetry, as well as two poems he's created, "Thank you, Bill Gates" and "I wish I were a writer."
More about the project
Gary Glazner said that the project took root from a workshop he did at an adult daytime activity center in California, which took place in 1997. It officially started in 2004 in New Mexico, and since that time, it's been held in 23 states, as well as in Australia, Germany, Poland, and South Korea. He indicated that about 20,000 people have taken part in the reading and creation of poetry since the inception of the project.
"The project is still expanding," stated Glazner, most recently in Minnesota where he's working with two poets that are hosting it.
The Poetry Party is funded in part by the Helen Badger Foundation (out of Milwaukee) and the Poetry Foundation. The Center for Community Stewardship serves a fiscal sponsor for The Alzheimer's Poetry Project.
For more information about starting a poetry project to spark memories, contact Gary Glazner at garyglaznerpoet@gmail.com
or 505-577-2250.