February 6, 2016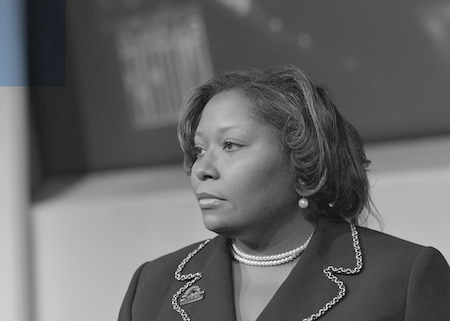 Lakia Wilson, a guidance counselor from Detroit, Mich., said that even though you hear on television that the economy is coming back, it hasn't come back for everyone. (Freddie Allen/NNPA)
WASHINGTON, D.C. (NNPA) — Income inequality is rising and it affects workers in every state, according to a new report by the Economic Policy Institute (EPI).
Researchers from EPI, a nonpartisan think tank focused on low- and middle-income workers, analyzed Internal Revenue Service data for all 50 states and found that not only was the income gap between the top 1 percent of earners and everyone else getting wider, but that the disparities were not just confined to financial centers in the east or technology centers on the west coast.
All workers took a hit during the Great Recession, but top earners have recovered faster than low- and middle-income earners. According to the report, the top 1 percent of earners captured all of the income gains (100 percent) in 17 states following the Great Recession.
And Blacks live disproportionately in states that experienced the greatest income inequality.
In seven of those states where the top 1 percent captured 100 percent of the income growth since the Great Recession, the share of the population that is Black is higher than the national average. Those states include Delaware (22.1 percent), Florida (16.7 percent), South Carolina (27.9 percent), North Carolina (22 percent), Louisiana (32.4 percent), Virginia (19.7 percent) and New York (17.5 percent).
With the exception of Texas, where Blacks account for 12.4 percent of the population, the Black population is higher than the national average in states where the top 1 percent collected at least 80 percent of the income growth including Illinois, Arkansas, Michigan, New Jersey, and Maryland.
Mark Price, an economist at the Keystone Research Center in Harrisburg, Penn., said in a statement that state leaders and policymakers need to realize that inequality is a problem everywhere.
"If states are not passing progressive taxes and raising revenue from top earners, they are missing out on a large and growing source of income," said Price.
Researchers found the greatest disparities between the top 1 percent and the rest of workers in New York and Connecticut where the top 1 percent earned 48 times more than the bottom 99 percent.
Disparities exist in every state.
"Even in the 10 states with the smallest gaps between the top 1 percent and bottom 99 percent in 2012, the top 1 percent earned between 14 and 19 times the income of the bottom 99 percent," EPI reported.
Estelle Sommeiller, a socio-economist at the Institute for Research in Economic and Social Sciences in Greater Paris, France and co-author of the report, said that every state and every region in the United States is going to have to grapple with the effects of rising inequality.
"Our study paints a picture of the top 1 percent in each state. While there are differences from the 1 percent nationally, no state has escaped the troubling growth of inequality."
The report comes on the heels of President Barack Obama's State of the Union address where he urged employers to invest in their workforce and to pay employees overtime that they earned.
"And to everyone in this Congress who still refuses to raise the minimum wage, I say this: If you truly believe you could work full-time and support a family on less than $15,000 a year, try it," urged Obama. "If not, vote to give millions of the hardest-working people in America a raise."
According to a 2014 report on wages by the Center for American Progress, a progressive, education and research think tank, said raising the minimum wage to $10.10 per hour would increase the collective income of people of color by $16.1 billion.
As income inequality rises, labor union leaders, policy makers and workers express heightened concern about stagnant wages.
During a recent Raising Wages conference at the Kellogg Center at Gallaudet University in Washington, D.C, Richard Trumka, president of AFL-CIO, said that immigration and race are also work and wage issues.
"We must have a pathway to citizenship for all immigrants, and we must be a country of dignity for all people, regardless of race or ethnicity," said Trumka. "Justice at work and justice in our community are intertwined, and both must advance for either to grow."
Lakia Wilson, a guidance counselor in the public school system in Detroit, Mich., said that even though you hear on television that the economy is coming back, it hasn't come back for everyone.
"I'm struggling, all of my counterparts in my profession are struggling and in other professions we're still struggling, so the economy is only coming back for some," said Wilson.
Wilson, a Detroit native, with no children and degrees in elementary education and counseling, said that she considers herself part of "the working poor," because sometimes she can't even afford gas money to get to work.
In 2004, Wilson purchased home and used a part-time job at the community college to help cover her bills. When she lost that job, she also lost her house. She rescued her house from foreclosure by cashing out her retirement account.
Now Wilson said that sometimes she secretly envies people with food stamps at the grocery store.
"I'm counting out every penny for groceries and I realize that I don't have enough to make it," said Wilson.
Wilson added that people of color need to know that the struggle is real and that all workers have to get involved from the pizza workers to the professionals.
"We all have to join together to raise the wages," said Wilson. "The money is there, we need to demand it."
The EPI report said that today's levels of inequality in the United States raise a "new American Dilemma."
It explained, "In the next decade, something must give. Either America must accept that the American Dream of widespread economic mobility is dead, or new policies must emerge that will begin to restore broadly shared prosperity."
---
Freddie Allen is the Washington Correspondent for the National Newspaper Publishers Association (NNPA). A graduate of Howard University, Allen was a staff writer, photo editor and general manager of the District Chronicles. He also served as editor-in-chief of Ledge, a magazine devoted to healthy lifestyles and HIV/AIDS awareness among young people of color.
---