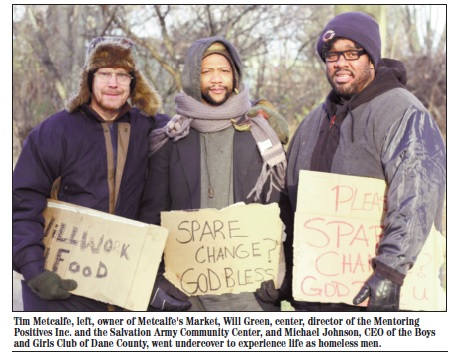 The dropping temperatures this past month provided a minor inconvenience for most of us. It was much more devastating to those people who don't have a home or a permanent place to stay.
It's safe to say that many Madisonians don't think too much about the plight of the homeless here in Madison because, afterall, that's "a big city thing." But that's little comfort to Madison's estimated 3,400 homeless.
Three friends temporarily set their lives aside in mid-November — Michael Johnson, CEO of the Boys and Girls Club of Dane County; Tim Metcalfe, owner of Metcalfe's Market; and Will Green, director of the Mentoring Positives program and the Salvation Army Community Center — to walk in the shoes of the people of Madison's homeless community. Their hope was to get the conversation going around homelessness and to spur the community on towards constructive solutions.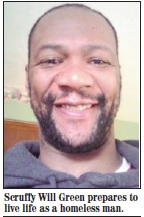 "I've always wondered what it was like to be homeless and what people did when it got cold outside and how they survive," Green tells The Madison Times in an interview at the Salvation Army Community Center in the Darbo/Worthington neighborhood. "There is an underbelly that most Madisonians don't see and I wanted to experience it first-hand. Madison is the best place to work and live and all that, but then we have so many disparities for minorities. There are a lot of families who are like one paycheck from being homeless. That's a fact.
"I hope, if anything, our experience with homelessness brings people together more to talk about the issue," Green adds. "We as a community can provide better services to the homeless. I feel like we can work together as a community on this issue and coordinate our efforts in a way to give people the help that they need."
The aim of the three men, in addition to raising awareness, was to provide aid to an exceptionally needy case, which they were able to do for a mother of four. They found her living in an SUV in a Walmart parking lot with her kids, ages 13, 8, 7, and 1, and were able to immediately get the family into a hotel. More recently, they've provided a donor-funded apartment where they will pay the rent for two years. Metcalfe has hired the mom to work at his downtown food market.
The transformation
Before the men slept in shelters, panhandled on street corners, and asked restaurants for free food, they had to get a scruffy look going, and that took weeks.
"When I first started growing hair, I was going through this transformation in my demeanor and my actions and my psyche," Green remembers. "I got scruffier and scruffier in my look and that transcended in how I acted. People would tell me that I look homeless and I really started to develop an attitude."
Green arrived at the drop-in men's shelter at Grace Episcopal Church on the Capitol Square where he was ID'd and questioned. He remembered: "When I got in there I immediately started to answer questions: How long have you been homeless? When was the last time you had a hot meal? Where are you from?"
Green told them that he came from Indiana and was staying with friends. As he looked around, there were probably 60-80 guys who were going to stay in bunk beds — 8-10 in a row and in 6 or 7 rows. Most of the menat the shelter, Green says, were minorities. He was curious about what was going on around him, but didn't want to appear too curious.
"I did see some guys looking at me like, 'Who is this little cat? Who's this new guy here?'" Green says. "But many just wanted to give information to me because they knew I was a newbie. Even though they were in a bad situation and struggling, they were still looking out for new guys who were coming in — giv[ing] me the right information and tell[ing] me where I needed to go and what I need to do. It was crazy because it was a whole other culture and a whole other world that these guys go through that people never get to see."
Green spent a lot of time on his bed reading his newspaper. Dinner was potatoes and sausage and meatballs. "It was a hot meal. I was hungry," Green remembers. "The big old cook was yelling at us as we went through the line, "Man, they don't have to make this food! Somebody could say, 'thank you' in here!'"
Unlike his other friends, Green was all by himself for most of the men's shelter experience.
"Mike [Johnson] and Tim [Metcalfe] weren't in there with me. They came in later as buddies — that was their story — so they could sit and talk to each other all night. I was by myself," Green says. "My phone was dying; I had no juice … I started thinking about what have I gotten myself into. It's a scary thing to try and fall asleep in a strange place with dozens of strangers."
Lights went out promptly at 9 o'clock. "That was probably the hardest part for me because I'm like a night owl. I can go to bed at 2 or 3 o'clock and still pop up at 6 a.m.," Green says. "Now, I'm sitting here in this bed with no sheet. This guy next to me had asked me to buy his headphones, I told him that I didn't want them. He asked me for a cigarette. I told him I had none. I was thinking that he literally was going to get at me when I fell asleep. He was right next to me.
"I didn't sleep too much. I was awake and I heard a lot of snoring. I heard somebody cussing someone else out — somebody was about to get into it," Green adds. "But some of the rules that I heard were that if you fight you got kicked out for like 30 days and you won't be able to come back. Overall, I was amazed at all of the men that were in the facility and there were no major problems. There was a camaraderie."
Green's mind wandered as he laid there in silence and put himself into the shoes of everybody around him.
"I was thinking about what everybody was going through. One guy was talking about how he was going to beat someone's ass…. I knew other guys were dealing with alcohol, drugs, depression… some of these guys have been through a whole lot," Green says. "I just sat there and took it all in."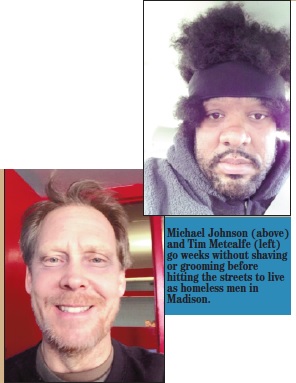 A new day
And then morning came. A man explained to him that a van would come in the morning that would take Green and others to apply for jobs and to look for housing and other services. Pancakes were available for breakfast.
"A lot of guys that I talked to had jobs that they were getting ready to go to," Green says. "It was just hard for them to get housing whether it was because of debt, credit checks, background, or felonies.
"Mike [Johnson] was talking to this younger African American fella — he wanted to be an entrepreneur and had an idea for a business. He was laying out his whole plan for us," Green continues. "This older African American man was listening to this all and what I really hated was that he wasn't trying to uplift the younger guy and his dreams but he was telling him, 'That can never happen … you being an entrepreneur. You need to stop living that dream and forget about it.'"
Johnson got both of those men's numbers and plans on contacting them. "I'm looking forward to having more discussions with these men and seeing what we can do to help them," Green says. "I'm also interested in talking with the older man to find out why he was trying to crush the young man's dreams when we really need to be lifting each other up."
You can read about homelessness, you can volunteer at a soup kitchen, and you can be an empathetic individual, but none of that can capture what homeless people truly experience every day. That's what the men set out to do.
"It was tough to go through all of that. I can only imagine if I had to go through that for a week or a month. It would have been very, very different," Green says.
The three men have gotten a ton of positive feedback from their endeavor, including some national exposure. They've also seen a little backlash on the Internet.
"We've gotten some criticism through social media on what we did, but what I want them to understand is that it would be something if I lived a privileged life," Green says. "I still don't talk about some of the things [I saw growing up] that put me on the path to doing the work I do today."
Green's rough upbringing in Gary, Ind., is well-documented and he uses it to relate to young people at Mentoring Positives.
"I can talk about being in a house with no heat or running water. I can talk about the poverty that I came up through in Gary, Ind. — being the number one murder capital at the time. I've seen a lot of crazy stuff in my life," he says. "When those comments came, I was like, 'Wow. Some people don't even know the shoes I've walked in and what I've been through.'
"But whatever that was about, I know that we're shedding some light on a situation that is very important," he adds. "I hope that we are helping to spark a movement to help figure out how we can help the homeless population and provide more services. I hope it brings awareness. That was an experience of a lifetime. I was happy to be a part of it."
The three friends' homelessness experience will end up helping people that they met in the shelter and hopefully spark a larger conversation (and action) in the Madison community. Overall, Green was inspired by the generosity of the people of Madison.
"We found that people were very giving," he says. "A bucket of chicken was given to us…. $27 worth of food. Some people had hesitation. I saw people thinking to themselves, 'OK. Where is the money going to go? How will it get spent?' But overall, people were very generous."