RIO DE JANEIRO (IPS) — The seven-year-old got bored after running here and there for five minutes, amidst a group of a dozen classmates. He eventually stomped off the field because he hadn't managed to kick the ball even once.
"Football is like that, you have to be patient," he was told by the phy ed teacher who was introducing the group of young students to the sport. Although it might not seem like the most necessary character trait for practicing sports.
So how to explain the passion ignited by football in the most varied regions and cultures of the world? Why does the FIFA World Cup, which opened Thursday in Brazil, awaken so much enthusiasm on all of the world's continents?
Romario de Souza Faria, one of the greatest Brazilian footballers, whose five goals in the 1994 World Cup in the United States ensured Brazil's victory, actually spent very little time with the ball in any particular 90-minute game. He became a national hero with his lightning fast strikes.
In 2007, when he tried to convert the thousandth goal of his career, a reporter noted that Romario held the ball for only 16 seconds in the entire game. At one point he went 30 minutes without touching it.
The few goals in any given football match – there are even games that end 0-0 – are tedious for many who prefer the faster pace of basketball or volleyball, where games end with dozens, and generally more than 100, points.
Other people think some of football's rules are irrational, such as offside, which interrupts the play at a peak moment, when the forward is in an ideal position to score – and drive the fans wild.
There are others who complain that football is too violent. Broken bones and other injuries are all too common as players kick and elbow and crash into each other – sometimes without even being penalised. The opposite of volleyball, where excessive physical contact is avoided.
But despite everything, football has won over huge majorities of the population in much of the world, and is still growing in popularity, overcoming traditional preferences and resistance, like in the United States and Japan.
Still, it can't be described as a completely universal sport, because it has yet to win significant support in some large countries like China and India.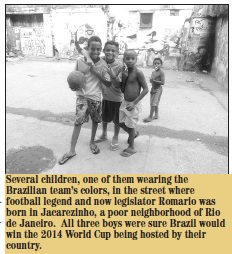 The secret of football's overwhelming popularity and consequent success on the business front does not appear to lie in the fields, the players or the ball, but in the minds of the spectators. It is as a show, more than as a sport to be practiced, that it became the champion.
Many sports, especially team sports, have managed to draw enormous audiences in person and on TV. For example, there is baseball in the United States and Japan, basketball in many countries, or cricket in India, Australia and other former British colonies.
But football has singular aspects that make it the most popular sport, capable of attracting an estimated 3.6 million stadium-goers during the 20th World Cup, which is being hosted by 12 Brazilian cities from Jun. 12 through Jul. 13.
One fundamental element is that fans feel powerful, by supporting their team or analysing the players' moves.
More than spectators, fans feel like participants and designers of alternatives in the games, because football is an open work of art, a stimulus for creativity. Their collective support tends to influence the results more than in any other sport.
The fans have a big picture of the game; they can see the entire field and follow all the moves, unlike the players, who are in the thick of things, surrounded – and harassed – by their rivals, and have a more narrow view of what is going on.
As the saying goes, every Brazilian is a coach. Fans reach their own conclusions about tactics, plays, the best use and combination of the players' skills – infinite details that can be decisive.
The discussions and arguments are endless, as is news about the sport. Perhaps there is no journalism so exhaustive and widely read as football coverage.
Two decades ago, Brazilian João Havelange, former president of FIFA (1974-1998), said offside should not be eliminated since the "imperfection" of football is one of the reasons it is so popular, because it generates so much debate.
Football in its extreme complexity makes it possible for anyone to feel expert or knowledgeable enough to evaluate, analyze, and have their own ideas about games, teams, referees, coaches and players.
The fact that it basically involves the feet, running counter to human evolution that concentrated people's skills in their hands, adds uncertainties that bring it close to chaos theory. Secondary factors can be decisive, all of the actors count, and – another essential aspect – it is a team game.
The best teams tend to win more, but every king has his plebeian days; no one is invincible. Because of all this, the support of the fans has a much greater influence than in other sports – which is recognized in many tournaments, where a goal scored on the rival's field is worth more than one in their own stadium.