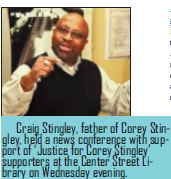 Craig Stingley, father of Corey Stingley, a 16 year-old Nathan Hale High School student in West Allis who died on December 29, 2012 of positional asphyxia, announced that his son's case would be reviewed by the U.S. Department of Justice at a news conference held Wednesday evening.
Stingley called the news conference along with support of community leaders, family and friends to make the announcement following the failure of Milwaukee's District Attorney John Chisholm's office to pursue any charges against the three White men who restrained Stingley's son, which led to the teen not breathing and being rushed to the hospital where he later died.
The teenager was confronted and restrained by the three men Dec. 14, 2012, at VJ's Food Mart, 9206 W. Schlinger Ave., where he attempted to steal alcoholic beverages.
According to reports, After handing his debit card to a clerk for an energy drink, the clerk told the youth he would not call police if Stingley gave up the beverages he had placed in his backpack.
Surveillance video shows Stingley grabbing his debit card and attempting to run as the clerk is retrieving the items from the backpack.
The video then shows Stingley being grabbed by Jesse Cole, Robert Berringer, and Mario Lauman and struggling with the three men before all four go out of camera view.
According to West Allis police, when a police officer arrived, Stingley was being restrained by the men.
The officer handcuffed Stingley briefly but then realized he wasn't breathing.
The handcuffs were removed and CPR was given before Stingley was taken to Froedtert Hospital in Wauwatosa.
He never regained consciousness, and his family removed him from life support.
Stingley's dad is certain that these three men are responsible for his son's death, and should be charged. "This wasn't restraint," he said. "This was murder."
Community leaders are also questioning the action of the DA's office.
Milwaukee County Supervisor David Bowen said, "This is a pressing issue for race relations for Milwaukee County," West Allis has a growing population of people of color, and they are concerned that this sort of action is condoned by local authorities.
Those who detained Stingley should have known they were doing harm.
Clearly, the victim was in the wrong in trying to shoplift, but it should not have cost him his life. "
He continued, "The District Attorney ruled that the three who detained Stingley did not mean to harm him.
Yet their actions caused his death.
How can something like this happen without consequences?
Stingley's family is hurting, and this ruling only increases the devastation for them."
Bowen called on the community to view video related to the incident to help the public understand how Stingley's death occurred.
He said the public could judge for themselves.
"Corey Stingley's death has wide-reaching implications for the community, and failure to file charges against those who restrained and ultimately killed him only increases mistrust of authorities.
I question the District Attorney's decision, and I hope that we can ultimately find a way to get justice for Corey Stingley and his family."
James Hall, Jr. president of the Milwaukee NAACP released at statement saying, "The NAACP Milwaukee Branch is greatly troubled by the tragic circumstances surrounding the death of Corey Stingley.
While no one condones the kind of wrongdoing that he was alleged to have been engaged in, the actions of the three men who restrained Mr. Stingley resulting in his death, should be thoroughly examined.
We grieve for and with his family and fully support their efforts seeking a civil or federal review of the circumstances that resulted in the most fundamental violation of civil rights – the loss of life.
When a person loses his life at the hands of others, it would seem that a "chargeable" offense has occurred.
If the District Attorney has determined that the traditional charge of manslaughter is not warranted under the circumstances, we believe that some other charge, under the facts as we understand them might nonetheless be appropriate.
The family (and community) deserves to be satisfied that the investigation gave full consideration not only to the question of intent, but also to issues of criminal negligence and reckless disregard for life.
The NAACP has had a long history of opposing vigilantism – taking the law into one's own hands, for obvious reasons.
Former National NAACP President and CEO Benjamin Jealous recently cautioned (in the aftermath of the Trayvon Martin death) how Stand Your Ground and other similar laws license vigilantism, adding that this should be a matter of grave concern to every enlightened citizen. It is one thing to act as a "Good Samaritan."
It is another to take a life.
The stand that should be taken should be one of alerting the community that vigilantism can be a slippery slope and that vigilante justice must never be applauded or condoned."
Following the news conference, the Justice for Corey Stingley supporters planned a demonstration for Friday outside of John Chisholm's office and intend to organize a "Fire Chisholm at the ballot box" movement.