May 22, 2015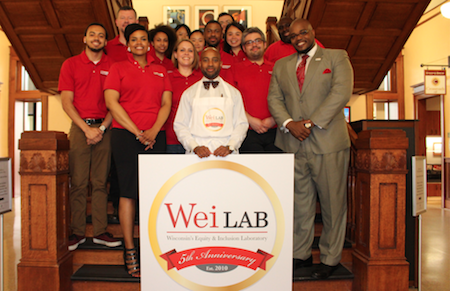 Dr. Jackson and his colleagues at the lab's 5th anniversary celebration.
"I feel that the role that Black academics have played in social movements and community building needs to be present again," Jackson said.
This was an important milestone for all involved and in particular for its founder, director, and chief research scientist, Dr. Jerlando F.L. Jackson.
Thoughtful and deliberate, when Jackson speaks it's with a quiet intensity that alternates between seriousness and a charming, low-key liveliness.
His work with the Wei LAB centers on creating ways to broaden participation and employee retention of underrepresented groups in careers within the fields of science, technology, engineering and mathematics as well as in higher education as a whole.
As a young man, Jackson dreamt of playing in the Boston Philharmonic or becoming a music professor. His pursuit of that career, however, was interrupted while he was on a nationwide tour as a member of Alabama's Drum and Bugle Corps.
During that trip, an instructor mentioned that he was going back to get his Master's degree in higher education. Curious, "[I] simply asked him to tell me more about this field and [I was] just captured by his description and said, 'That's exactly what I want to do,'" remembered Jackson.
He immediately sought out information on the topic from his academic advisor, who confirmed that the school had a program and that Jackson was qualified to enroll. He then enrolled in the higher education graduate program while finishing his last year of undergraduate work in music. "So that was the beginning for me and it has quite honestly been the best decision for me," he said.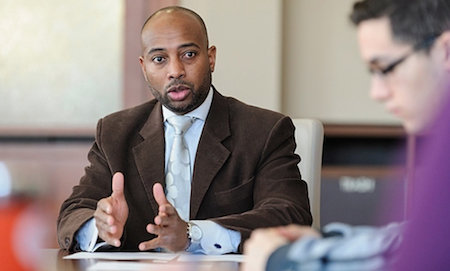 Jerlando F. L. Jackson chairs the Equity and Diversity Committee as the group meets in the Education Building. Photo credit: Jeff Miller, University of Wisconsin-Madison
The Beginning
The discipline, skills and dedication that being a music major required laid the foundation for his success in the field of higher education and eventually for his success in directing a research laboratory.
"Writing and conducting music is like writing strategic or organizational plans," he said. "You need to have a plan, have everybody on the same page and you have to have some method of knowing when they're on or off task."
Jackson completed his bachelor's degree in music education from the University of Southern Mississippi and went on to obtain a master's degree in higher education administration from Auburn University, as well as a Ph.D. in higher education from Iowa State University.
His interests and studies have evolved over time. Jackson notes that initially, "If you looked at my dissertation and the work I was prepared to do, it would bare modest similarities to what you might see in the Wei LAB. I studied executive behavior – it had no equity or diversity emphasis."
It wasn't until he became involved in other projects that he began to focus on administrative diversity. "I went from examining administrators to examining workforce dynamics that were created in a higher education context. That laid the groundwork for what eventually fueled what would become the work of the Wei LAB."
After spending time as a visiting scholar at the University of Michigan's National Center for Institutional Diversity, Jackson said he "started to think that perhaps I had a strategy and a vision for doing what that unit was doing, but a little differently. I came back and spent a year strategizing and collaborating with colleagues and supporters." One such collaborator was Damon A. Williams, who had a hand in the conception of the National Center for Institutional Diversity at Michigan and was at the time chief diversity officer at the University of Wisconsin-Madison.
Creating the Lab
The Wei LAB was formally established in 2010 as an externally-funded research unit in the Wisconsin Center for Education Research (WCER) and has since taken on several ground-breaking and major research projects.
One project is the Beyond the Game Program, an initiative to strengthen the success and post-graduation trajectories of student athletes. This initiative has become highly successful and efforts are currently being made to make it a replicable model for other schools through a new startup company, Beyond the Game Solutions, LLC.
Other projects and research include: The Annual International Colloquium on Black Males in Education, an initiative that examines the global dynamics of Black males in the educational pipeline; a multi-year study on glass-ceiling effects for women and people of color, recently published as a book in December 2014; a partnership with the UW's Lesbian, Gay, Bisexual and Transgender Campus Center that explores and researches the campus climate for LGBT students; participation in the Institute for African-American Mentoring in Computing Sciences; and a new Translational and Commercialization Division, which includes a forthcoming Wei LAB app as well as a global asset-mapping project.
"We consider ourselves a global player. We have a number of partnerships that we collaborate and work with because of the desire to think about the Wisconsin idea with a global perspective," he explained. "We have both a marketing strategy that's being driven, as well as empirical work that we're doing because we really do understand the value of networking both from a personal and professional standpoint."
The main principle of The Wisconsin Idea – "To improve people's lives beyond the classroom" – is exemplified in the work of Dr. Jackson and the Wei LAB. The core of what they do – all of their research, projects, presentations, and books – are created with the intention of improving the educational atmosphere and lives of people within those organizations both locally and beyond.
One particularly successful project took place at Dr. Jackson's alma mater, Iowa State University.
In March 2013, university President Steven Leath appointed Jackson to conduct the most comprehensive diversity audit ever done at the school with the hope of creating a more comfortable and welcoming environment for everyone.
The audit took a year to complete and since the final report, the University has begun to implement several changes in response to the report findings.
"They're actually making changes. They're creating a Chief Diversity Office and are beginning to look for a chief diversity officer. That's an example of taking empirical research and strategies and being able to help a university restructure, think differently," said Jackson.
"None of this work can be applied organizationally unless there's an individual somewhere internally seeking to use it," he continued.
Deciding to Diversify
Educational institutions and larger organizations tend to emphasize the role of the individual and whether or not the individual will fit or not fit into their agenda, system or culture. The success of an individual will hinge largely on how well they can adapt and transform themselves to meet the preferences of, say, a university.
"We have these organizations that espouse these commitments to diversity and express a desire to diversify," said Jackson. "But what you rarely ever see as part of the discussion is the role of organizational change and adjustment. What usually happens is that the organization does not adapt to diversity."
Jackson, however, emphasizes the need for organizational transformation. "We have these organizations that espouse these commitments to diversity and express a desire to diversify. But what you rarely ever see as part of the discussion is the role of organizational change and adjustment," he explained. "What usually happens is that the organization does not adapt to diversity – it wants the diverse individuals to adapt to its principles."
"But when you want the whole group to have equal opportunity and success, you've got to have organizational ownership," he stressed.
And that's the lynchpin behind Dr. Jackson and the Wei LAB's work: what they and organizations like them are doing is crucial in developing programs and procedures to help institutions welcome and adapt to diversity gracefully – a task they can either actively seek out or eventually be forced into in order to survive.
This is surely one reason why Jackson feels that, "In some fashion, the Wei LAB will have longevity. It actually has a number of things going on in it that, in my humble opinion, is educational research of the future. We'll always be forward thinking."
But it's not just about supporting and guiding institutions in their mission to diversify – there's a deeper, more personal meaning and motivation for Dr. Jackson in his work.
"I feel that the role that Black academics have played in social movements and community building needs to be present again," he said. "There have to be individuals in efforts willing to truly narrow the gap, the distance, between these ivory towers and those communities who would actually benefit from the stuff on this desk."
"There needs to be some empirically driven and motivating voices because when arguments are being made for unrepresented groups, evidence is not always at the table. It is very difficult to convince anyone of anything if you don't have the right evidence," he continued. "And it's even more difficult when you want them to change something."
The Wei LAB's website provides extensive, in-depth information on current and past projects, events, news and the work of their staff. For more information, visit
www.weilab.wceruw.org
, find them on
Facebook
and keep an eye out for the Wei LAB app.