The Deltas will be trying something new and exciting Feb. 15 as they host their 19th annual Heart and Soul Scholarship Fundraiser at the Concourse Hotel in downtown Madison. The theme for this year's event is "It's a Masquerade Affair."
"A Masquerade Ball was something we all came up with when we were brainstorming," says Delta Janine Stephens. "We just thought it would be so fun to have a ball with everybody wearing a mask. It's something different. People are excited about it."
Stephens, who is co-chairing this year's event with Tangela Blakely Reavis, says the Deltas will be selling masks that night for people who don't bring their own. Local band Kinfolk will perform from 7:30-9 p.m. There will be a short break to present awards and then Delta Vanessa McDowell, a.k.a. DJ Ace, will deejay for the rest of the evening. There will also be hors d'oeuvres and a cash bar.
"This event has grown tremendously over the years. I know that we've raised over $40,000 in scholarships over the years and that's really exciting," Stephens tells The Madison Times. "Just knowing that this is going to support our youths and get them to college, that's exciting. We've seen the numbers of people at the event grow over the years, too."
The Madison Alumnae Chapter of the Delta Sigma Theta Sorority Inc. will be honoring three organizations this year at the event with their inaugural Heart and Soul Humanitarian Awards: Unity UW Health, 100 Black Men of Madison, and Madison Gas & Electric.
For 37 years, the Deltas have made a positive difference in Dane County.
"We're a public service organization, so we definitely work within the community to support different health initiatives, educational initiatives, economic development initiatives, and art initiatives," Stephens says. "We are very aware of things going on both nationally as well as locally. We've all been charged as members of this organization to serve this community. That's something that we are all passionate about. And it's a lifetime commitment."
The Deltas are pretty much everywhere in the Madison community from health fairs to back-to-school picnics to Juneteenth celebrations to church functions. Annually, Delta Sigma Theta sponsors numerous public service programs including seminars on AIDS awareness. The Delta G.E.M.S. was created to "catch the dreams" of at-risk, adolescent girls ages 14-18. Delta G.E.M.S. provide the framework to actualize those dreams and to develop strong, confident, and respectful young ladies and prepare them to take an active role in their success and society.
This is Stephens' 10th year in the organization and she loves it. "Just starting out as an undergraduate, the Deltas have helped me develop so much as a person and professionally," she says. "I've been able to do and see so many things and I know that this organization has been impactful all across the world. Me and my sorors have been able to develop so many great networks and ties. I could move to Georgia tomorrow and know that I would be OK because we have sorority sisters there who would embrace me because we have that connection."
Nationally, Delta Sigma Theta is a non-profit Greek-lettered sorority of college-educated women who perform public service and place emphasis on the African American community. Delta Sigma Theta Sorority was founded on January 13, 1913 by 22 collegiate women at Howard University. These students wanted to use their collective strength to promote academic excellence and to provide assistance to persons in need.
"We're celebrating 101 years this year so all the woman who have been trailblazers before us have impacted some of the changes that have happened in this world," Stephens says.
Delta Sigma Theta Sorority, Inc. is a sisterhood of more than 200,000 predominately Black college educated women and the sorority currently has over 900 chapters.
Locally, the annual Heart and Soul Scholarship Fundraiser is one of the Madison Deltas' signature events.
"It's a great, diverse community event and it's celebrating moving our youth forward," Stephens says. "There aren't many events that are put on by people of color in this community and so for us to have a staple event that has been going on for 19 years … that is just wonderful. It's an event that people know and love and always come out to have a great time. If you haven't ever gone to a Heart and Soul Ball, you should come and enjoy yourself and network with people of color in the community.
"It's also an opportunity to give back to a great cause," she adds. "The youth in our community are our future, so we want to support them and help them succeed."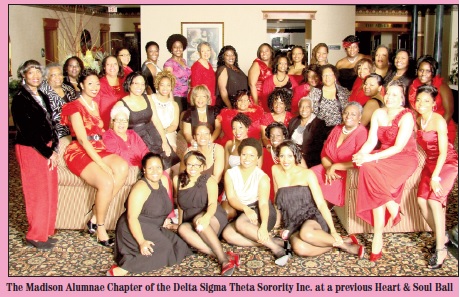 The Madison Alumnae Chapter of Delta Sigma Theta Sorority Inc. will present the 2014 Heart and Soul Scholarship Ball Saturday, Feb. 15, 7:30 p.m.-midnight at the Concourse Hotel.
Tickets: $35 General Admission/$25 Students (w/a current student ID) For tickets please contact any member of the Madison Alumnae Chapter or e-mail macheartandsoul@gmail.com.