Dane County officials announce new Community Court
Introduce Community Restorative Court Coordinator Ron Johnson
Newly hired Community Restorative Court Coordinator Ron Johnson said his goal is to strengthen communities and empower neighborhoods to help turn the tide on crime and violence as he spoke at a press conference outside of the Villager Mall on Madison's south side Oct. 20.
The Dane County Board of Supervisors joined County Executive Joe Parisi, District Attorney Ismael Ozanne, and community leaders as they announced a new community restorative court to deal with minor offenses.
"This is a pilot project that's designed to keep youthful offenders out of the criminal justice system and have them work with their communities to recognize the damage they've done to the community or individuals and to work with that community to make amends," said County Board Chair Sharon Corrigan. "It's an exciting pilot project."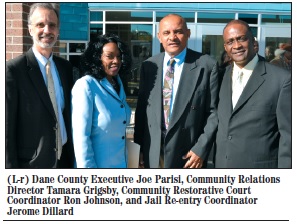 The court will use a "restorative justice" model which is designed to repair harm, reduce risk, and rebuild community for young people aged 17-25. Long term consequences for the offender and community will be lessened as cases are processed more quickly and with those affected by the crime helping to create the solutions.
County Board Supervisor Shelia Stubbs, who shepherded the initiative through the County Board, told the crowd that she was very excited to give updates on this important process. "As many of you know, Dane County is often cited as one of the best places to live in the United States. However, we are also have some of the worst racial disparity numbers in the country," Stubbs said. "Since 2007, Dane County has been addressing racial disparities in the criminal justice system. It's time to expand these efforts to the systems that lie outside the halls of the criminal justice system."
Stubbs talked about Wisconsin Council on Children & Families' Race to Equity report and the sobering reality it detailed for African Americans in Dane County.
"There are eight categories that were cited and inequities exist in economic well-being, family structure, education, child welfare, juvenile justice, health, housing, and the criminal justice system," she said. "The Restorative Justice Court pilot program is one of several initiatives that we have launched today."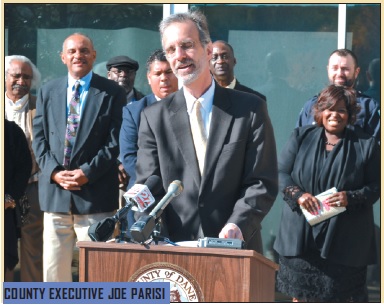 The Community Restorative Court (CRC) was developed in a sub-committee of the Dane County Criminal Justice Council. The 2013 Race to Equity Report noted that 469 of every 1,000 African American youths were arrested in 2010, compared to only 77 per 1,000 white youth.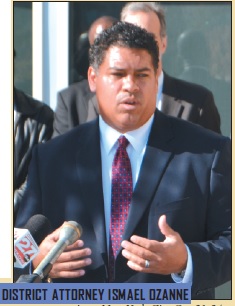 "We as the County Board and we as a community have decided to tackle this issue of racial disparities head-on," said Dane County Executive Joe Parisi. "What restorative justice is about is holding people accountable and doing the right thing and the smart thing and being smart on crime. It's a move that will save taxpayer dollars and make our community safer because what we see time and time again is that when we address issues at the root cause, we can save money and make our communities safer. We believe in holding people accountable but also giving people a second chance. There aren't many among us who have never needed a second chance."
Parisi introduced Ron Johnson, the man he said who was going to be leading the initiative. Johnson is a Milwaukee native who taught history at Harambee Community School in Milwaukee and served as a middle school principal. Johnson was director of Milwaukee Youth Opportunities Collaborative, an organization dedicated to gang prevention and intervention, and founded Project Ujima, a youth violence prevention program at Children's Hospital of Wisconsin. He also served as the community resource coordinator on restorative justice at the Marquette University Law School. He earned a bachelor's degree from UW-Milwaukee and attended graduate school at Marquette University.
"Our goal is to strengthen communities and to empower neighborhoods to help turn the tide against violence and crime," Johnson told the crowd. "The Community Restorative Court is a community-based response to crime and violence. It's not meant to replace the current traditional criminal justice system but to enhance it … give us another tool."
Johnson will join a collaborative team which includes County officials, law enforcement, and community members on a three-day trip to New York City Oct 21-24 to observe and learn best practices from the Red Hook Community Justice Center, the Center for Court Innovation, Harlem Community Justice Center, and Brownsville Community Justice Center. Dane County's portion of the trip is funded by a grant from the federal Bureau of Justice Assistance—Technical Assistance and Training Division.
"We are going to need community support on this," Johnson said. "We need an advisory committee, we need stakeholders, we need resource people. It's important to have resource people because many studies have shown that frequently when crimes occur — especially with young people and anti-social behavior — that there are needs that are unmet. Whether that need be a job, anger management, or drug treatment. So we need these kinds of services.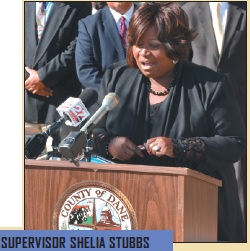 "To me, the new civil rights movement is the battle against crime and violence in our neighborhoods and communities," he added. "In order for this whole effort to work, we need community support and community involvement."
The County also announced that a Community Conversation will be held on Tuesday, Nov. 11 from 6-8 p.m. in Community Room C at Villager Mall. Community members will have the opportunity to learn about the restorative justice and the goals of the Community Restorative Court, meet the new coordinator, and take advantage of volunteer opportunities.
More information is available at http://crc.countyofdane.com.