July 24, 2015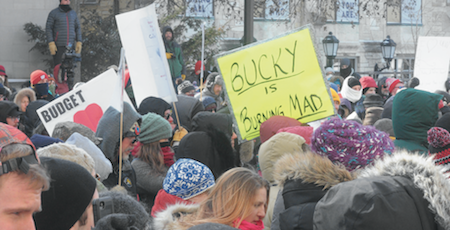 Photo Credit: www.wcmcoop.com
The Wisconsin State Senate recently passed a bill for the $73 billion 2015-2017 budget. The bill was passed during a late-night vote, minutes before the midnight deadline, and amid a large amount of controversy over a variety of topics, from repealing salary minimums for those who work on local government projects to open records laws. One of the biggest issues, however, was the plan to cut millions from the UW System, with UW-Madison, the largest campus in the system, bearing the brunt of the cuts.
Governor Scott Walker initially proposed cutting $300 million from the UW system. The most recent version of the budget has reduced that to $250 million over the two years of the budget, with the Milwaukee Journal Sentinel reporting that UW-Madison is to bear half of that, or $125 million.
The university has already responded to the proposed cuts, announcing 400 layoffs (most of which will remain empty), tuition hikes for out-of-state students, and dropping or combining of up to 320 courses from the College of Letters and Science, the largest school within the University of Wisconsin – Madison, the Milwaukee Journal Sentinel reported.
While Governor Walker insists that education will remain affordable for students attending UW campuses across the state, students aren't so sure. Students who are residents of Wisconsin will not see an increase in tuition for at least the next two years, as the 2015-2017 budget also incorporated an additional two-year tuition freeze. However, they will still feel the cuts in some aspect of their education, monetary or otherwise. In an opinion piece for the Wausau Daily Herald, Mary Mullen states that hidden costs may rise for students. These include printing costs, course fees, and other costs that are not directly factored into the cost of attending school. Ms. Mullen also points out that with universities laying off teaching assistants, advisors, and other key faculty to cope with their reduced budgets, the students will in turn suffer from reduced interaction with professors, less guidance from advisors, and a possible drop in overall quality of education.
For some students, these costs could hinder their ability to complete a degree in the standard four years, especially for those who are not residents of Wisconsin, as they will most likely be facing immediate hikes in tuition. This in turn could lead to higher student debt, as students are forced to take an additional year or more to complete a degree.
But, not all hope is lost. Gov. Walker has reiterated the state's commitment to its financial aid program, which, in 2011, granted $1.68 billion to resident students attending a variety of different institutions, both public and private. Scholarships from private donors and businesses can also help alleviate some costs. Many schools have financial aid offices, which can helps students with a variety of financial topics, including scholarships, jobs, and budgeting. While times may get a bit tougher in the coming years, a little bit of resourcefulness will go a long way.