May 8, 2015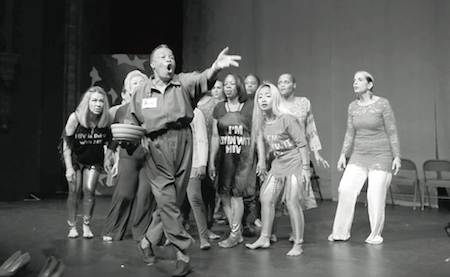 Rhodessa Jones performing on stage
Rhodessa Jones is a creative survivalist.
She has used theater to save not only her own life but the lives of women affected by drug addiction, sexual abuse, HIV/AIDS and incarceration in prisons.
She is a performer, director and creator of the highly-acclaimed Medea Project: Theater for Incarcerated Women, a California-based theater program which incorporates incarcerated women into its productions with the goal of empowering them to change their lives.
In addition, Jones is Co-Artistic Director of the performance company, Cultural Odyssey, a recipient of the U.S. Artist Fellowship and has seen the process-oriented model based off The Medea Project spread internationally, including to the Naturena Women's Prison in South Africa.
Last year, Jones brought her social activism to the Wisconsin Institute for Art at the University of Wisconsin-Madison. Several weeks ago, Jones made several stops in classrooms around campus to speak for the 4W Initiative (For Women, For Well-Being, For Wisconsin and the World) and next Fall, she hopes to bring The Medea Project and its unique perspective on social activism back to campus.
Jones found her start in social activism nearly 25 years ago while working in the San Francisco area as an artist translating social activism for use in classrooms. Highly-praised for her work, Jones was then offered a position as an aerobics instructor for the inmates at the San Francisco County Jail.
"I was very curious what aerobics had anything to do with saving somebody's life so I took the job," said Jones. "It was here that I started to share my story. I had a child at 16, did the crazy dance with dangerous men and did drugs. That's when the women asked if they could talk. Stories just started pouring out about who they were and what had happened."
These stories and conversations were recorded by Jones and were used to create the one-woman show "Big Butt Girls and Hard Headed Women," which would later develop into the basis for Jones' Medea Project.
"'Big Butt Girls and Hard Headed Women' was an attempt to make sense of why there were so many incarcerated women. In particular, why there were so many women who looked like me. Black women, brown women," Jones recalled.
The idea caught on and soon Jones and jail officials were using these stories to make better sense of the guilt and depression which oftentimes contributed to recidivism in women.
Based on their findings, Jones created The Medea Project, an innovative arts-based program looking to reduce the number of women returning to jails. The program was a success and the workshop has since been extended to address issues many other women face.
In 2008, The Medea Project grew to include a partnership with the University of California San Francisco's Women's HIV Clinic to create productions exploring the lives of women infected or affected by the HIV/AIDS virus. "What we found is that the women affected by the HIV epidemic are primarily women of color and the number of colored women is the largest growing number still. The reasons for this are political and they're social," said Jones.
More recently, The Medea Project has partnered with Planned Parenthood of San Francisco to create "Birth Right", a production which centers on exploring the role of Planned Parenthood in the cultures of women of color. Jones hopes to use the stories of women and Planned Parenthood to put faces behind the numbers and the policies. "'Birth Right' …it's all about breasts, wombs, and vaginas and all of our rights as women to make choices about our bodies, having and caring for children and abortions," Jones said. "Birth Right" premiered earlier this month.
In Spring, Jones served as the artist-in-residence with the Wisconsin Institute for Art at the University of Wisconsin-Madison and taught a course called New Narrative for the Twenty-First Century. Students had a chance to discuss and create performances surrounding conversations on nutrition and food shortages in the United States, relationships with parents, race and much more.
Jones hopes to bring The Medea Project back to Madison next fall to host community workshops and visit prisons in the area. In the past several weeks, she was brought to campus by the 4W Initiative, talking in front of the African Studies Program as well as the Gender and Women's Studies Department about her work and women's rights.
"Women need to have a voice. We need a voice. We need to stand up and say this happened to me. No, I don't want to do this. This hurts me. It is a forum to give women the tools to make decisions for themselves. Artistic processes like the Medea Project are important steps towards ensuring the future will belong to all women," she said. "Remember that women hold up at least half of the sky and we're maintaining the clouds as well. That's globally. Politics don't work, religion is a bit too eclectic, but art … art can be that parachute to hold us all."