May 8, 2015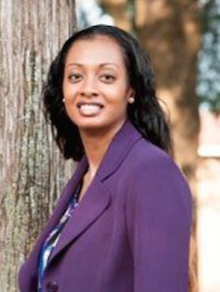 Courtney Pruitt
Special to the NNPA from The Mississippi Link
Alcorn State University's search for a new head women's basketball coach concluded with a seasoned individual with extensive college coaching experience, most recently as the head women's coach at Wiley College in Marshall, Texas.
Director of Athletics Derek Horne announced the selection of Courtney G. Pruitt, a Longview, Texas native, as the new leader of the Lady Braves.
"We are delighted to welcome a veteran coach such as Pruitt," Horne said. "She has experience turning programs around, recruiting effectively and reenergizing alumni relations efforts."
Pruitt has 10 years of coaching experience with a career record of 102-23. In her first season as head coach at Wiley College, she turned the program around from an 8-21 record to a 20-9 record and led the team to its first conference tournament in three years. Pruitt led the team to a 29-4 record, its first Red River Athletic Conference title in 20 years, a top 25 ranking and a berth in the NAIA during the 2012-2013 season.
She was also voted 2012-2013 Coach of the Year by Red River Athletic Conference coaches. She led her team to a second conference title in the 2013-2014 season and a Final Four appearance in the NAIA Tournament.
Pruitt earned her bachelor's degree in sports management from Newberry College in Newberry, S.C. She obtained her master's degree in kinesiology health science from Stephen F. Austin State University in Nacogdoches, Texas.
Pruitt and her husband, Brent, have two children, Kourjyn and Baylee.
"I am beyond excited and humbled for the opportunity to coach at Alcorn State University," Pruitt said. "Alcorn is a special place and I am looking forward to working with a tremendous group of student athletes."
---
Special to the NNPA from The Mississippi Link
---